[ad_1]

The all-new Volkswagen ID 7 has been closely previewed by this camouflaged prototype at the Consumer Electronics Show in Las Vegas.
The ID 7, which had previously been known as Aero B as a concept car and in development, will be offered first as this five-door liftback, and in time as an estate, too.
It is the sixth model to be launched in the ID range and will initially sit alongside the Volkswagen Arteon and Volkswagen Passat, the latter of which will only be offered as an estate in its next generation. In time it will become VW's only offering in Europe's shrinking D-segment as no further versions of the Arteon and Passat are due once the switch to EVs is made.
"Globally, the saloon segment is disappearing, even in China," VW boss Thomas Schäfer told Autocar. "In China, it's already happening in the low-price saloons. It is going down in Europe; it's never been huge, except for a handful of markets, maybe Turkey, but we will definitely not bring a lot of saloons. This is it [ID 7] and we converge onto that when we let go of the combustion engine."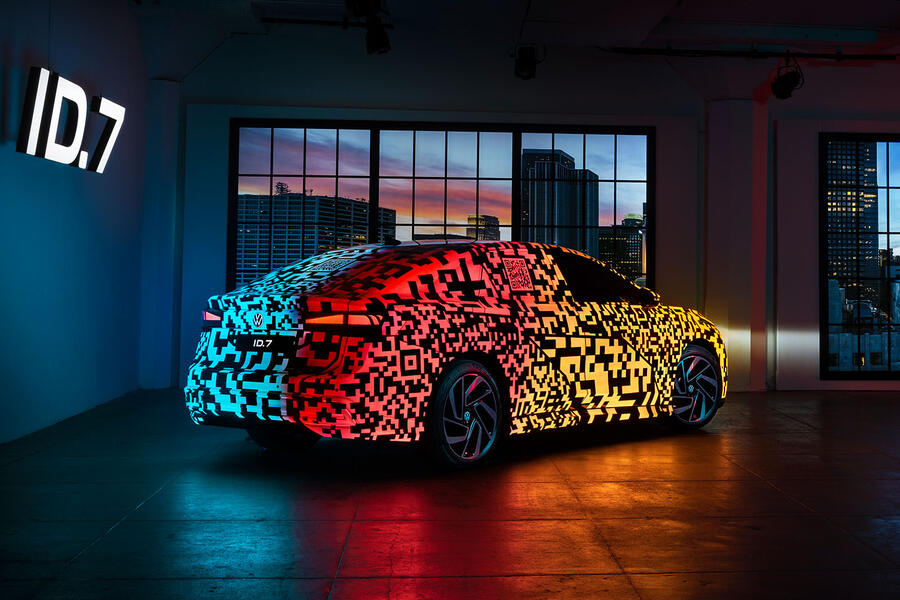 The MEB-based ID 7 is 4940mm long, 1859mm wide and 1529mm high, with a wheelbase of 2969mm shared with the Volkswagen ID Buzz. This makes the ID 7 longer than both the Passat and the Arteon.
The CES show car wears the ID 7's production bodywork but it is wrapped in a special QR code-inspired camouflage to hide its final styling. A full reveal will happen in the second quarter of 2023, before the ID 7 goes on sale later in the year.
The camouflage is called Electroluminescent, and is made up of 40 layers of paint. This then has an electric current placed through it, to let the 22 different sections of the car light up. 
VW has disclosed few technical details ahead of the ID 7's full reveal. However, the company confirmed that it would be offered with a range of up to 435 miles. This will be in a larger-battery model, a size of battery yet to be offered in an ID car. Initially, the ID 7 will come with the existing largest 77kWh pack.
[ad_2]

Source link