Although not seen on the design model, Mercedes-Benz said the production version of the Vision AMG will receive four frameless doors as well as a large liftback-style tailgate similar to that planned for the upcoming second-generation GT coupé (see right).  
Mercedes-Benz is yet to provide any great detail to how it will be developed for the production model, though Autocar has been told the round red tailpipe graphic of the concept will be reflected in the tail lamp design of the new AMG model.
As on the Vision EQXX, active aerodynamics are also set to play a key role with a rear spoiler that deploys to increase downforce at speed among other functions.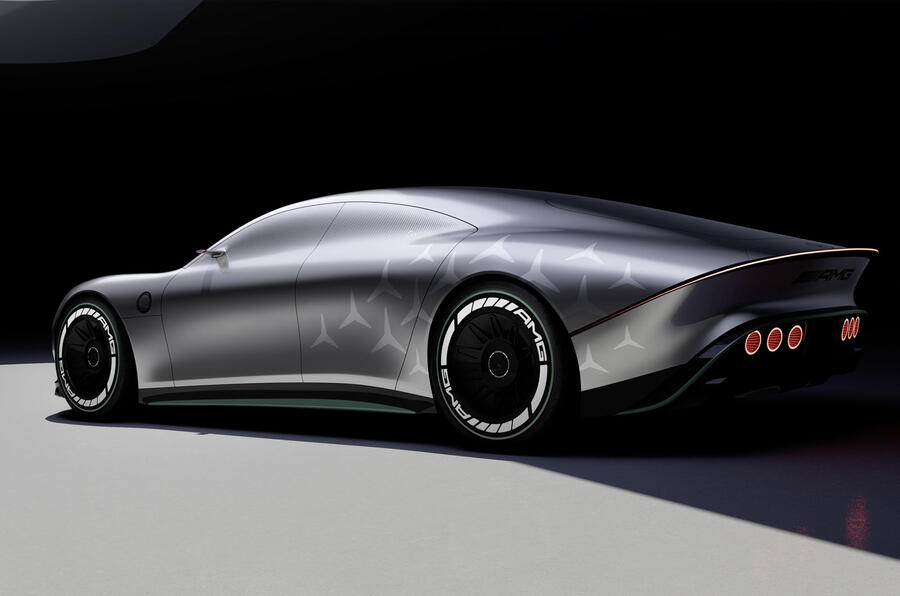 At 5100mm in length, the new EV is marginally longer than the Mercedes-AMG GT 4Matic 4-door and 147mm longer than the Porsche Taycan. The wheelbase alone stretches to over 3000mm.
The cabin of the Vision AMG sits well within the prominent fenders and tapers backwards. Unlike Mercedes-Benz's EVA platform, which boasts a completely flat floor, the AMG.EA structure has been designed to accommodate footwells in the rear, with elements of the battery housed underneath the rear seat.
"This allows for greater space and comfort in the rear," said Lešnik. "We've created a very low car but with the long wheelbase, it will also be a proper four-seater."