[ad_1]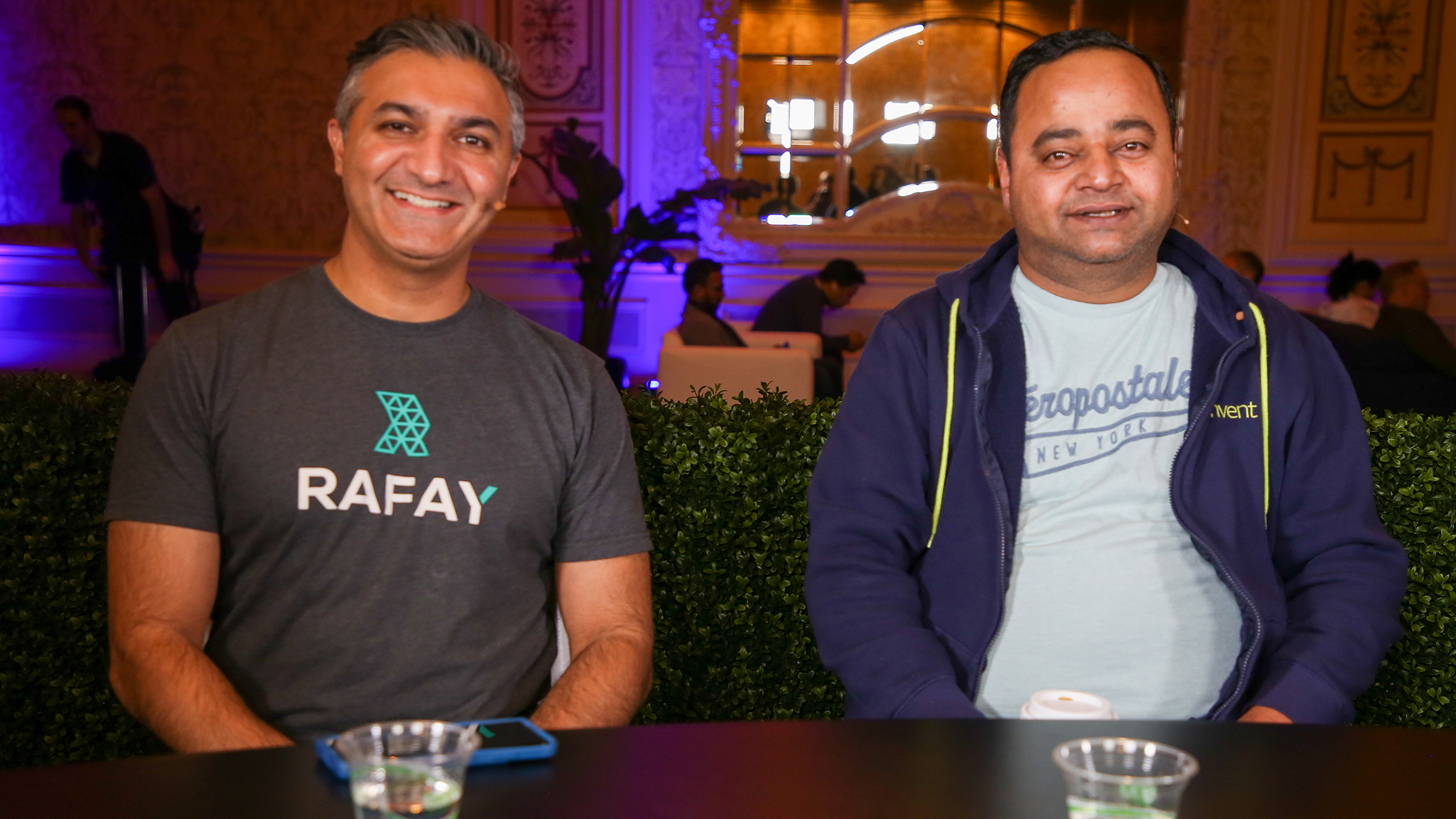 With the proliferation of cloud-native orchestration standards, such as Kubernetes and Docker, it's not enough anymore for enterprises to simply exist in the cloud.
But, as it turns out, getting into the K8s sandbox is one thing and operationalizing it fully is another, more intricate endeavor.
"The business we're in is to help companies who adopt Kubernetes as an orchestration platform do it easier, faster," said Haseeb Budhani (pictured, left), co-founder and chief executive officer of Rafay Systems Inc. "It's a simple story, right? Everybody is using Kubernetes, but it turns out that Kubernetes is actually not that easy to operationalize. Playing in a sandbox is one thing, but operationalizing this at a certain level of scale is not easy."
The DevOps efficiency, multicloud workload deployment, scalability and automation benefits of containerization particularly extend to managed service providers, such as data intelligence solutions provider Alation Inc., which has made Rafay Systems its partner in a burgeoning cloud-native journey.
Budhani and Anant Verma (pictured, right), vice president of engineering at Alation, spoke with theCUBE industry analyst John Walls at the AWS re:Invent 2022 Global Startup Program, during an exclusive broadcast on theCUBE, SiliconANGLE Media's livestreaming studio. They discussed some of the challenges enterprises face as they move from single tenancy to multi-tenancy within Kubernetes. (* Disclosure below.)
Factoring in the customer's customers
As both companies have grown together through their partnership, one prominent challenge, from Rafay Systems' point of view, has been safeguarding a consistent end-user experience of Alation's complex product for its end users, according to Budhani.
"When it comes to a company like Alation, it's a more complicated problem set because they're taking a very complex application, their application, but then they're providing that as a service to their customers," he explained. "So then we have a chain of customers we have to make happy. The company has customers; we have to make sure that they get a good experience as they consume this application that happens to be running on Kubernetes."
Building up-to-scale platforms for the sole purpose of operationalizing Kubernetes is a complex and arguably needless exercise. This is especially true when a company such as Rafay Systems, which spent four years doing that grunt work, has a product that abstracts this process away for independent software vendors, Budhani explained.
"Our product is the what; the why is that every enterprise, every ISV is building a Kubernetes platform in-house," he said. "They shouldn't need to. They should be able to consume that as a service. They consume the EKS Kubernetes engine as a service, but the management layer was a gap in the market."
When speed is the game, the winner plays faster
The enterprise solutions landscape is prone to sweeping change, with innovation and technological leaps happening in a scale of months. Knowing this, Alation understood that expediency would be key to bettering its product and staying competitive in its industry, according to Verma.
"It only took us a couple of months to figure out if Rafay is the right solution for us," he explained. "And so we ended up purchasing Rafay in April. We launched our product based on Rafay in Kubernetes, in EKS in August, so that's about four months. Right now, we are running about 600 node clusters on Rafay that are serving our customers."
Running its software in the cloud has also relieved Alation's customers of the burden of self-managing the software's infrastructural and security requirements, as all that is done by the company for them, Verma explained. Thus, Alation is extending the speed benefits to end users and keeping them as competitive as it has become.
"Since we're running in the cloud, [the customers are] really happy about that, because they don't need to juggle with the infrastructure and the software management and upgrades and things like that since we do it for them," Verma added. "And that's the speed for them, because now they are only interested in solving the problems with the data that they're working with."
With Amazon Web Services Inc. incentivizing solutions providers, such as Alation and Rafay Systems, as their individual involvements expand, the end customers are reaping benefits at scale as they migrate more workloads into the AWS ecosystem. Thus, it's a win-win for all the parties involved.
"Our customers love it; they want us to do more things with AWS," Verma said. "As we were talking about or thinking about moving into the cloud, AWS was our number one choice. And that's the only cloud that we are in today. We're not going to go to any other place."
Here's the complete video interview, part of SiliconANGLE's and theCUBE's coverage of the AWS re:Invent 2022 Global Startup Program:
(* Disclosure: Rafay Systems Inc. sponsored this segment of theCUBE. Neither Rafay Systems nor other sponsors have editorial control over content on theCUBE or SiliconANGLE.)
Photo: SiliconANGLE
---
Show your support for our mission by joining our Cube Club and Cube Event Community of experts. Join the community that includes Amazon Web Services and Amazon.com CEO Andy Jassy, Dell Technologies founder and CEO Michael Dell, Intel CEO Pat Gelsinger and many more luminaries and experts.
[ad_2]

Source link