[ad_1]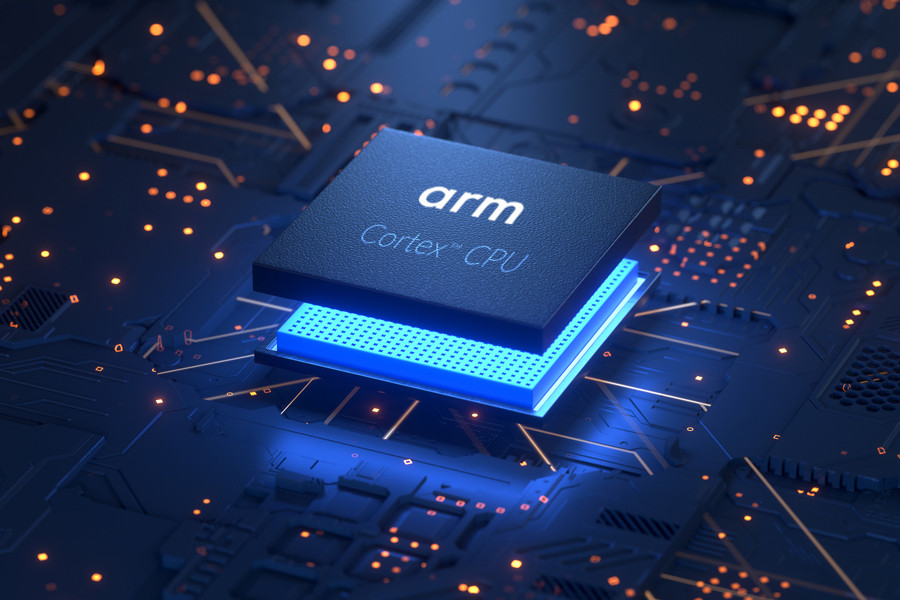 Chip design giant Arm Ltd. today introduced its latest central processing units and graphics processing units for the mobile device market.
U.K.-based Arm doesn't manufacture chips, but rather designs semiconductor blueprints that hardware makers use to build processors. The company's technology powers billions of devices worldwide. Arm has a particularly strong presence in the mobile market: Most smartphones and tablets run on processors powered by its chip designs.
New top-end GPU
Among the chip designs that Arm debuted today is a new flagship mobile GPU known as the Immortalis-G715. It's expected to start shipping with mobile devices next year. According to Arm, the chip can provide 15% higher performance than its previous top-end GPU.
The Immortalis-G715's flagship performance optimization feature is its hardware-level support for ray tracing algorithms. Ray tracing a rendering technology that helps improve the graphic fidelity of video games. Until recently, the technology was only widely supported in desktop GPUs because it requires significant computational resources to run.
Arm's previous flagship GPU also offered ray tracing features. However, it only supported the technology at the software level, whereas the new Immortalis-G715 includes hardware-level optimizations specifically focused on ray tracing. Arm says that the optimizations facilitate a significant increase in performance. 
"Ray Tracing on Immortalis-G715 only uses 4 percent of the shader core area, while delivering more than 300 percent performance improvements through the hardware acceleration," detailed Andy Craigen, a director of product management at Arm.
The Immortalis-G715 is joined by the Mali-G715, another new high-end mobile GPU. The Mali-G715 supports a rendering technique called variable rate shading that can increase the frame rate of video games and improve power efficiency in the process. According to Arm, the chip provides 15% better performance and 15% better power efficiency than its predecessor.
CPU upgrades
Arm's new flagship mobile CPU is the Cortex-X3, which can be used to power not only handsets but also laptops. When installed in a smartphone or a tablet, the CPU provides up to 25% more performance than previous-generation Arm silicon. If it's used to power a laptop, the Arm Cortex-X3 is capable of running applications 34% faster.
The Arm Cortex-X3 is not a complete CPU but rather a CPU core, the key computing component responsible for carrying out calculations in a processor. Mobile processors usually include multiple cores. There are also various supporting components, such as memory. 
To ease the development of mobile processors, Arm is rolling out a technology called DSU-110 alongside its Cortex-X3 CPU design. The technology enables chipmakers to combine up to 12 Cortex-X3 cores into a single processor. DSU-110 makes it possible to equip a CPU with up to 16 megabytes of L3 cache, a type of high-speed memory that processors use to store the data on which they're running calculations
"Compared to the previous generation, the newly updated DSU-110 supports 50 percent more cores, alongside the latest ISA features," Saurabh Pradhan, a senior director of product management at Arm, wrote in a blog post. "These changes improve flexibility for our partners and deliver the resources to realize the full potential of our CPUs for improved user experiences."
For mobile devices that require a mix of performance and power efficiency, Arm is rolling out a new CPU design dubbed the Cortex-A715. It uses 20% less electricity than its  predecessor, the Cortex-A710. The new chip also promises to deliver a 5% speed improvement.
Many mobile CPUs include a mix of high-speed cores and slower, more efficient cores designed to optimize battery life. Computationally-intensive apps run on the high-speed cores to optimize performance. Less demanding software, meanwhile, is deployed on the more energy-efficient section of the CPU to save electricity.  
Arm offers a specialized chip design that companies can use to build a mobile CPU's power-efficient cores. The chip design, dubbed Cortex-A510, made its debut last year. Arm today introduced an upgraded version of the Cortex-A510 that provides a 5% increase in power efficiency.
All of Arm's new CPUs ship with two cybersecurity enhancements designed to reduce the risk of cyberattacks. The first enhancement limits the ability of malware to access a device's memory. The second new security feature, dubbed Asymmetric MTE, detects and blocks certain types of cyberattacks that attempt to overwrite the data on a device with malicious code. 
"Asymmetric MTE offers improved flexibility between the speed, precision, and targeting of these security vulnerabilities," Pradhan wrote. "This benefits software development with more stable applications, while also enabling a broader rollout of MTE across the ecosystem." 
Image: Arm
---
Show your support for our mission by joining our Cube Club and Cube Event Community of experts. Join the community that includes Amazon Web Services and Amazon.com CEO Andy Jassy, Dell Technologies founder and CEO Michael Dell, Intel CEO Pat Gelsinger and many more luminaries and experts.
[ad_2]

Source link