[ad_1]

A lot of work, then, even before you get to the new double-stacked outboard rads, which sit behind bodywork with 30% more intake area and the potential for 80% more mass airflow than that of the regular DBX.
Cooling ensured (and DBR9-style rear diffuser fitted), the resulting performance is every bit as stark as the claimed 7.4sec 0-100mph time suggests. In any gear, from all but the most lethargic crankshaft speeds, the 707 darts forward viciously and then proceeds to bury you into its resculpted semi-bucket seats without any trouble at all, if also without quite the extraordinary, supercar-esque force the official literature would have us believe.
Perhaps the chassis is to blame. So eerily effective is this set-up in balancing control and compliance that it dilutes your perception of speed. The 707 uses the same Bilstein DampTronic struts as the standard car, only with altered valving to give the car a greater feeling of muscular intent without hurting the existing, exemplary long-wave gait of the DBX.
Along with the fluidity with which the car covers ground, the almost total lack of hard edges to the ride – even on vast, 707-specific 23in wheels – show the changes have worked beautifully. New hydrobushes, rather than an elastomer material, are said to be particularly expensive and also play their part in allowing the struts to move fore and aft in relation to the road surface, only without hampering steering precision (which is further helped by a new sheer panel that stiffens the front subframe).
That remarkable precision is at odds with the car's thuggish appearance, and credit must go as well to the 707's standardfit carbon-ceramic brake discs, which save 40.5kg in unsprung mass.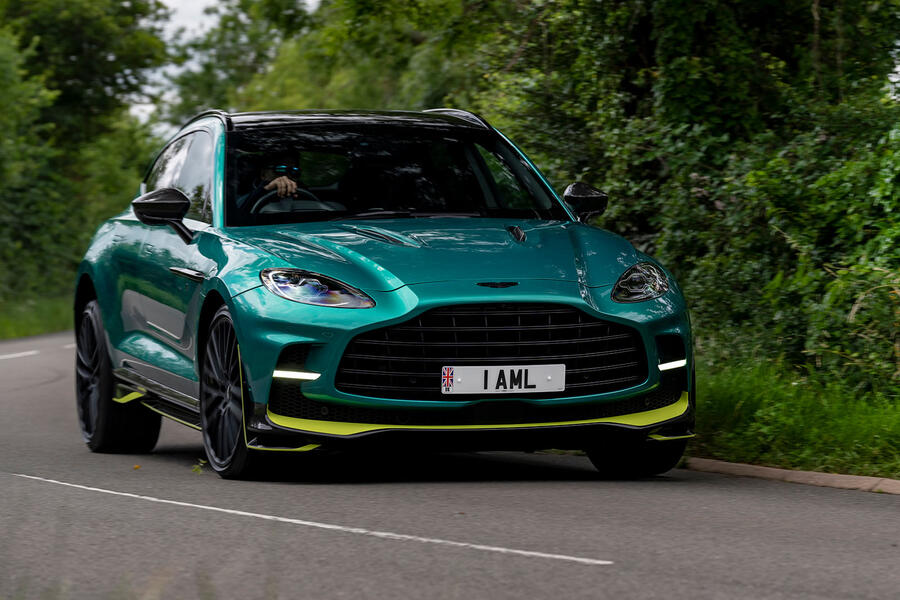 [ad_2]

Source link