The M60i xDrive succeeds the X7 M50i xDrive and is the first car to use BMW's S68 engine. A development of the N63, it's a turbocharged 4.4-litre V8. Output remains the same, at 523bhp and 553lb ft, but the 48V mild-hybrid system can add 12bhp and up to 148lb ft under acceleration.
The V8 imbues the X7 with truly effortless mile-eating qualities and a very smooth and collected character, striking an appealing balance of allout performance under more extreme loads and refined civility in cruising. The accompanying soundtrack is rich and entertaining, too, although with such outstanding refinement and excellent noise isolation within the cabin, its deep growl in Sport mode is always a distant delight. The 0-62mph time of 4.7sec is the same as that quoted for the old M50i, despite a 120kg gain in kerb weight.
Consumption is claimed to have improved, now at 21.9 to 23.3mpg, although direct comparison is tricky, because the figures for the older car were attained on a different test cycle. The quick and smooth actions of the gearbox add to the driving experience, making the most of the performance added by the electric motor. This is particularly noticeable in urban settings, where the M60i manages smooth and muscular stepoff despite its considerable weight.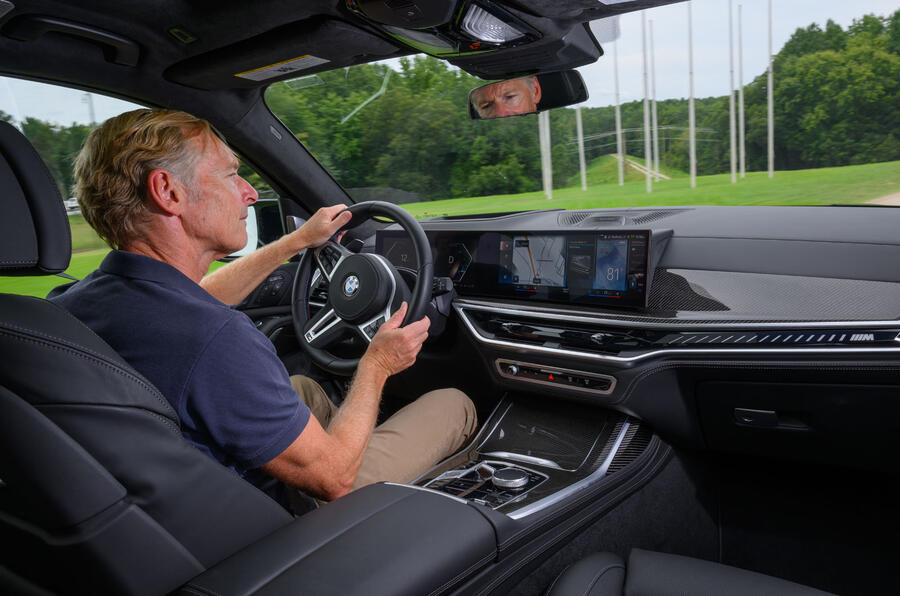 BMW's fast-acting xDrive fourwheel-drive system ensures that there's loads of traction. Air suspension with variable dampers affords impressive body control in corners. Indeed, the M60i hides its size well, encouraging you with well-weighted, precise steering.