Inspired by the iconic BMW M1, but looking to an amped up electric future, the head-turning hybrid BMW XM is the ideal way to mark BMW M's 50th anniversary
Think you've seen everything that's possible from BMW M in the last 50 years? Well, here's something that's truly new and different: the BMW XM.
The latest in a stunning series of impressive models launched to celebrate BMW M's half-century, it breaks new ground by being the first genuinely standalone production BMW M model in over 40 years and the first in-house-developed electrified model.
That's why we wanted to delve under the BMW XM's skin to discover the five ways in which it celebrates BMW M's five decades of thrilling heritage, and how it delivers a glimpse of what looks set to be an electrifying future.
1. It's the first dedicated BMW M model since the BMW M1
Over 50 years, BMW M has built an unrivalled reputation for taking a wealth of already exceptional saloons, coupés and SUVs from BMW's core range, and using its half-decade of race-inspired, track-bred, road-honed experience to turn them into something truly magical.
What makes the BMW XM extra special is the fact that it's the first truly standalone BMW M model since the iconic BMW M1 from 1978, and the performance brand's first in-house electrified model, thanks to its hybrid plug-in powertrain.
As a result, many of the design elements on the BMW XM's bespoke sleek elongated SUV stance mark BMW M's move towards an electric future, while also contains a wealth of subtle callbacks to that iconic BMW M1.
The classic bold BMW kidney grille is illuminated with an unbroken light ring and sits between Adaptive LED Headlight units that offer a fresh interpretation of BMW's iconic twin headlight signature. There's the gold accent band that nods to the BMW M1's black strip as it stretches along the BMW XM's body into the fresh reimagining of the Hofmeister kink on the D-pillar, along with BMW M logos laser-engraved in the flat rear window, and the louvred structure of the sculptural rear lights.
The BMW XM's quad-exhausts, positioned either side of the huge rear diffuser, have also been shaped hexagonally and stacked vertically, delivering a modern twist on BMW M's performance-influenced heritage.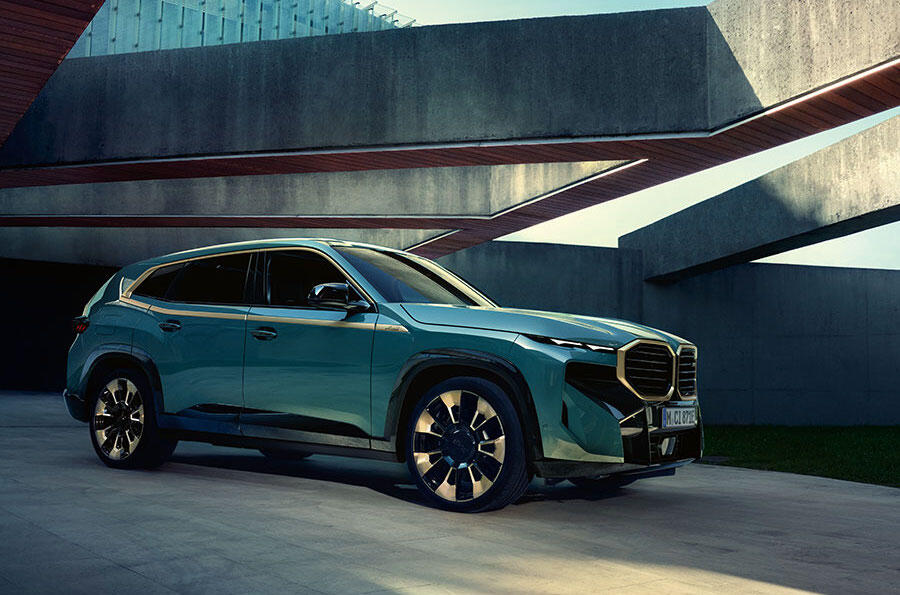 2. It takes iconic BMW M V8 power, and adds an extra spark
As the automotive world heads to an all-electric future, every car brand is going to have to shift towards hybrid and all-electric drive. That's why the BMW XM follows the lead of the amped-up all-electric BMW i4 M50 and BMW iX M60 SUV as BMW M's first in-house-developed electrified model.
Inspired by the BMW M Hybrid V8 that will spearhead BMW's return to top-level endurance racing at the Le Mans 24 Hours in 2024, the BMW XM blends the best of potent V8 turbo-powered petrol performance with the instant boost of electric acceleration and low-emissions hybrid efficiency for journeys long and short.
Under the BMW XM's bonnet is a 4.4-litre V8 M TwinPower Turbo engine that boasts a high-revving 489hp and 650Nm of torque. Sitting alongside it is a powerful electric motor that – on its own – delivers 197hp and 280Nm, with a pre-gearing stage that provides up to 450Nm of instantly available all-electric torque for stunning acceleration from low speeds and standstill.
Working together through the eight-speed M Steptronic transmission they deliver a combined 653hp and 800Nm torque, letting you sprint from 0-62mph in as little as 4.3 seconds, while also letting you drive for up to 55 miles on locally emission-free all-electric power. More on that later…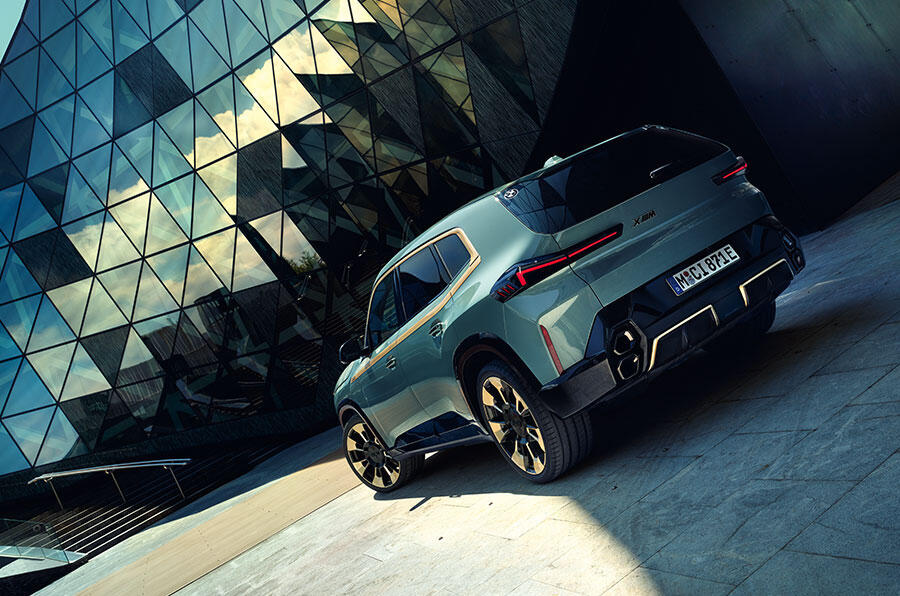 3. It's engineered to thrill (on every journey)
The BMW XM may be an SUV, but its underpinnings are packed with 50 years of BMW M's performance experience and DNA. Blending a long wheelbase with a wide track and high degrees of wheel camber, the BMW XM has been engineered to offer dynamic handling and confidence-inspiring stability in equal measure.
The combination of BMW M's xDrive all-wheel-drive and an M Sport differential means that power is always delivered to the wheels where it's needed or works best – balancing rear-wheel bias for BMW M's traditional driving feel with all-wheel-drive confidence, traction and grip when conditions get tricky, and impressive off-road capability if you want to head off the beaten track.
Rigid lightweight suspension – double-wishbone at the front and five-link at the rear – delivers responsive steering feel. Equally, sturdy steel springs and 48V electric Active Roll Control stabilisation works with adaptive M Professional suspension with electronically controlled dampers to deliver even greater levels of composure. It's all controlled through the M Setup menu to let you choose the best balance of sporty driving character on twisty A-roads or long-distance motorway comfort.
The BMW XM also marks the debut of Integral Active Steering on a BMW M model, subtly turning the rear wheels to deliver increased agility when needed. That means more confident turn-in on a twisty A-road, or a tighter turning circle when threading through urban streets. Equally, it delivers even more confidence-inspiring poise and assurance at higher speeds, such as when changing lanes on a motorway.
Like many of BMW's all-electric cars, the BMW XM also uses an electric drive sound, created in collaboration with celebrated film score composer Hans Zimmer. On the BMW XM, though, it builds on the car's hybrid nature, delivering a distinctive electric-inspired boost sound that works in sync with the high-revving roar of the 4.4-litre V8 TwinPower Turbo engine and its sports exhaust to blend the best of old and new.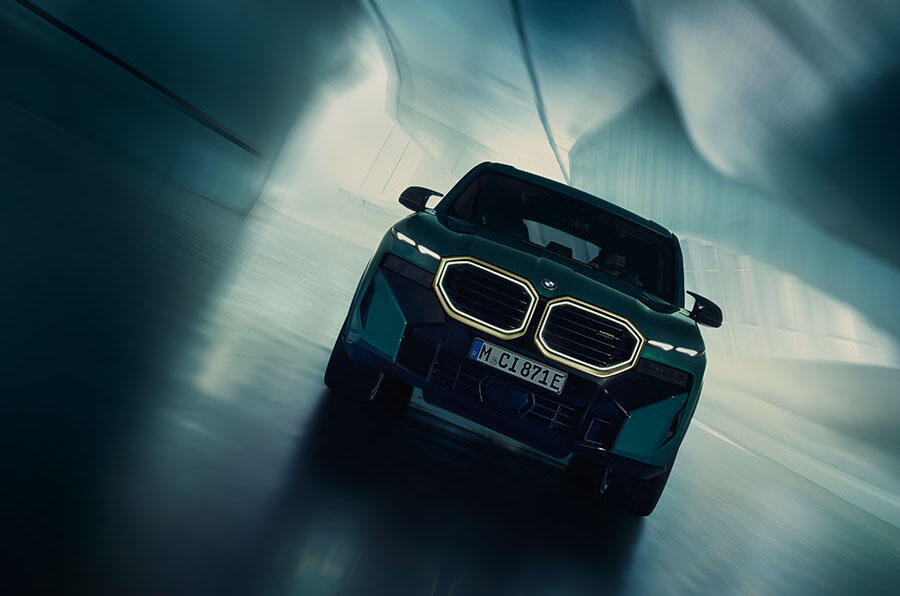 4. More power. More efficiency. Your choice.
BMW M models have always been designed to be as easy and practical to use every day as they are thrilling to drive on a stunning scenic A-road, or on those once-in-a-lifetime on-track experiences.
That's where the benefit of hybrid power comes in, giving the BMW XM a truly multi-dimensional driving character that is perfect for the city, the motorway or the open road. Sitting alongside BMW M's traditional dedicated M Mode button on the dashboard is an M Hybrid button. This is where the magic happens.
Pick Electric mode, and the BMW XM will automatically focus on all-electric drive at speeds of up to 87mph. Thanks to the BMW XM's low-mounted lithium-ion battery, with a net capacity of 25.7kWh, you've got access to up to 55 miles (WLTP) of pure electric range without ever having to use the 4.4-litre V8, letting you do most local journeys on low-cost, locally emission-free all-electric power.
When the road does open up, simply select the BMW XM's Hybrid mode and the 4.4-litre V8 M TwinPower Turbo and electric motor work together – delivering that thrilling 653hp and 800Nm torque.
Alternatively, pick the eControl mode, and the BMW XM lets you make the most of regenerative braking to pro-actively recharge the battery on the move, or to preserve your electric range for when you're back in the heart of the city. The result: fuel economy of up to 183.3mpg (WLTP) and CO2 emissions as low as 33g/km.
Want to make the most of cost-effective home charging to do even more all-electric local journeys? Using the in-built 7.4kW AC Combined Charging Unit, you can top-up the BMW XM's battery in as little as 4.25 hours, meaning you can arrive home, plug in, and set off again the next morning with maximum electric range.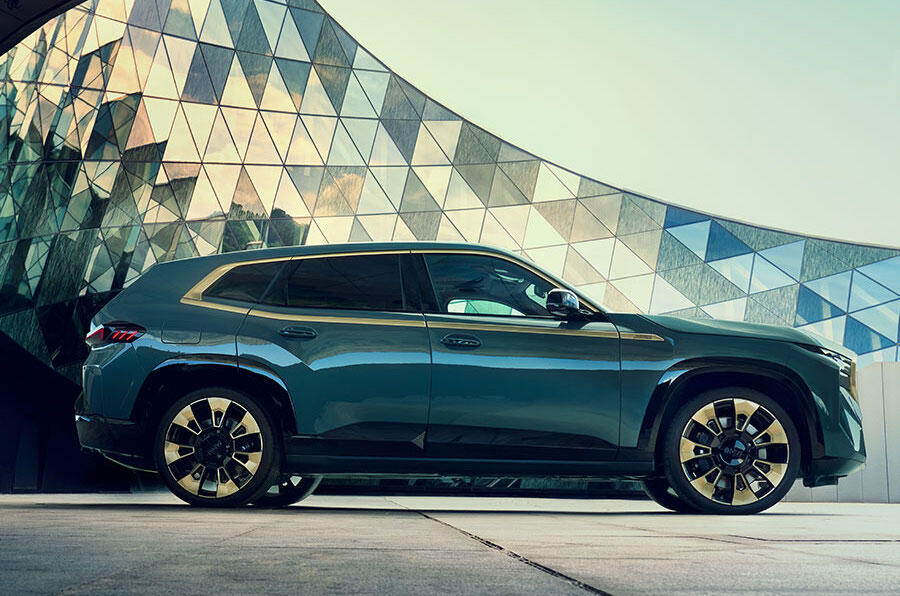 5. It's designed to go the distance in style
BMW M models may be race-inspired and track-bred, but they're also designed to be easy and cosseting to drive on long journeys. It's the same with the BMW XM.
Up-front, as you'd expect from a BMW M model, things are heavily driver focused. The BMW Curved Display – which combines a 12.3-inch driver display and a 14.9-inch control display – and the BMW Head-Up Display put all the key information right in your eye-line so that you can spend more time focused on the road. A wealth of performance-influenced BMW M trim touches adds to the sporty premium feel.
Depending on which model trim and optional technology packs you pick, the BMW XM offers up the full wealth of intuitive BMW Intelligent Personal Assistant Apple CarPlay and Android Auto smartphone connectivity and voice control features that you'd expect in a modern luxury BMW to control your apps, while BMW Maps now uses cloud-based technology to deliver live navigation updates.
Equally, the BMW XM line-up also offers the largest selection of driver assistance systems in a BMW M model to date – helping you stay relaxed in the heart of the city, safe and on the straight-and-narrow on motorways, as well as helping you guide your way more easily into tight parking spaces at your final destination.
In the rear, the BMW XM builds on the 'M Lounge' design of the BMW Concept XM. Generous space and high-quality materials such as Alcantara, Merino, Sakhir Orange and Coffee Brown Vintage leathers with three-dimensional diamond quilting work with customisable ambient LED lighting to create a real sense of luxury, while there are separate rear controls for the four-zone automatic climate control and heated backrests, as well as multiple USB-C ports and plenty of storage space for smartphones.
A 16-speaker 415W Harman Kardon Surround Sound System comes as standard, with the option of a 20-speaker system with a 1,500W amplifier, using roof-mounted speakers to deliver multi-layered 3D sound to every occupant. Finally, up to 527 litres of luggage space is available as standard, with up to 1820 litres available when the 40:20:40 split-rear seats are folded down.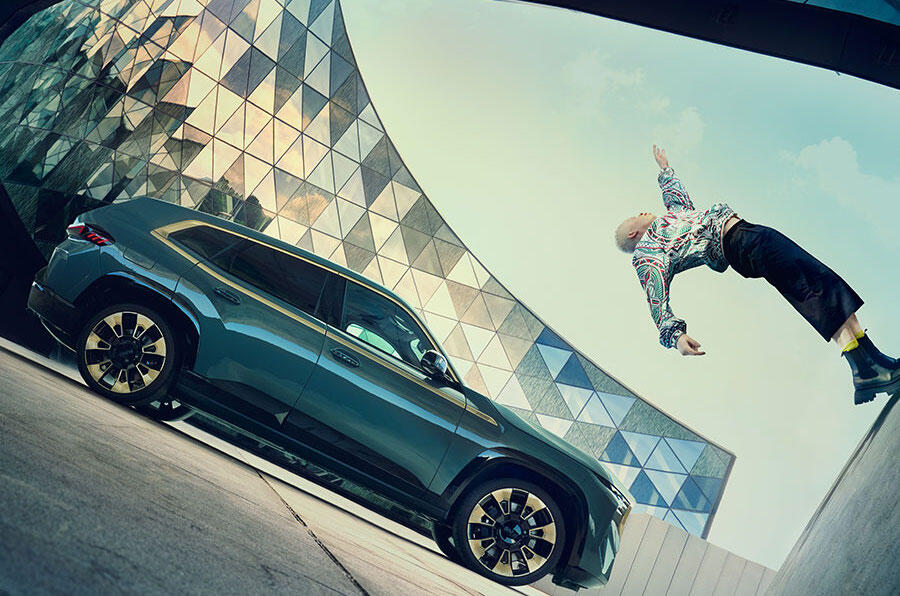 6. There's still more to come…
You were only expecting five things? Well, no all-new BMW M launch would be complete without a taste of something even more potent and exciting on the horizon.
Coming in Autumn 2023 is the BMW XM Label Red, which looks set to be BMW M's most powerful road-legal series production car in its 50-year history. Based on preliminary data it's likely to elevate the combined power of the BMW XM's hybrid powertrain to up to 750hp with 1,000Nm of torque. That makes it the perfect way to celebrate BMW M's 51st anniversary and the start of the brand's next half-century – which means we've still got plenty to look forward to yet.
[ad_2]

Source link