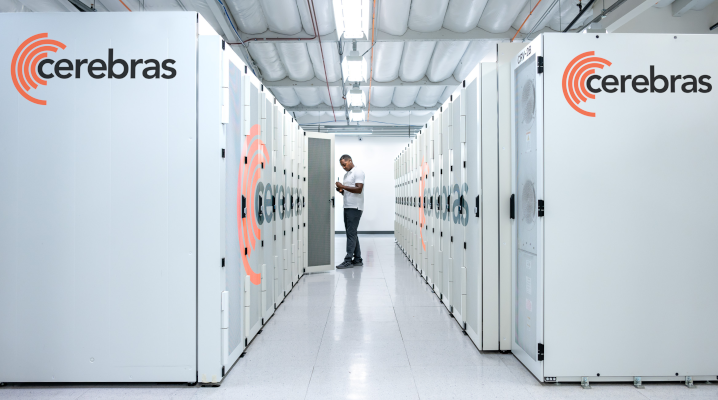 Chip startup Cerebras Systems Inc. today debuted Andromeda, a supercomputer optimized to run artificial intelligence applications that features more than 13.5 million processor cores.
Sunnyvale, California-based Cerebras Systems is backed by more than $720 million in venture funding. The startup sells a chip called the WSE-2 that is specifically designed to run AI software. The new Andromeda supercomputer that Cerebras Systems debuted today is based on the WSE-2 chip.
According to Cerebras Systems, Andromeda can provide performance in excess of one exaflop when running AI applications. One exaflop equals one million trillion calculations per second. The startup says that Andromeda's performance makes it suitable for, among other use cases, training large language models, which are complex neural networks that can perform tasks such as translating text and generating software code.
Andromeda features 16 of Cerebras Systems' WSE-2 chips. Each WSE-2, in turn, includes more than 2.6 trillion transistors, or about 2.5 trillion more transistors than most advanced graphics processing units on the market. The startup describes the chip as the world's fastest AI processor.
The WSE-2's speed is facilitated by what Cerebras Systems describes as a wafer-scale architecture.
Processors are made from silicon discs known as wafers. During chip manufacturing, a wafer is split into dozens of rectangles that are then each turned into a separate processor. Cerebras Systems has taken a different approach with its WSE-2 chip: instead of splitting the wafer into dozens of small processors, the startup turns it into one big processor with trillions of transistors.
Cerebras Systems sells the WSE-2 as part of a data center appliance called the CS-2. A CS-2 system contains a single WSE-2 chip along with cooling equipment, networking hardware and other supporting components that make the chip easier to use.
The Andromeda supercomputer that Cerebras debuted today comprises 16 CS-2 appliances linked together in a cluster. According to the startup, the supercomputer also features 18,176 million chips from Advanced Micro Devices Inc.'s Ryzen series of central processing units.
"The combination of the Cerebras Andromeda AI supercomputer and a data pre-processing pipeline powered by AMD EPYC-powered servers, together will put more capacity in the hands of researchers and support faster and deeper AI capabilities," said Kumaran Siva, the corporate vice president of software and systems business development at AMD. 
Cerebras Systems says that Andromeda supports a capability known as near-perfect linear scaling. As a result, it can operate more efficiently in certain respects than other types of data center infrastructure used to run AI applications.
Advanced AI applications such as large language models are often too complex to run on a single chip. As a result, they have to be split across multiple chips, usually GPUs. Those GPUs must coordinate their work to ensure that calculations are carried out accurately. 
Coordinating a large number of chips is a complex task that requires hardware-intensive algorithms. The more chips there are in a data center, the more computing capacity is needed to orchestrate them. As a result, a sizable portion of the processing capacity in large AI clusters goes towards keeping chips synchronized. 
Cerebras Systems' Andromeda supercomputer comprises 16 CS-2 systems, each of which includes a single WSE-2 chip. The supercomputer's 16 WSE-2 chips can be coordinated with considerably less hardware resources than a traditional AI cluster that contains upwards of thousands of GPUs.
The result, according to Cerebras Systems, is that  Andromeda provides near-perfect linear scaling. When customers scale the supercomputer by attaching additional CS-2 systems, almost all the systems' processing capacity becomes available for AI applications. The reason is that relatively little hardware must be allocated for chip coordination tasks.
Cerebras Systems has already made Andromeda available to a number of early users. The supercomputer is used by scientists at Argonne National Laboratory, the University of Cambridge and Jasper Inc., an AI startup that raised a $125 million funding round last month.
Photo: Cerebras Systems
---
Show your support for our mission by joining our Cube Club and Cube Event Community of experts. Join the community that includes Amazon Web Services and Amazon.com CEO Andy Jassy, Dell Technologies founder and CEO Michael Dell, Intel CEO Pat Gelsinger and many more luminaries and experts.