A couple of miles on, we turn onto the commercial pier at Cullivoe. We pause to meet a greedy and extremely round Shetland pony before seeking out the most novel of charging points, tucked away in a corner. Unveiled last year, it's free to use, and we top the battery up in the certain knowledge that no fossil fuels are being burned in our name, because it is powered entirely by the tide. Just 800m away, four tidal turbines from Nova Innovation are weighted to the seabed and sending energy to our car, and indeed the local grid. Using it feels somewhat validating. 
We double back three miles to Gutcher ferry terminal, where we have one more crossing still to make. It's a pretty little spot, with short piers and a dirt-track tombolo, made no less quaint by the curious otter ('draatsi' in the local dialect) that frolics by. Orcas are also frequent visitors but, thankfully for the otter, not today.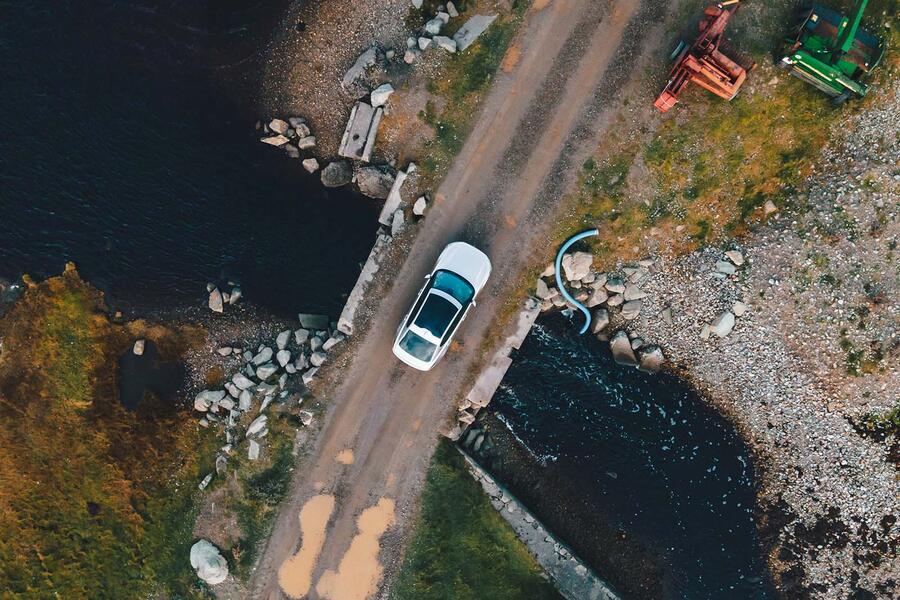 The Russian-doll sequence of ferries continues as the MV Bigga – half the length of Daggri – seemingly handbrakes into port, mouth agape. It's a clockwork operation: arrival, unloading, loading and departure all takes no more than 10 minutes. Once under way, we ride the swell, surreally taking in the rocking horizon and sound of the sea from the 2's sober but comfortable cabin. 
In a heartbeat, we arrive on Unst, perhaps the most spectacular among these spectacular islands, and our final destination. On the quayside towers a pair of bright yellow tripods of Teesside steel – substructures for two more tidal turbines that will soon be added to the array, when their nacelles will be mounted on top.