Cisco Systems Inc. said today it's revamping its Webex Suite of collaboration tools to enable companies to tackle the myriad challenges involved with enabling hybrid work.
Announced today at WebexOne 2022 were a new collaboration device, a blueprint for hybrid workspaces, a key partnership with Microsoft Corp. and multiple updates to Webex's software.
With today's updates, Cisco is attempting to position Webex as the most viable enterprise solution for hybrid work with tight integration across collaboration software, devices, networking and security. The company says that enabling hybrid work has been a challenge for most enterprises.
"Working from anywhere is going to be a very, very common practice," says Jeetu Patel, executive vice president and general manager of Cisco Security and Collaboration, and it will encompass many types of interactions such as  board and customer meetings, events, team meetings and all-hands gathering. "Webex is unique in its ability to serve that wide spectrum on the same platform."
One of the biggest problems is that just 11% of enterprise meeting rooms are currently video-enabled, Cisco said, citing data from Frost & Sullivan. In other words, most enterprises still aren't set up to support hybrid work — so Cisco views this as a huge opportunity for Webex.
Cisco is trying to remedy that situation with its new collaboration device, the Cisco Room Kit EQ, which aims to transform large workspaces into fully equipped virtual meeting rooms. Cisco Room Kit EQ is powered by Cisco Codec EQ, an artificial intelligence-based computing appliance that enables "true-to-life meeting experiences" for virtual attendees.
Cisco Room Kit EQ can be implemented with Cisco's Hybrid Workspace Design Guide, which is a blueprint for companies looking to design effective hybrid workspaces. The blueprint encompasses Cisco's smart building solutions, collaboration, networking and security technologies and provides support for high-end gear including triple-screens, embedded cameras and audio intelligence, as well as "bring your own device" policies.
Another challenge with hybrid work is that 85% of enterprises use multiple meeting platforms to collaborate, including Webex, Microsoft Teams, Slack and more. Hence, Cisco said collaboration devices need to be interoperable with all of these platforms.
That explains Cisco's new partnership with Microsoft, which enables the full Microsoft Teams Room experience on its collaboration devices. In this way, customers have more choice over both the hardware they use and the collaboration experience, Cisco said. And the partnerships don't end at Microsoft.
"The future is multiplatform," Patel says. "Conference rooms can't be just one platform. We can interoperate with all of the four major platforms, including Google Meet, Zoom and Microsoft Teams," though he added that not surprisingly, "the best experience is with Webex."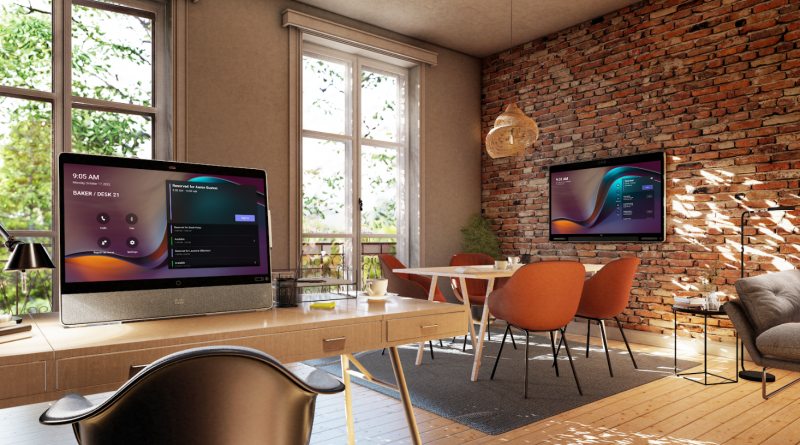 More than that, hybrid work requires special attention to the many ways different workers interact. "Hybrid work is both different and harder than how we worked before," said Patel. "Regardless of job function – frontline worker, knowledge worker, IT admin or contact center agent – people expect and deserve an amazing experience no matter where or how they work."
To deliver this experience, Cisco announced a host of updates to the Webex software that are focused on supporting new types of remote interactions. The new Whiteboard App, for example, gives remote meeting attendees a way to brainstorm or sketch ideas quickly on a virtual whiteboard that's available through any browser, Cisco device or the Webex app. Meanwhile, Vidcast is an asynchronous video offering that enables users to quickly edit videos and create highly polished content for presentations.
A second new partnership with Apple Inc. allows iPhone and iPad users to share content from their device's camera via the Webex Meetings App, then annotate over what they're viewing with Mobile Camera Share. According to Cisco, this is an industry-first innovation that provides another effective way for people to collaborate, enabling frontline workers to share their progress in real time, for example.
Webex Calling also benefits from the cooperation with Microsoft, as it now integrates directly with Microsoft Teams. As a result, users can now use Webex Calls to call coworkers through the Teams interface. New features in Hybrid Events include access to a new lobby experience for virtual events, with support for customizations such as agendas, speaker bios, sponsors and more. There are also new "content widgets" that make it simple to embed those elements into external event websites. Webex Webinars gets new productivity tools too, making it easier to embed custom branding and personalization to virtual events.
There are yet more updates on the security side too, with a new audio watermarking feature that tags audio streams to every participant in a confidential meeting with a marker that cannot be heard by the human ear. According to Cisco, this is all about better protecting intellectual property. If an employee were to record a confidential meeting, for example, that recording could be traced back to that individual.
In terms of manageability, Cisco said the Webex Control Hub is now integrated with Cisco Spaces, providing critical information to employees around real-time occupancy and air quality in meeting rooms. Finally, the new Control Hub as a Coach feature serves as an in-product digital coach that can help guide information technology administrators as they go about setting up meeting rooms, creating a better hybrid work experience for everyone involved.
With reporting from Robert Hof
Photos: Cisco
---
Show your support for our mission by joining our Cube Club and Cube Event Community of experts. Join the community that includes Amazon Web Services and Amazon.com CEO Andy Jassy, Dell Technologies founder and CEO Michael Dell, Intel CEO Pat Gelsinger and many more luminaries and experts.