A more immersive internet, superclouds and more trustworthy artificial intelligence are among the developments coming in the next 18 to 24 months, the information technology consulting firm Deloitte Touche Tohmatsu Ltd. revealed its 14th annual Tech Trends report.
The report, published today, describes how technology leaders are increasingly drawing on the lessons of the past to inform their strategies of tomorrow. It identifies what Deloitte says are six macro forces that will be the most consequential to business transformation over the next couple of years. Across all of Deloitte's 2023 trends, the central element is that of trust, as enterprises recognize the importance of user confidence in their adoption and impact.
Deloitte's 2023 trends can be split into two subsets, the first of which is enduring realities. These pioneering and innovative trends are being driven by advancements in interaction, information and computation, Deloitte says, and are focused on how trust influences enterprise risk, human-computer interaction and the integrity of data.
The first major trend Deloitte sees is that of a more immersive internet for the enterprise. By this, it means it's seeing a shift to more tangible, conversational and virtual interfaces that go beyond the traditional computer screen. This shift will manifest in various ways, including extended reality, a consumer-focused metaverse, the use of digital twins of physical assets to prototype and experiment, and an augmented workforce experience. "With the ability to get digital richness in the physical space, companies are trusting in the promise of an immersive internet to build lucrative business models around the unique capabilities afforded by 'unlimited reality,'" Deloitte said.
At the same time, Deloitte believes that enterprises and humans alike are increasingly opening up to artificial intelligence and learning to trust this powerful new technology. It says AI tools will become increasingly standardized over the next 24 months, leading to the realization that the most competitive gains will be achieved when users have full confidence and trust in them. "To build trust, AI algorithms must be visible, auditable and explainable, and workers must be involved in AI design and output," the report noted.
Deloitte also sees enterprises learning how to tame the multicloud chaos at long last. It says that the last decade of heterogeneous multicloud deployment has resulted in a mass of cloud complexity that will be solved by enterprises using a common abstraction and automation layer, which SiliconANGLE market research firm Wikibon has dubbed the "supercloud." With new cross-cloud services that manage operations, governance and security, enterprises will finally be able to make the most of the cloud's versatility, flexibility and scalability, Deloitte believes.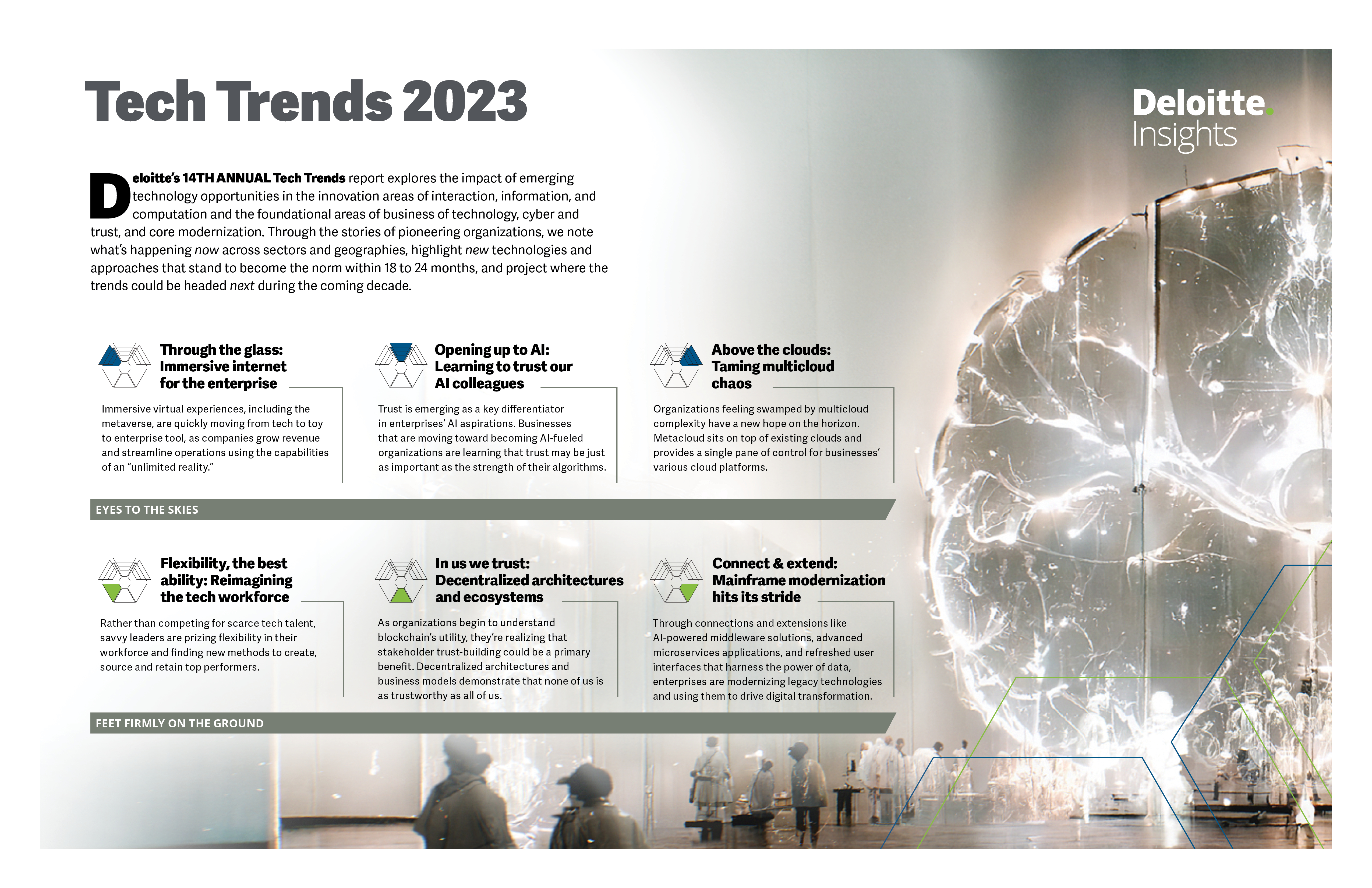 The second subset of trends is focused on "foundational forces" centered on the business of technology, cyber and trust, and the drive toward core modernization.
Deloitte believes that we're already seeing enterprises begin to reimagine their workforces, putting modern engineering at the heart of their business strategies. However, instead of competing to hire the best engineers, like in the past, most savvy organizations are instead creating new IT structures and roles that better align with their existing talent supply. "By prioritizing values, cultural fit and aptitude, and trusting talent to flex their curiosity and versatility in becoming serial specialists over extant skills, this approach is resulting in an improved talent experience and business outcomes," Deloitte said.
As well as trusting their existing staff, enterprises will also learn to put more trust in decentralized architectures and ecosystems centered on blockchain and digital assets. As such, enterprises will adopt a new "trustless" approach to validating data and transactions, with public blockchains serving as systems of record. "As blockchain-powered 'trustless ecosystems' evolve into Web3, they're becoming key to the creation and monetization of digital assets," the report explains.
Finally, Deloitte sees mainframe modernization accelerating, having already enjoyed a quiet renaissance. Increasingly, enterprises are relying on middleware to link their core systems to next-generation computing technologies such as supercomputers, as well as innovative user interfaces that enable superior, cloud-based analytics and AI. Deloitte believes this optimization will breathe new life into legacy systems such as mainframes, extending the trust enterprises have in their value as data stores.
According to Deloitte, all six trends are converging towards an endgame of simplicity, intelligence and abundance that will combine to define technology stacks of the future. While the technology that powers human-computer interactions is becoming more complex, the user experience is becoming simpler. As information systems advance, machine intelligence will become more well-rounded. And as machines are miniaturized, virtualized and decentralized, their capacity to solve previously intractable problems will increase.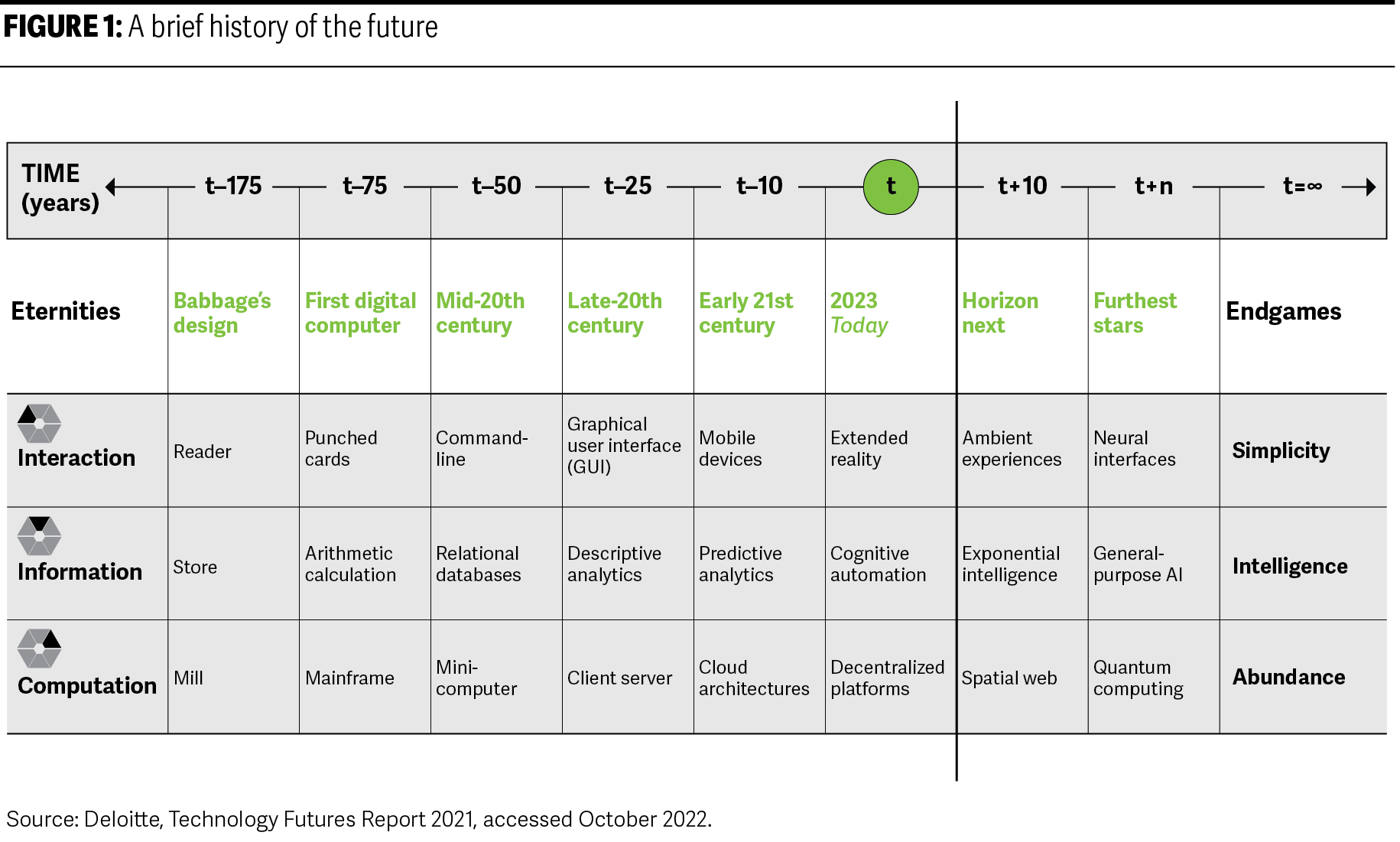 "Our insights for this year's report have revealed a number of truths: transformation should be business and mission led, powered by AI, fueled by technology providers big and small, with a goal to make and shape new markets," said Bill Briggs, a principal and global chief technology officer at Deloitte. "Tech Trends 2023 can help organizations nurture what we have now as we navigate to what's next, building something significant, sustainable and future-friendly for tomorrow."
Images: Deloitte
---
Show your support for our mission by joining our Cube Club and Cube Event Community of experts. Join the community that includes Amazon Web Services and Amazon.com CEO Andy Jassy, Dell Technologies founder and CEO Michael Dell, Intel CEO Pat Gelsinger and many more luminaries and experts.