Demand for Geely Bo Yue Pro – known as Atlas Pro in Russia – was boosted by Western brands' exit
Many brands have left the Russian market following the invasion of Ukraine; Lexus sold 13 cars in September
Russia's car market was described as having "endemic volatility" for its never-ending boom-and-bust cycles since entering the post-Soviet era. But it hadn't experienced a bust quite like the one that followed Russia's invasion of Ukraine.
Sales have collapsed 60% in the first nine months of the year, compared with 2021, according to figures from the Russia-based Association of European Businesses. 
The foreign brands so beloved of Russia's rich and middle classes have largely halted both production and imports in response to sanctions put in place to punish Russia for its brutal war in Ukraine. 
Through September, sales of Mercedes-Benz were down 73%, BMW down 74%, Skoda down 77% and Toyota down 73%. Month by month it worsened, as the remaining stock dried up. Lexus, for example, sold just 13 cars in September.
More car makers are following Renault out of the door as executives struggle to see any near-term improvement in Russia's hard-line political stance when it comes to Ukraine. 
Renault moved quickly in April to transfer its 68% stake in AvtoVAZ to Russia's NAMI institute, which also builds the Aurus limos for president Vladimir Putin. 
Others were slower, but are now abandoning any wait-and-see policy. In September, Toyota said it would close its plant in St Petersburg amid shortage of parts and indicated it could sell it. Nissan, meanwhile, took a $687 million (£615m) hit in October after selling to NAMI for €1 with the right to buy the business back within six years, mirroring partner Renault's deal.
Mitsubishi and Mazda are both reportedly looking for a buyer for their plants, while VW has shuttered its production and exited an agreement with Russia's Gaz Group to build Skodas and VWs at its Nizhny Novgorod site. BMW has halted production at contract manufacturer Avototor at Kaliningrad.
The market might be on its knees, but it's not dead. Lada sales were actually up in September as demand for the entry-level Granta saloon model soared. Already a low-tech hangover from the days before Renault entered into a joint venture with AvtoVAZ in 2012, the Granta was further stripped of hard-to-source electronics and is now by far Russia's best-seller, notching up 13,421 sales in the month. Second was the similarly low-tech Lada Niva off-roader (pictured below), another survivor, with sales of 3439, more than double than in the same period last year.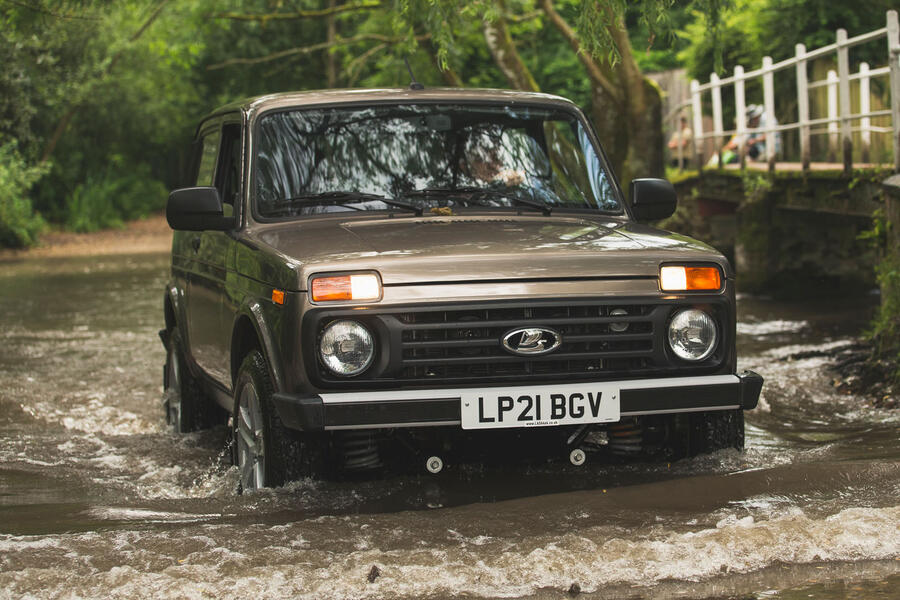 Along with low-tech Ladas, the other rare winner in the great 2022 market implosion is China. The third best-seller was the Haval Jolion compact SUV from Great Wall, one of a number of Chinese manufacturers not held back by sanctions and seemingly not bothered by any possible backlash from consumers in other markets less than impressed by Chinese brands' ability to ignore Russia's atrocities in Ukraine.
They include Geely, owner of Volvo, Lotus and Polestar, which saw a boost in demand for its Coolray small SUV, as well the bigger Atlas Pro. In fact, after failing to make much of a dent in the market for years, Chinese brands took three spots in the country's top 10 brands during September.
Chinese car makers are also in the running to help revive the Soviet Moskvich brand that has taken over its former factory in Moscow from Renault, backed by Russian truck maker Kamaz. Where earlier this year it was making the Russian version of the Renault Arkana, Moscow mayor Sergei Sobyanin has reportedly said he wants production of Moskvich cars up and running as early as December. China's JAC, which builds cars for premium brand Nio, has been linked with the deal. 
The reason that so many brands build cars in a country that sold 1.7 million cars in 2021, when the market was relatively buoyant, is down to a protectionist policy that gave crucial tax breaks to those localising production in the country. The more local parts you included in your car, the better the tax breaks got. The expense of setting up in Russia was a gamble, given that volatility. The 2.9 million sales record in 2012 prompted optimistic forecasts of hitting three or four million in the next few years as Russia's middle classes got mobile. 
But the market had always been tied to commodities prices and by 2014 it was back to 1.6 million, and car makers found it incredibly hard to turn a profit. General Motors pulled out in 2015, while Ford said in 2019 it would close three plants. 
On top of yo-yoing sales, car makers had to deal with endemic corruption that even affected AvtoVAZ itself. Former head of AvtoVAZ Bo Andersson said one of many issues he faced trying to return the company to profit under Renault was suppliers selling aftermarket Lada parts direct to dealers, bypassing AvtoVAZ altogether. 
Russia has always been a difficult place to sell cars. Under sanctions it's borderline impossible, unless you're Chinese. The danger for them, however, is that as brands like Great Wall and Geely push further into Europe, they could find themselves being subjected to the same boycotts that Chinese customers like to impose on foreign brands for geopolitical reasons.
The best-selling brands in Russia's collapsing car and van market