The 3's unusually comfy seats are back, with our test model, in mid-range Rivoli trim, offering a leather-clad option. Pricier nappa leather seats, which are found in top-wrung Opera guise only, are just a tad more backside-friendly. Either option will keep you soreness-free on long trips. Bolstered sides also keep you firmly in your seat, which is handy given the car's generous body roll.
Exterior design tweaks come in the form of a chrome-stripped grille, a sharper front lip and wider-set daytime running lights for a "more expressive presence on the road". At the rear, the DS badge has been replaced by lettering.
Sadly, DS has fettled its engine offering, binning the most powerful, 153bhp, 177lb ft variant of its 1.2-litre three-pot Puretech engine (which we liked in the pre-facelifted model) as well as any diesel powertrains. This leaves the 3 with either a 100bhp (only available paired to a manual gearbox and with the lower-rung £25,950 Performance trim) or a 129bhp version of the same engine to choose from. Both have acceptable economy figures (45.6mpg; 42.8mpg) but it's the latter – as is found powering the Citroën C5 X – that we're testing here.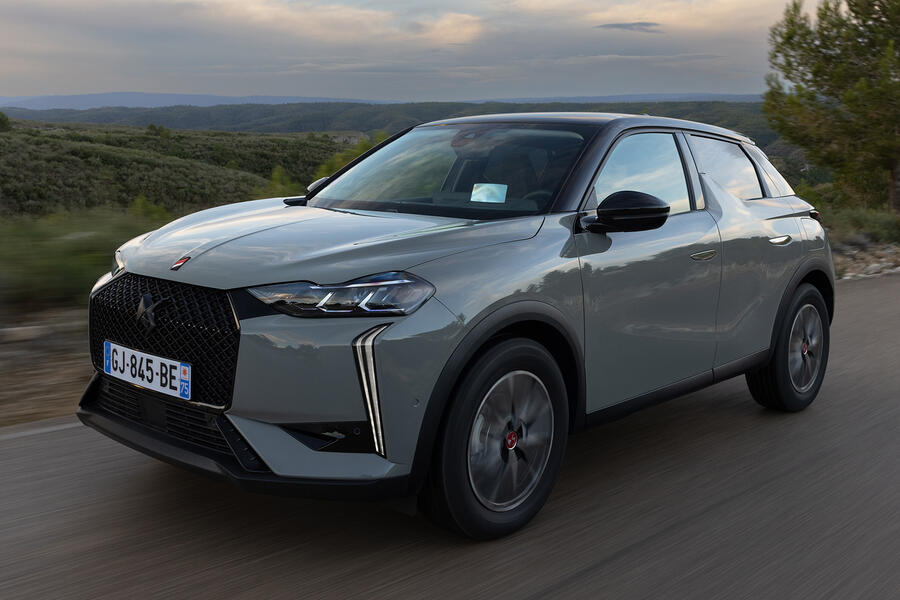 But it's the eight-speed automatic gearbox this engine is paired to that lets the 3 down the most. While the chassis provides a reasonably smooth ride at lower urban speeds, gearchanges can often be jerky and the decision-making is sluggish when more power is asked for on quicker roads. Matters improve when cruising, which is perhaps unsurprising given the car's sedate 0-62mph time of 9.2sec (up from the 8.8sec of the no-longer-available 153bhp motor).