[ad_1]

It feels seriously rapid, this thing, but not in the way that the four-wheel drive super hatches – your AMGs at al – do. There's no detonation of scrabbling tyres and turbo intake, there's not any sign of the sort of scrappy, endearing fightiness that other punchy front-drivers like the Focus ST often deliver in really heavy corner exits. In the Type R, everything feels delicate and adjustable yet purposeful.  
It's also very clearly in its element on track. From the finger-tippy way it seems to respond to steering inputs, to the tidy, focussed way that the Michelin Pilot Sport 4S tyres – now wider than before – keep the car in line through enthusiastic corner exits, there's a really exciting and very grown up poise to it. 
It does feel stiff, mind. The new Type R has a 35mm longer wheelbase, and while it is ultimately the same platform that underpinned the outrageously good FK8 Honda Civic Type R, suspension geometry is all new, and the whole car is now more rigid and a touch lighter. 
Honda hasn't confirmed the specifics of how much more rigid, nor even what the weight and power output is, but you can feel the new Type R bobbing a little over undulations in the circuit. The really high lateral g-force corners also bring a hint of tyre scrub as the car tries to kangaroo sideways a little, too. Even then it shows every sign of being playful and manageable as the diff does a remarkable job of keeping the front wheels pointing in the right direction and in contact with the track, regardless of kerbs and undulations. Thank the 16% increase in front camber rigidity.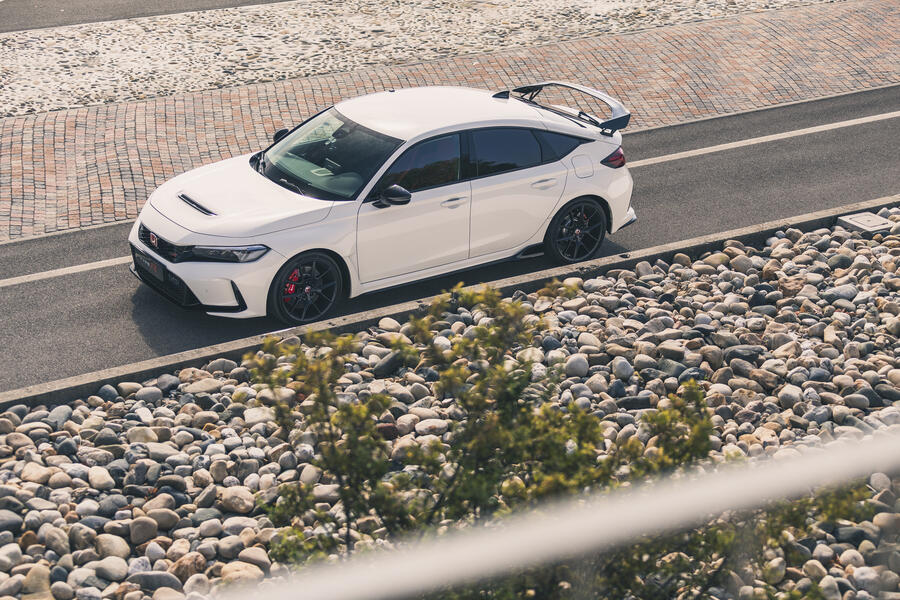 [ad_2]

Source link