[ad_1]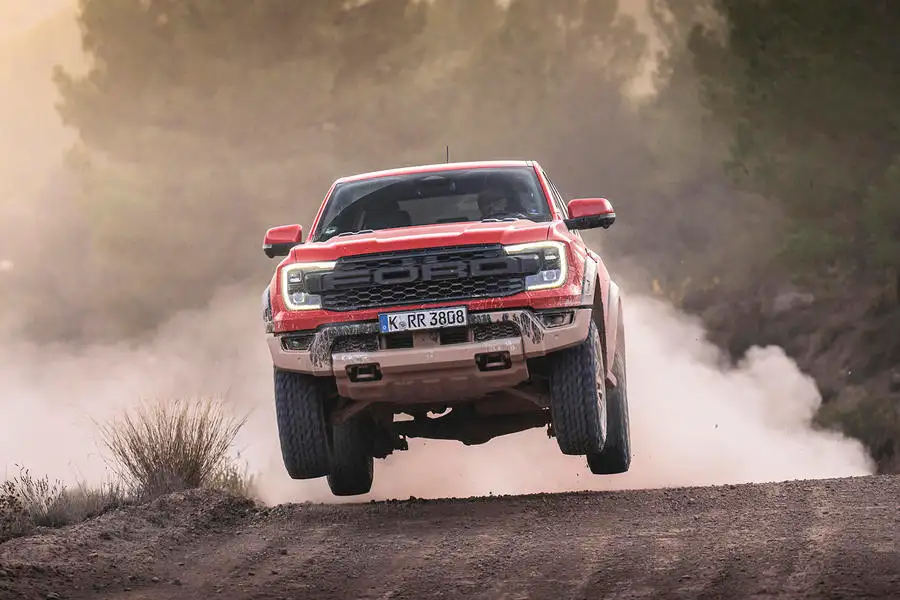 The VDC unit, in turn, tells the Raptor's new Fox 'Live Valve' adaptive dampers to promptly force extra compression pressure into the lower extremes of their travel, effectively preparing this 2.5-tonne, 5.3-metre, 288bhp flying pick-up truck for imminent landing. It seems a missed opportunity, frankly, that the seatbelt warning lights don't flash on at this point. If your jump was high enough, and your backside drifted clear enough of the seat cushion, perhaps they would.
Most importantly, though, when contact with terra firma is reestablished, the Raptor's suspension copes with the weight, the inertia and all of the rapidly dissipating energy generated with an extraordinary matter-of-factness. There's no squirm or pitch, very little rebound, and no sense at all that the suspension's even near the limit of its travel. What it says is (and feel free to insert your own Aussie drawl here) "go aaahhn – go for your life, mate. I could do this all day".
And, off road at least, you'll be amazed what else this extra-special pick-up can do. Being the first Ranger Raptor with two locking differentials, plus a proper electronically controlled four-wheel drive system with transfer gearing, it comes with 265mm of ground clearance, a ladder frame, and 70-profile knobbly BF Goodrich off-road tyres. 
[ad_2]

Source link