[ad_1]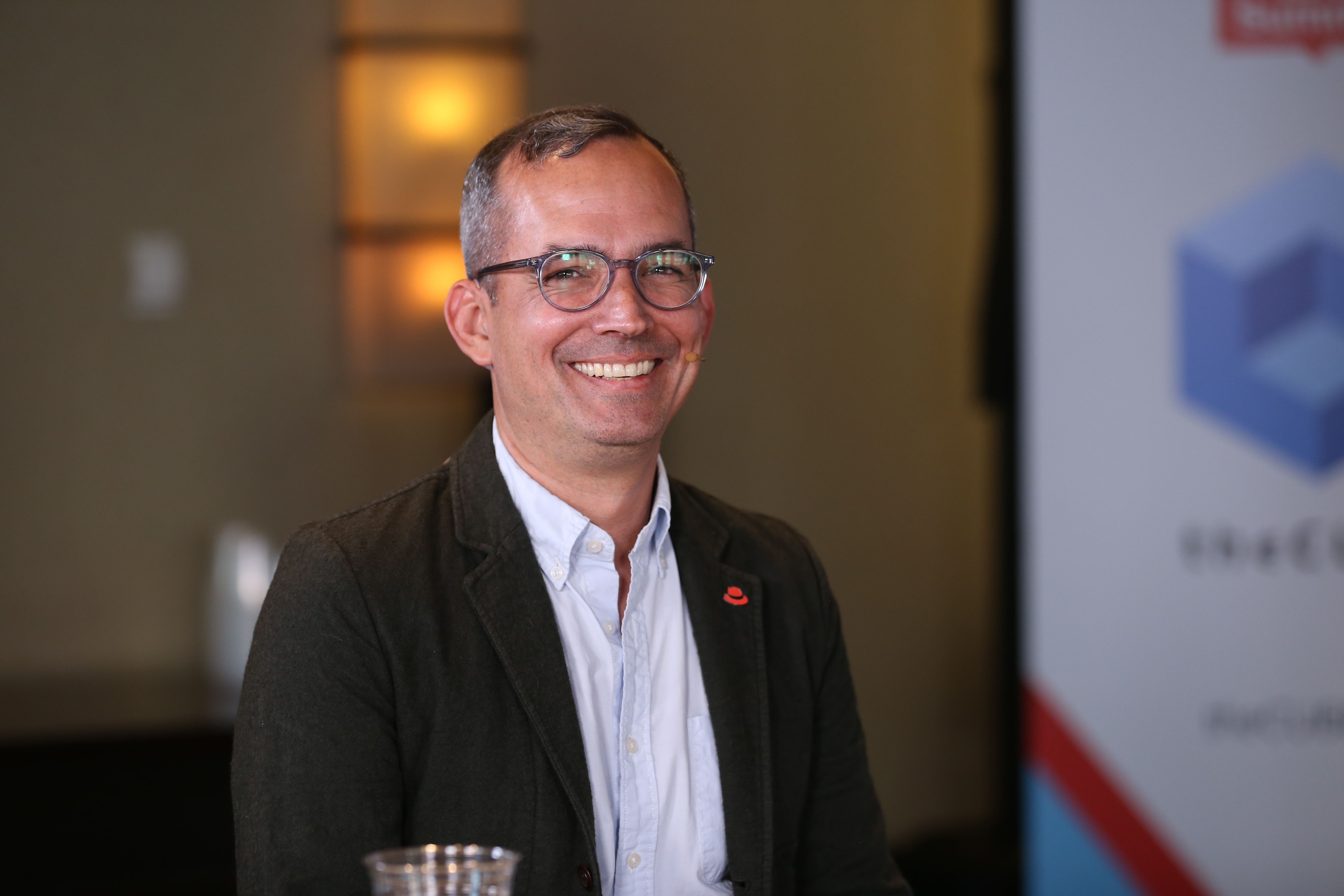 When what was then called Red Hat Linux first appeared in 1994, Gunnar Hellekson was working as a student systems administrator for Drew University. Nearly three decades later, Hellekson (pictured) is general manager of the Enterprise Linux Business unit at Red Hat Inc. and has become a key voice within the open-source community.
The past 17 years of Hellekson's career have been spent at Red Hat, and his involvement in open source covered a wide range of responsibilities and organizations. He founded Open Source for America to promote the technology's use throughout the federal government, served as a member of the Military Open-Source working group, and participated on the board of the Software and Information Industry Association.
Through his lengthy tech career, Hellekson has witnessed the emergence of open source from obscure corners of the developer ecosystem to the mainstream of enterprise operations. And he has a pretty clear idea of where the future opportunities can be found.
"When I started it was difficult to convince people that open source was both safe and effective," Hellekson said. "It became seen as essential and a core part of everyone's technology strategy. The next challenge for open source is not winning a desktop or open systems battle; it's expanding into large scale distributed systems and the edge."
Delivering on RHEL 9
Hellekson recently sat down for an exclusive interview with SiliconANGLE following theCUBE's coverage of this year's Red Hat Summit. He agreed to hold a conversation with SiliconANGLE following a busy summer in which RHEL 9, the latest major release of Red Hat Enterprise Linux, shipped to customers around the globe.
Red Hat delivered on a key commitment with the major update in May. The company had previously delivered a major new RHEL release every five years, but moved to a three-year cycle, with periodic minor updates. By providing a more consistent release schedule, Red Hat customers can plan IT roadmaps in the enterprise to accommodate the Linux cycle.
"I think that my favorite feature of RHEL 9 was that it shipped when it did," Hellekson said. "That has proved very valuable."
The latest version of RHEL included several new management features designed to support intelligent applications at the edge. These encompassed a number of security capabilities to detect failed container updates and provided a simplified installer for deployment of edge systems.
Leveraging automation at the edge
Red Hat views the edge opportunity from a perspective of three rings, according to Hellekson. The innermost ring is the enterprise IT data center, and the second is the public cloud. The third is at the device level itself, and this is where Red Hat sees the key opportunity.
"We talk about compute leaving the data center and being pushed out closer to where the data is collected," Hellekson said. "There is a role to play for all of our platforms in each of those concentric rings. I'm most interested in the use of RHEL in that outermost ring."
Red Hat's RHEL strategy for the edge is also closely linked to its Ansible Automation Platform. In May, the company strengthened its edge focus with a series of updates for Ansible and OpenShift that included a new automated mesh element for edge environments. By automating edge workloads and moving them closer to devices, Red Hat believes this will appeal to enterprise customers seeking to simplify IT tasks and lower operational costs.
"The interest in edge is going to come from making the edge as consistent as possible," Hellekson said. "It is very difficult to find a RHEL customer who isn't using Ansible on some level."
Public sector drives change
While Red Hat caters to a diverse private sector customer base, the company is also pursuing its business in the public sector as well. Earlier this year, Red Hat released its fourth annual "State of Enterprise Open Source" report that included highlights from a survey of government IT decision-makers. Red Hat found that 78% of government IT leaders endorsed the use of open-source solutions, with containerization and application modernization leading the list of preferred use cases.
Before leading Red Hat's Enterprise Linux Business Group, Hellekson was the chief strategist for the firm's U.S. Public Sector organization. The experience gave him a greater appreciation for the government's role in driving technological change.
"The U.S. government has been extremely aggressive in public cloud adoption," Hellekson said. "The government remains a very demanding customer and is often pushing the boundaries of what this technology is doing."
In the aftermath of several high-profile software supply chain security incidents, the federal government has been working with the private sector to craft potential solutions. Red Hat has been actively involved in this effort through several initiatives, including the Open Secure Content Automation Protocol, or OpenSCAP. The SCAP standard is a security policy compliance protocol maintained by the National Institute of Standards and Technology.
The purpose of OpenSCAP is to provide an auditing tool that uses a checklist description format to automatically remediate non-compliant systems. Red Hat built OpenSCAP to ensure that code was compliant with the rules it contained, and the latest RHEL 9 release supports OpenSCAP 1.3.6.
"The government is spending a lot of time on integrity and provenance of software," Hellekson noted. "That is forcing folks in government and the private sector to get creative. It is an intensely complex problem."
Problem solving and podcasts
Solving intensely complex problems appealed to Hellekson at an early age. The Red Hat executive was exposed to computers as a child, and his mother was a librarian who instilled an interest in learning from the start.
"I was always lucky to have a computer around the house," Hellekson recalled. "That really captured my imagination."
While pursuing his degree in theater and computer science at Drew, Hellekson came across a friend who hooked him into an internet account through the University of Hawaii. This was in the early days of the web when the internet was largely used as an interconnected database in higher education. The experience opened a window into a computer operating system that had just been created by a Finnish software engineer named Linus Torvalds.
"That's how I discovered Linux," Hellekson said. "I spent far too many hours in college downloading Linux, I really enjoyed the troubleshooting and problem-solving access. It was about making things easier for folks and finding a better way."
From those early days of the internet in the 1990s to today, Hellekson is still finding new opportunities. He is part of a podcast with colleague David Egts, chief technologist for the public sector at Red Hat, called the "Dave and Gunnar Show."
The program is wide ranging, with titles like "The Cult of the Dead Fruit on the Back of the Computer" and "Digital Skinner Box." In recent episodes, the pair have found themselves talking more about the social consequences of artificial intelligence and machine learning tools, analyzing the plusses and minuses in a technology world that is moving at warp speed.
"AI and machine learning have slowly crept into that podcast in a way that I didn't expect," Hellekson said. "Deepfake technology has been democratized quickly; it is so cheap and accessible. The tech world spent so much time on how to do it; it didn't think about should we do it."
Photo: SiliconANGLE
---
Show your support for our mission by joining our Cube Club and Cube Event Community of experts. Join the community that includes Amazon Web Services and Amazon.com CEO Andy Jassy, Dell Technologies founder and CEO Michael Dell, Intel CEO Pat Gelsinger and many more luminaries and experts.
[ad_2]

Source link