[ad_1]

The new Honda Civic, the 11th iteration of Honda's staple family hatchback, has arrived in the UK ahead of customer deliveries beginning in October. It's priced from £29,595 up to £32,995, depending which of the three trim levels you go for.
At 4.55m, it's the longest car in its class, and at 1.41m, it's the lowest, too. In a segment coming under increased pressure from crossovers and SUVs (to the extent that Ford is canning the Focus), the Civic looks like a very conventional old-school hatchback. 
It's made for the world but designed primarily within Europe and to our demands, because they're the highest around the globe.
Anyway, it's so old-school that it has a petrol engine and even what Honda calls an e-CVT. But not so fast: "I'm not very happy about that name," says Honda product planning manager Andrew Winfield, "because there is no gearbox."
The new Civic comes as a hybrid only, with a single powertrain option until the hot Type R arrives – and for the most part, it's driven by an 181bhp electric motor, whose energy comes generated via a petrol engine. The 141bhp naturally aspirated 2.0-litre unit spins a generator that makes power for that motor.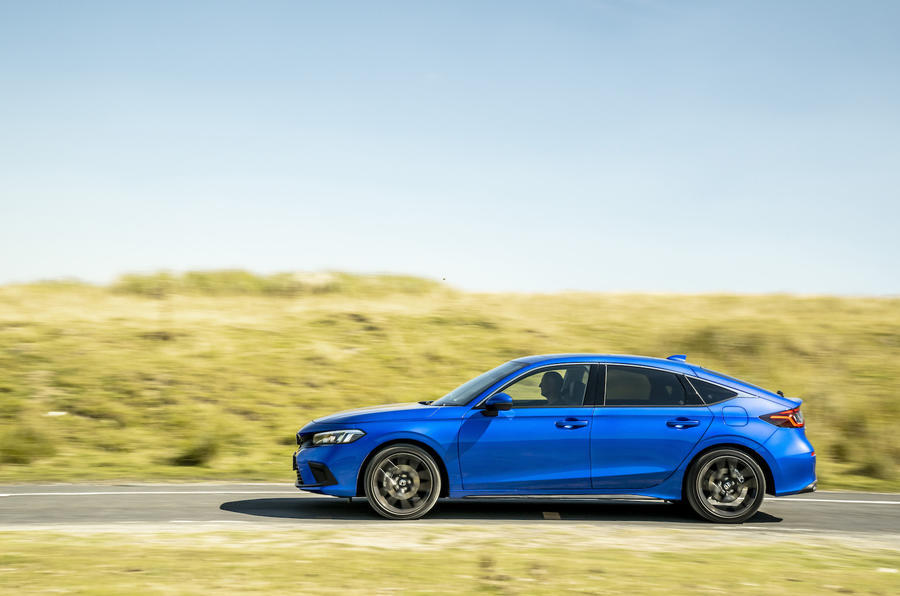 A similar set-up is used in the Jazz and HR-V, but here the motor is much more powerful and so the engine's mechanical influence is lessened. For the vast majority of the time, the engine is totally disconnected from the front wheels. Only at steady high speeds does it clutch onto the wheels – and then only at one fixed ratio.
But what do you do with an engine to avoid it sounding whiny and dull the rest of the time, when it's just making power (and heat and noise) but isn't attached to the wheels? Why, if you're Honda, you zhuzh it up a bit by, under acceleration, having it rev up and down by placing some fake gearchange points on the way, so as speed increases it zings around the rev band like a conventional car changing gear, even though there are no gears. If you pull a steering wheel paddle, it adjusts the regenerative deceleration's strength, rather than affects a non-existent gear. There's even a rev counter and a Sport mode.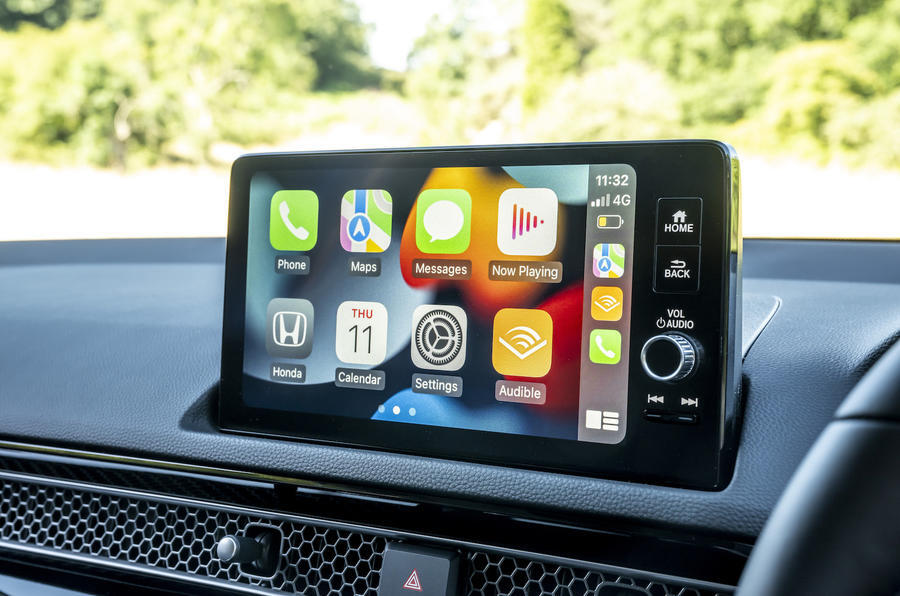 It's all quite odd – and you can't plug in the car at all to give it battery electric-only range. But if you're one of the 80% of people who still buys a non-pluggable car in this class, that won't bother you. It's very effective. Plus, it will do 60mpg without trying.
Perhaps obviously, because motive power is electric, it's very smooth. I couldn't tell you (although there is a graphic on the infotainment that can) when the engine clutches onto the wheels to provide drive, either. It's as slick as an EV, because most of the time it's propelled like one. It's quick enough, too: the power is delivered softly, but it will do 0-62mph in 7.8-8.1sec, depending on the trim level.
[ad_2]

Source link