[ad_1]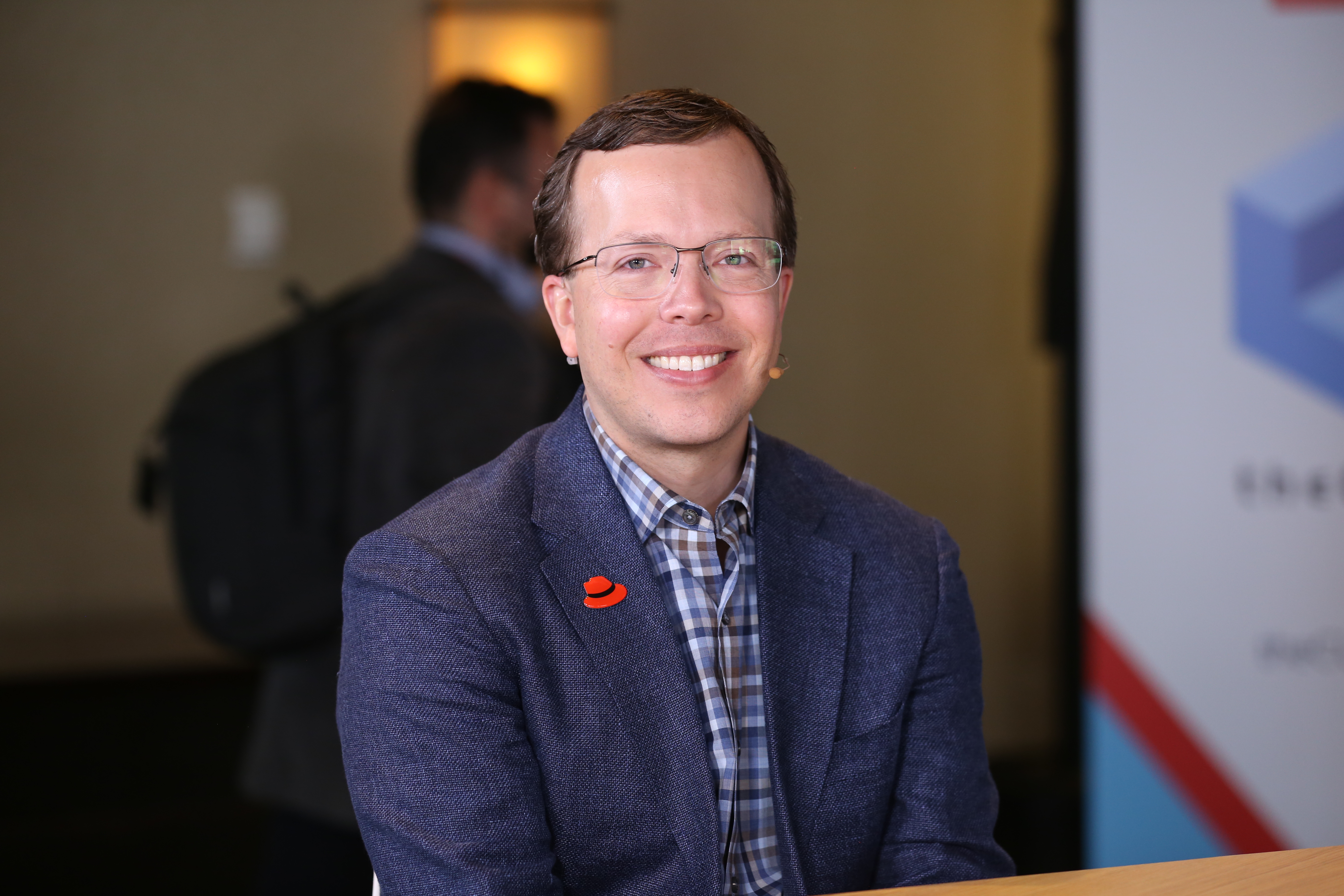 With his elevation this month to become the next chief executive of Red Hat Inc., Matt Hicks joined a select club of enterprise leaders well-known in tech circles but perhaps not as familiar to corporate America or the general business press.
Like Arvind Krishna, who was selected to lead IBM Corp., Andy Jassy, who took the reins from Jeff Bezos at Amazon Inc., and even Paul Cormier, whom Hicks (pictured) will replace, the new Red Hat chief executive did not have a high profile prior to his appointment. Yet, he is well-known to theCUBE, SiliconANGLE Media's livestreaming studio. Like those other top executives, Red Hat's new leader has been a guest on the program nearly every year since 2017.
TheCUBE's exclusive conversations with Hicks over the past five years offer a glimpse into his mindset and approach in leading an arm of IBM that now contributes $1.5 billion to the company's annual revenue and more than $8 billion in consulting services. The interviews are wide-ranging, covering many detailed technical aspects of Red Hat's portfolio, and one overriding theme stands out: Matt Hicks is an open-source believer at his very core.
"I started in Red Hat when it was just Linux; and Linux is big, it's complex and is in and of itself a pretty broad community," said Hicks, in a 2018 interview with theCUBE. "We get to work with customers that are transforming their business and that touches everything from how they're organizationally structured, how we make teams work together, how I make developers happy with their rate of innovation. I love it, and we are open source at our core. I'm an open-source guy. I always have been."
OpenShift and hybrid
The open-source ethos that has driven Hicks' enterprise philosophy was solidified early in his Red Hat career when he worked as a key member of the development team for OpenShift.
As an open-source container orchestration platform, OpenShift has become a backbone for hybrid cloud deployment, and it has grown to facilitate application migration across cloud and on-premises ecosystems. In an analysis published last month, Technology Business Research senior analyst Catie Merrill noted that OpenShift now has four-times the number of customers compared to before Red Hat's acquisition by IBM three years ago.
A push for the hybrid cloud was a key factor in IBM's decision to purchase Red Hat for $34 billion, on the heels of a belief from then IBM CEO Ginni Rometty in 2019 that "when it comes to cloud – it's hybrid." Two years before, Hicks outlined his hybrid vision for theCUBE audience.
"We're just seeing the reality of hybrid cloud becoming real for our customers," Hicks said in his 2017 interview. "Customers talk about taking OpenShift and running that all the way out to the public cloud. We love that aspect because it's being able to use infrastructure to power applications. I think it's going to change IT."
Opportunity at the edge
Hicks' anticipation that open-source tools such as OpenShift would become central to the enterprise application strategy has also guided Red Hat's approach when it comes to the edge.
Red Hat sees the edge as an opportunity to extend hybrid cloud to end users and the sources where data is being generated. This was on full display at the Red Hat Summit in May when the company accompanied its long-awaited release of RHEL 9 with the news that it would begin providing an In-Vehicle Operating System for General Motors Co.
The previous launch of Red Hat OpenShift Data Science to support machine leaning for streamed data and the release of Red Hat OpenShift API Management underscore the company's direction. As outlined by Hicks in a conversation with theCUBE last year, the key will be how enterprises can not only control and understand data, but also enable communication between key elements of the hybrid world.
"It's that data connectivity and the importance of it, and really being able to connect apps across clouds, across data centers," Hicks said. "You can think of this as the overseer of how apps are going to talk to services. How I want to control and understand that is really critical."
Telco business
It is clear from theCUBE's interviews with Hicks that Red Hat remains deeply focused on the telco space as part of its edge strategy. As far back as 2017, Hicks and his CEO predecessor Cormier were closely monitoring the interest of telco firms in open-source solutions, particularly Red Hat OpenStack, a cloud computing platform that virtualizes resources from industry hardware.
"If there's a market segment that's really on fire with OpenStack right now it's the telco space," Cormier said in a 2017 conversation with theCUBE analysts and Hicks. "It's the ability to have the infrastructure underneath that scales dynamically as one application needs more resources than the other. They are retooling."
While OpenStack has provided a useful bridge for Red Hat into the telco space, OpenShift has emerged as a vital technology for edge-driven solutions. The leading cellphone services operator in Turkey leverages OpenShift to develop and deploy AI applications in cloud and on-premises. After working with telco services provider Ericsson to integrate OpenStack, Red Hat is now validating OpenShift for a cloud-native 5G platform.
"For telecom providers, as they've pushed towards things like 5G, it's not the traditional one data center type of play," Hicks said in a 2020 interview with theCUBE. "You have these multiple tiers of infrastructure, and they run it at massive scale. We certainly work a lot with them with OpenStack for networks, but as things got closer to the edge, that push to OpenShift was pretty prevalent."
Engineering focus
Hicks brings a strong engineering mindset into his new role. Before starting his career at Red Hat, he was a software group developer with IBM for four years.
He joined Red Hat in 2005 as an engineering team lead for IT and worked his way up in the organization through a variety of increasingly more responsible enterprise architecture and engineering positions within the company. One day before the news that he would be Red Hat's next CEO, Hicks figured prominently in an announcement that his firm and the Swiss tech company ABB would partner on process automation and industrial software for industries while leveraging Red Hat Enterprise Linux.
"In the case of RHEL, you could stay on some versions of RHEL for quite a while, and we provide value there in keeping things working," Hicks said during his 2017 conversation with theCUBE. "But at some point, we're constantly moving this along, adding new innovation. We're able to provide value there, and as an engineer, it is refreshing."
This kind of engineering mindset has infused the Red Hat culture with a drive to draw from the deep well of open-source innovation and turn ideas into winners. Hicks described this five years ago as "picking our bets and going all in on those areas."
Starting with its early bet on Linux in the 1990s, Red Hat has shown an ability to survey the open-source landscape and identify technologies with staying power and genuine enterprise impact. The company was one of the first collaborators with Google LLC in 2014 on the container orchestration tool Kubernetes.
Red Hat acquired IT automation startup Ansible in 2015, which provided it with a suite of software tools to enable infrastructure as code. As container security has grown in significance, the company reached out and purchased StackRox Inc. in early 2021 and released it as an open-source project this year.
"It's that open-source model that gives us the durability where we can keep changing and tracking to new patterns," Hicks said in a conversation with theCUBE analysts earlier this year. "There is some art to picking; there are millions of projects, but you've got to watch for that critical mass. We look at that from trademark controls, and how foundations are structured, and who the contributors are. This could be part art, part science, but it's certainly a fun space to be in and see that happen. It's inspiring to me."
Photo: SiliconANGLE
---
Show your support for our mission by joining our Cube Club and Cube Event Community of experts. Join the community that includes Amazon Web Services and Amazon.com CEO Andy Jassy, Dell Technologies founder and CEO Michael Dell, Intel CEO Pat Gelsinger and many more luminaries and experts.
[ad_2]

Source link