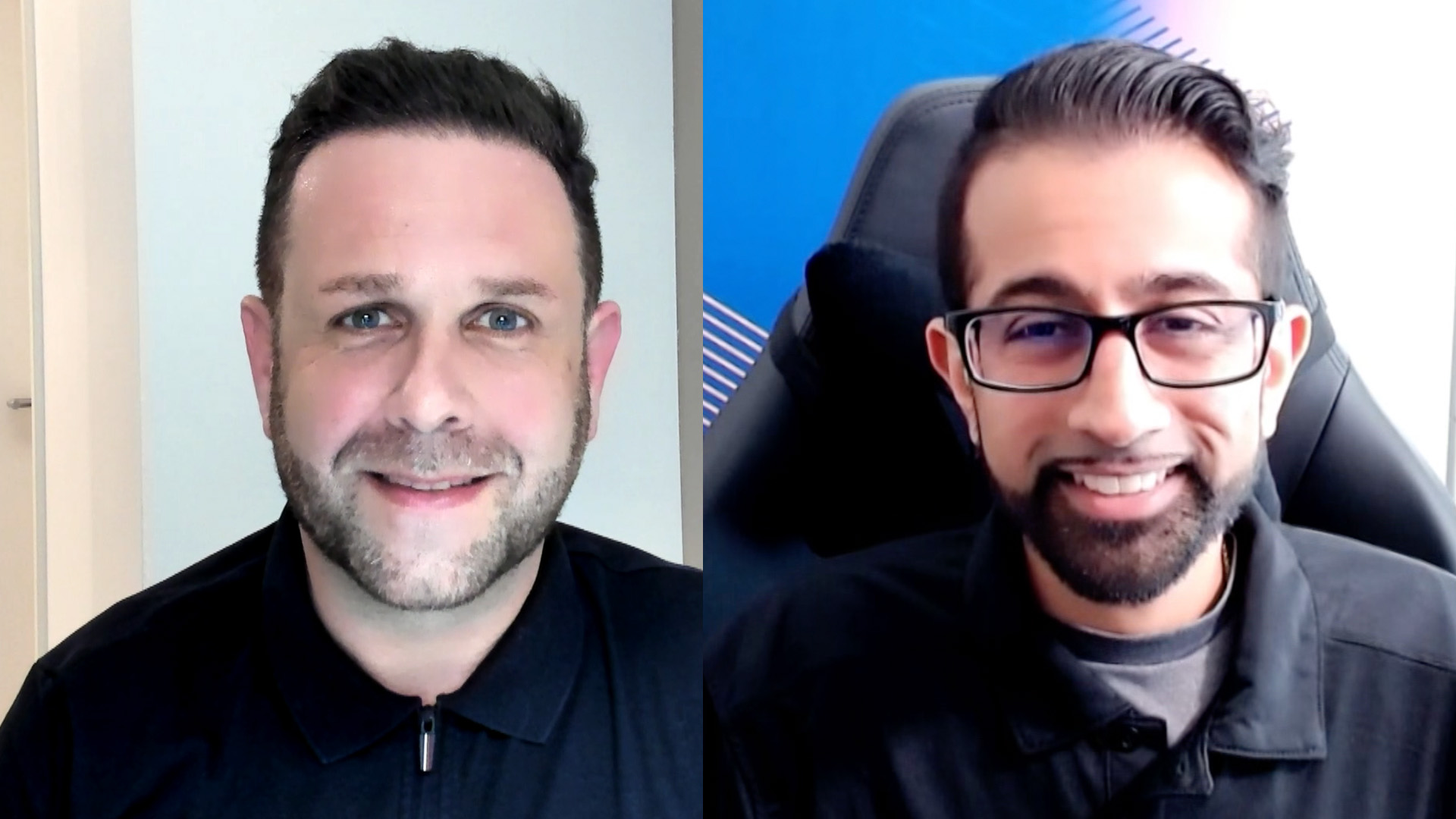 VMware Cloud on AWS was created to enable companies to operate across multiple clouds without restrictions.
The partnership between Amazon Web Services Inc. and VMware Inc. was controversial when it began about five years ago, but it served a customer need that most analysts didn't yet see.
"A lot of people said it was a bad deal," said theCUBE industry analyst John Furrier. "It turned out to be a great deal, because not only could VMware customers actually have a cloud, migrate to the cloud, do it safely … but also position themselves for what's beyond just shifting to the cloud."
Furrier hosted today's "Accelerating Business Transformation with VMware Cloud on AWS" event, during an exclusive broadcast on theCUBE, SiliconANGLE Media's livestreaming studio. In the hour-long presentation, representatives from AWS and VMware joined theCUBE to talk about how the collaboration between the companies has evolved beyond a regular ecosystem relationship into a strategic partnership that creates a win-win-win situation for AWS, VMware and their customers. (* Disclosure below.)
VMC on AWS provides a path to migrate and modernize
Cloud migration is a major endeavor for companies that handle sensitive customer data and have long-established operational procedures and workplace culture. However, VMware offers a foothold in these organizations that makes moving to the cloud simpler. According to company statistics, 100% of Fortune 500 and Fortune Global 100 companies use VMware technologies and services with 80% of virtualized workloads and a large percentage of business-critical applications running on VMware technology.
When VMware Cloud on AWS combined this data center presence with AWS' cloud services, it created a base from which organizations can move into the cloud without disruption.
"What makes anything complex is if you're required to acquire new skill sets or you've got to manage something differently. And as far as VMware Cloud on AWS, on both these aspects, you don't have to do anything," said Ashish Dhawan, managing director and worldwide head of sales for enterprise workloads at Amazon Web Services Inc., during his session on "Customer Successes With VMware Cloud on AWS."
One of those customer success stories is the migration and modernization journey of market intelligence company S&P Global Inc. While it had moved some workloads into the cloud, the company had mostly retained a traditional model and maintained offices and data centers across the globe. But supply chain issues and aging data center infrastructure combined to create an unreliable environment, and the company was experiencing high costs and difficulty sourcing replacement hardware, which led to an unstable environment and system outages. It was obvious that S&P needed to commit to cloud, but it needed to do it fast to avoid regulatory penalties on downtime.
Using VMware Cloud on AWS, S&P Global migrated 1,000 workloads to the cloud in just six weeks, with the complete process accomplished in eight months. S&P's story highlights not only how VMware Cloud on AWS makes it simpler and faster for customers to migrate to the cloud, but the advantages they have once they are there.
"As soon as we migrated all [S&P Global's] applications, they got access to our high-level services. Be it our analytics services, our machine learning services, or our artificial intelligence services that have been critical for their growth. And that really is helping them get towards their next level of modern applications," Dhawan stated, explaining how access to AWS' services and support opens the door for employees to upskill and take advantage of next-generation technologies at their own pace.
The idea of layering VMware on top of the AWS infrastructure was a critical concept behind the original collaboration, Dhawan added.
"When we created this VMware cloud solution, it literally used the AWS platform underneath, and that's why it's called VMware Cloud on AWS," he said.
This is a distinction worth noting, according to Furrier, who pointed out the similarities between VMware and AWS' vision and the idea of supercloud, which is gaining traction in the cloud community.
"It does reflect engineering and some levels of integration that go well beyond just having a SaaS app and platform as a service or PaaS services," Furrier said.
Here's Dhawan's complete session about VMware and AWS' joint customer success stories:
Customer feedback drives VMC on AWS innovation
In the five years since their collaboration was announced, VMware and AWS have moved from the first year's goal of assisting customers with migrating mission-critical workloads at scale to expand geographically and through partnerships to offer more features. In 2018, stretch clusters were added, enabling customers to use VMware vSAN and NSX to stretch vSphere clusters across to Amazon Availability Zones in the same region.
Then came advanced networking abilities, disaster recovery, VMware Cloud integration with Amazon Outposts, and GovCloud FedRAMP high accreditation status.
One of the major things VMware has learned through the relationship is the concept of "working backward" from problem to solution, prioritizing the customer's needs, according to Narayan Bharadwaj, vice president and general manager of cloud solutions at VMware, who presented a joint session with Fred Wurden, vice president of commercial software services at AWS.
"We really, really focused on customer feedback as we built a service offering," Bharadwaj stated. This has paid off, with current customer momentum strong as VMware Cloud on AWS scales "massively across all the geos and industries," he added.
One of the latest announcements was the addition of the new instance type i4i.metal for VMware Cloud on AWS. The instance provides VMware Cloud on AWS customers with the ability to handle the requirements of modern workloads through 30TiB of raw local NVMe flash storage, 128 vCPUs processing power, 3.5 GHz Turbo CPU speed, 1,024 GiB memory, and up to 75 Gbps networking speed.
"It's pretty fascinating to watch how fast customers can transform and move when you take the skill set that they're familiar with and the advanced capabilities that they've been using on-prem and then overlay it on top of AWS infrastructure," Wurden said.
Here's Bharadwaj and Wurden's complete session on "AWS Innovations and Solution Updates":
A joint customer-centric focus creates a win-win-win paradigm
The intense focus from both VMware and AWS on making multicloud simple for the customer is shown in the depth of the collaboration between the companies.
"We're looking to deliver value to our customers together. These are our joint customers," stated Samir Kadoo (pictured, right), worldwide VMware strategic alliance solutions architecture leader at AWS, who spoke in a joint session on the value of the AWS & VMware Strategic Partnership to customers moving to the cloud with Daniel Rethmeier (pictured, left), principal architect of global AWS synergy at VMWare.
Alongside the hundreds of VMware and AWS engineers working together, the companies have joint dedicated solutions architects, sales specialists and account teams, according to Kadoo. "They all come together to drive this innovation forward with VMware Cloud on AWS," he stated.
There are currently close to 600 channel partners that have achieved VMware Cloud on AWS service competency, according to Kadoo, with 300 certified or validated technology solutions available to VMware and AWS customers.
The collaboration goes beyond the dedicated teams that help customers get the most benefit from their investment in VMware Cloud on AWS, with the workforce of both companies gaining knowledge from the close collaboration, according to Rethmeier.
"AWS learns from us about the VMware technology, where VMware people learn about the AWS technology," he stated.
Here's the complete session with Kadoo and Rethmeier:
Stay tuned for the complete presentation of "Accelerating Business Transformation with VMware Cloud on AWS."
(* Disclosure: TheCUBE is a paid media partner for the "Accelerating Business Transformation" event. Neither Amazon Web Services Inc., the sponsor for theCUBE's event coverage, nor other sponsors have editorial control over content on theCUBE or SiliconANGLE.)
Photo: SiliconANGLE
---
Show your support for our mission by joining our Cube Club and Cube Event Community of experts. Join the community that includes Amazon Web Services and Amazon.com CEO Andy Jassy, Dell Technologies founder and CEO Michael Dell, Intel CEO Pat Gelsinger and many more luminaries and experts.