Mercedes' Fuel and Pay service works at approximately 900 of Germany's near-14,500 fuel stations
Technology companies are battling car makers for control of in-car payment systems as the market develops
Where smartphones lead, cars follow, and that's the case for in-car payments too.
The currently limited ability to pay for stuff like parking, charging or drive-through food and drink via your car is expected to grow exponentially in the next few years as car companies and other financial-technology providers compete to grab a slice of the market.
The total global market for in-car payment is expected to grow from $3.32 billion (£2.7bn) in 2021 to $12.5bn (£10.2bn) in 2030, according to research by Fortune Business Insights.
Mercedes and its payment partner Visa are even more optimistic, eyeing up a chunk of what they estimate will be an $86bn (£70.4bn) market by as early as 2025.
First though, the car companies have got to jump through a lot of hoops.
"From a technology perspective in-car payment isn't tricky at all. The problem is more the business roadblocks," said Pedro Pacheco, automotive tech analyst at consultancy Gartner.
For Pacheco, in-car payments or e-wallets are in the still in that optimistic 'innovation trigger' phase of what Gartner calls the technology hype cycle. Still to come is the 'peak of inflated expectations' and the 'trough of disappointment' before heading off to the slope of enlightenment. Five years he gives it.
Examples of those business roadblocks were thrown up during experiments during in-car payments for fuel, for example Shell's link up with Jaguar via its now superseded InControl screen interface. Because they're limited in terms of number of fuel stations, it has limited appeal.
Mercedes, for example, last year touted its Fuel and Pay service from the dashboard screen for 900 fuel stations in Germany – a country with 14,459 stations in 2019, according to Globaldata.
There was little benefit to fuel companies for widening the scope that scope given that in-car payment could ultimately see them losing custom for attached shops, Pacheco argued.
"This is the biggest issue: to succeed, you need to build a comprehensive holistic ecosystem of places where the end customer can use the e-wallet," he said.
Portugal's Via Verde connected network has shown how an ecosystem could work. Originally set up as a way to pay for the country's toll roads via a tag, Via Verde has evolved into a system to pay for a range services in-vehicle, including even McDonald's take-away via numberplate recognition. Parking, vehicle servicing, ferries and EV charging can all be paid for through the system.
Via Verde is entirely agnostic to car brands, but the brands are trying to develop systems unique to them.
"The car will become a battleground" for payments systems, research company Forrester wrote in a recent report. The company envisages a future where "vehicles will negotiate their own parking fees or fuel payments and earn rewards for economical driving, congestion avoidance or reporting potholes". Car makers believe there's money to be made and want to be in line for a cut.
Mercedes is the brand currently at the forefront of in-car payment after rolling out its latest version of the MBUX operating system complete with fingerprint recognition. It uses this to deliver the second of a two-factor identification system (the first being the fact that it's your car) to allow payments in partnership with Visa, starting this year in the UK and Germany.
This is one up from Via Verde, which is just single factor (ie your car), which leads to limitations such as a maximum €30 (£25) spend at McDonald's in a six-hour period in case your car has been stolen.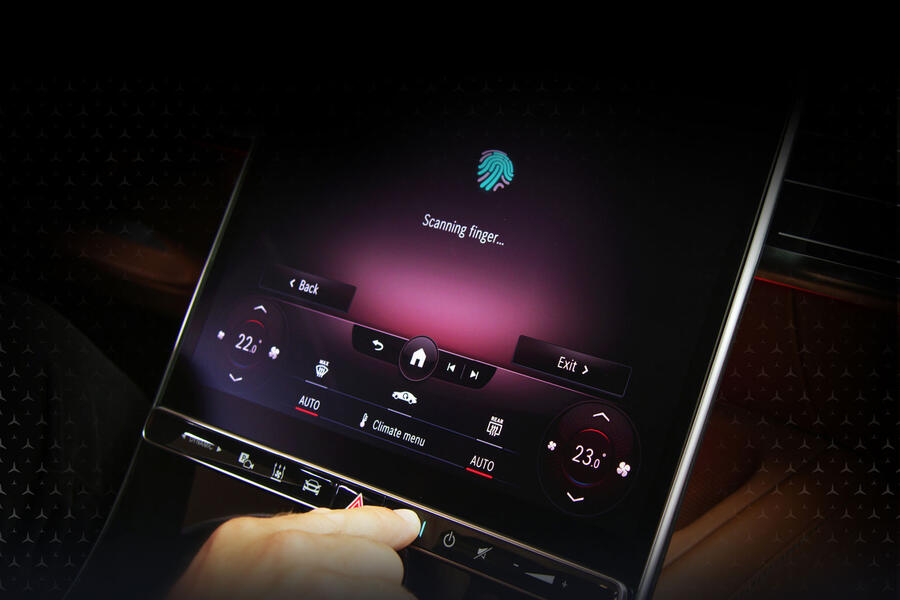 In a foretaste of where car companies see how they will monetise e-payment, initially Mercedes is using it to let you pay to unlock additional features in the car, such as advanced cruise control. In the future, it imagines expanding that to payment of "parking, EV charging, infotainment or kerbside delivery".
Mercedes' MBUX system is however starting to offer cardless electric charging payments, starting with the EQS. For the customer, this where the magic starts to happen.
"For me, this is the strongest use case for in-car payments by far," Pacheco said.
This is the part in these future-trend stories where we usually say that Tesla has led the way, and it's true again on the payment side of charging. Owners drive up to a Tesla Supercharger, plug in and the charge time is automatically billed to their account where they have a credit/debit card on file.
The game-changer for owners of EVs without a dedicated network is whether the car will allow a simple plug-and-charge function on a range of networks.
Making that easier is the rollout of the ISO15118 vehicle-to-grid communication interface standard, allowing cars to talk to chargers much more easily, assuming both have implemented the standard.
The Volkswagen Group and Hyundai are two companies that are adopting it, and Porsche recently unveiled new software for the Taycan that does away with the need for a payment card.
Seamless charging payment will be another way to drive customers to the dedicated brand app, for example Mercedes Me, which the car makers hope will become a comforting digital lounge in which to manage payments and functions – and hopefully shop for more.
The challenge to in-house systems will come from Apple and Google. Their respective automotive operating systems, Android Auto and CarPlay, are both becoming more embedded into cars as they seek to become the default digital interface. They will in turn help create that seamless payment system by linking with the drivers' smartphone, almost certainly already set up for Apple Pay or Google Pay.
Car makers are slowly building the business connections to overcome the roadblocks. For example, BMW in the UK last year announced it had linked with parking app RingGo its Connected Drive infotainment system. Meanwhile, in the US, Hyundai has teamed up with pizza take-away chain Domino's, parking booking app ParkWhiz and charge provider ChargeHub to offer in-car payment.
The battle has yet to be played out, however, in terms of who will pick up market share from the desire to make payments that bit easier, whether the car companies, Apple, Google or a third-party fintech. Either way, it's good news for consumers. 
[ad_2]

Source link