The fact is, Lamborghini expects the majority of Tecnica customers to order their cars with the rollover bar, figure-hugging sports seats and sticky Bridgestone trackday tyres that it offers as options, as if they were buying slightly dressed down STOs, anyway. The car's cabin has new lightweight carbonfibre door skins and is upholstered widely in racecar-cool 'dynamica' suede upholstery. And, while it has a new infotainment system with expanded connectivity features (navigation input via What3Words, voice control via Amazon Alexa), it retains those slightly imperfect, low-roofed driving ergonomics which make it a bit hard to see out of, and tricky to get entirely comfortable in, if you're over six foot tall.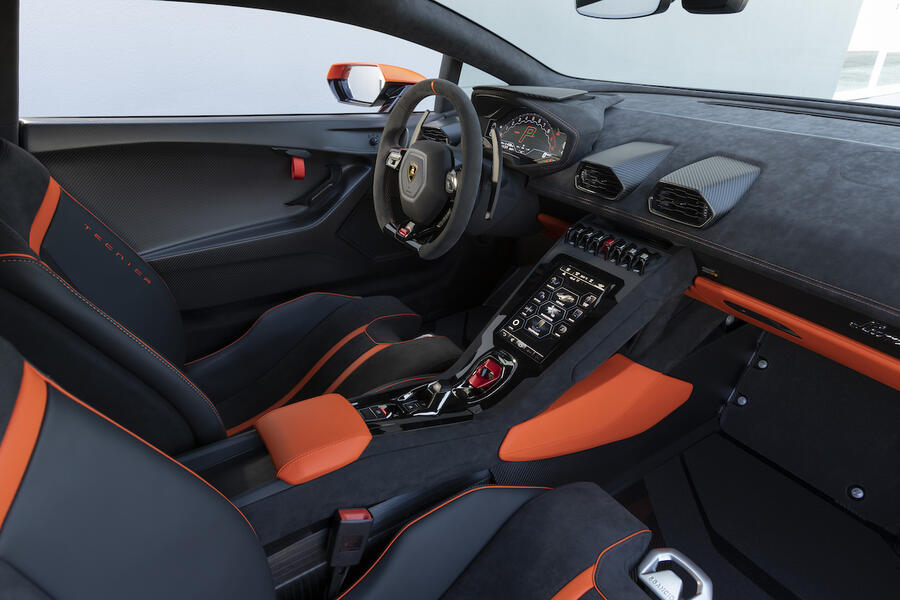 I'm not a giant; but still, I'm not sure I want a Lamborghini that makes me perfectly comfortable at the wheel, as if it had been designed from the inside out rather than the other way around. Then again, I wouldn't expect to use one like a normal everyday car anyway, even if I could afford to. Cars like this just aren't of the normal, day-to-day world, and neither should they be. We should celebrate their extravagance while we can.
Thankfully, the Tecnica lets you do that too. It offers the usual 'Strada', 'Sport' and 'Corsa' driving modes to choose between when you're off and going, and in the first of them it is certainly a softer-riding, quieter and better-mannered car than the STO is, should that be what you're looking for from it. But 'Sport' brings out that howling, crackling, bombastic soundtrack from the exhaust note that only a big atmospheric engine can conjure, and it instantly assumes such a compelling part of the car's driving experience as to reframe it completely, and dominate it entirely.