The 982-generation 718 is an old model now – six years and counting, with a new model due next year. Below six-cylinder level, the Cayman is still offered with some widely criticised flat-four engines, which it will be for Lotus's Mercedes-AMG-engined four-cylinder Emira to square up with on another day.
Even at this stage in its model cycle, the Cayman GTS 4.0 still mixes desirability, usability, compactness, quality, comfort, cruising refinement and driver appeal in a way that's totally unmatched in the sports car market.
Back in 2017, the Alpine A110 proved that it could be beaten in some ways (for lightness, space efficiency, handling fluency and really simple on-road driver appeal), but it hasn't outperformed it commercially.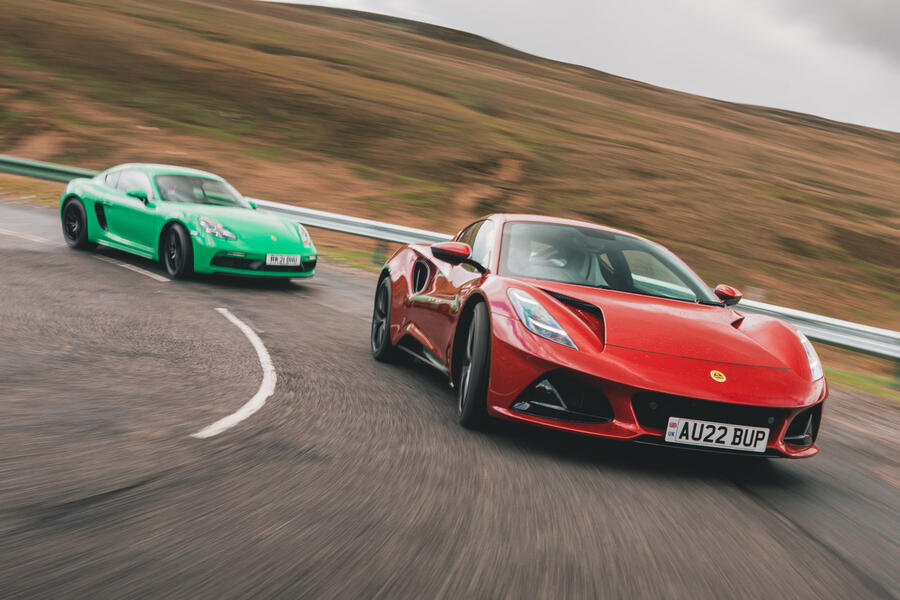 The Emira's angle of attack is different. In contrast to the Alpine, it feels like a bigger, wider, meatier and slightly heavier car than the Porsche. It's one of a rawer feel, tauter body control, greater tactile involvement and more vivid driver engagement than the Cayman – which might come as welcome news to Lotus devotees in the light of the company's newly civilised priorities.
There are some clear supercar-like dynamic overtones about the Emira, which contrast quite plainly with those of the slighter, lighter-feeling, content-to-play-the-little-guy Porsche. But underneath all the new leather and silicon, this Lotus is still a likeably uncompromising driver's car.