[ad_1]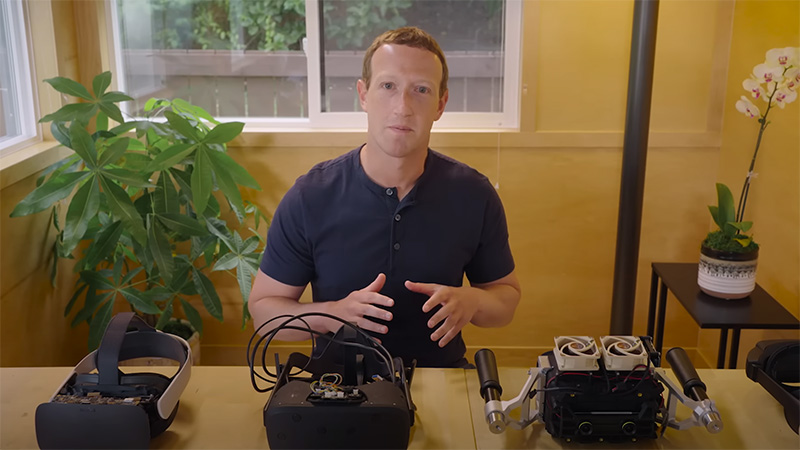 Meta Platforms Inc.'s virtual reality division Reality Labs is working hard on the next evolution of its VR headsets, unveiling a number of new prototypes that the company said will help it with new technology towards the goal of building more immersive displays.
During a press briefing last week, Meta's Chief Executive Mark Zuckerberg (pictured) gave a sneak peek at these new headsets that the company has been putting time into, which have fanciful names such as Starburst, Butterscotch and Holocake.
The objective of each prototype is to tackle a specific display challenge in virtual and augmented reality so the technology can be perfected and eventually built into a future headset. As a result, all of the headsets previewed by reporters last week will not be shipping; they exist purely for research purposes and as stepping stones for future products.
"I think we're in the middle right now of a big step forward towards realism," Zuckerberg said as reported by the Verge. "I don't think it's going to be that long until we can create scenes with basically perfect fidelity."
In a video released on Facebook today, Zuckerberg revealed a cavalcade of prototypes to the public and spoke about the specific display challenge that they tackle. Each one looked different from another but was generally similar — a bulky headset, often open panels, visible circuit boards and a mess of wires — except one.
With Butterscotch, Meta hopes to reach an extremely high degree of visual fidelity so that the human eye will not be able to separate VR from reality by providing at least 60 pixels per degree. That's more than enough to allow the human eye to "comfortable read the smallest letters on an eye chart," said Zuckerberg.
Comparatively, the Meta Quest has approximately a 16 per degree, HTC Vive Pro has a 15 per degree and the enterprise-focused photorealistic Varjo XR-3 has a PPD of nearly 70 pixels per degree.
Starburst doesn't look like something you'd ever want to put on your face, with two giant fans on top to keep it cool. It's the first prototype headset that is capable of high dynamic range, which allows for a giant range of colors at greater luminosity, vividness and contrast. It's primarily seen in higher-end 4K television sets in order to bring out what's described as eye-popping visuals by creating deeper shadows and brighter whites in the same image.
Most VR displays are not capable of brightness anywhere near sunlight and this is why the design of Starburst requires the fans and two grips on the sides, as well as a lamp inside to shine a bright light. No doubt it's going to need some more research to get it down to size. According to Zuckerberg, it's capable of providing more than 20,000 nits of brightness, but it's still "wildly impractical" and it's still only the first generation.
And then there are the Half Dome prototypes, which are designed to assist with varying focal planes. A normal screen only has one depth — it's flat and a set distance away — so the eye only focuses in one place. But in both VR and AR – similar to a physical place – the eye needs to be able to shift focus on objects that are nearby or far away, or eyestrain sets in. As a result, Half Dome allows for varifocal optics combined with eye-tracking technology, allowing users to focus on objects at any distance in the visual field.
The final goal of all this is to miniaturize all of these technologies and fit them into a device that is "lighter and thinner than anything that currently exists," said Zuckerberg. That means compact optics with low heat.
That's where Holocake 2 comes in, which Zuckerberg calls "a working experimental device using holographic displays." These are a type of light-bending optics that uses multiple closely set lenses to create an extremely flat front panel instead of the fat goggle-like bulge of the Quest 2. As a result, Meta could easily create headsets more or less like sunglasses in the future.
Although these prototypes may be years in the making, it's apparent Meta is not slowing down on its current full VR and mixed reality projects such as its upcoming high-end mixed-reality headset code-named Project Cambria that the company is planning so ship sometime in late 2022.
Photo: Meta Platforms
---
Show your support for our mission by joining our Cube Club and Cube Event Community of experts. Join the community that includes Amazon Web Services and Amazon.com CEO Andy Jassy, Dell Technologies founder and CEO Michael Dell, Intel CEO Pat Gelsinger and many more luminaries and experts.
[ad_2]

Source link