[ad_1]

In the V6, the engine is up front, powering the rear wheels. In the EV, there's one motor at the front with a differential and two at the rear, one for each wheel. Then there's an 83kWh battery in the transmission tunnel and under the rear seats in a T-shape, an 800V system that can be charged at rates of up to 270kW.
Each motor makes up to 402bhp, giving a theoretical maximum of over 1200bhp. But the battery isn't up to that kind of power flow yet, so it's limited (limited!) to 751bhp, up to 100% of that going to the rear and no more than 50% to the front.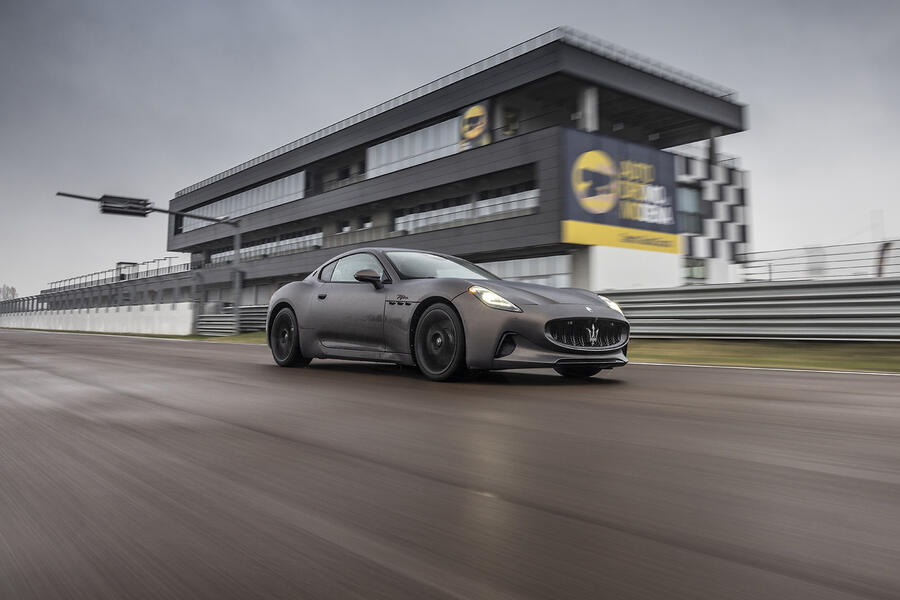 Our EV is a prototype, so we can't show you the interior yet. Take my word for it that there's soft leather that looks well stitched together, the driving position is sound and too much is put onto two touchscreens, pleasant graphics though they have. It feels very luxurious, anyway.
One of the steering wheel knobs is the most interesting control, as it changes the driving mode. There's Max Range (they reckon 280 miles), GT, Sport and Corsa. Moving on up adds focus to the suspension, increased steering weight, more relaxed stability control and more whooshy noises. There's a Drift mode too, but on this prototype you need a laptop to engage it.
Maserati says this is the lowest EV around, as you sit beside rather than above the battery, and that it being centred on the transmission tunnel results in low moments of inertia.
[ad_2]

Source link