[ad_1]

And so to those modes. For GT read comfort, the Maserati pretty supple if a shade springy, its ride well suited to urban work or cruising along a seafront, roof off, windows down, cool air washing lusciously through the cabin. Sport can be used most of the time, the firmer ride providing more complete body control, the eight-speed transmission serving torquier, lower-gear lunges more readily – although many will prefer paddling themselves.
It's in this setting that the MC20 Cielo delivers the seemingly contradictory mix of loping go, indomitable stability and near-serene comfort. It will easily accommodate mid-bend changes of direction, mid-bend braking or mid-bend camber changes, the dependability of its grip and body control part of the reason Maserati can credibly claim the MC20 as a GT and a supercar.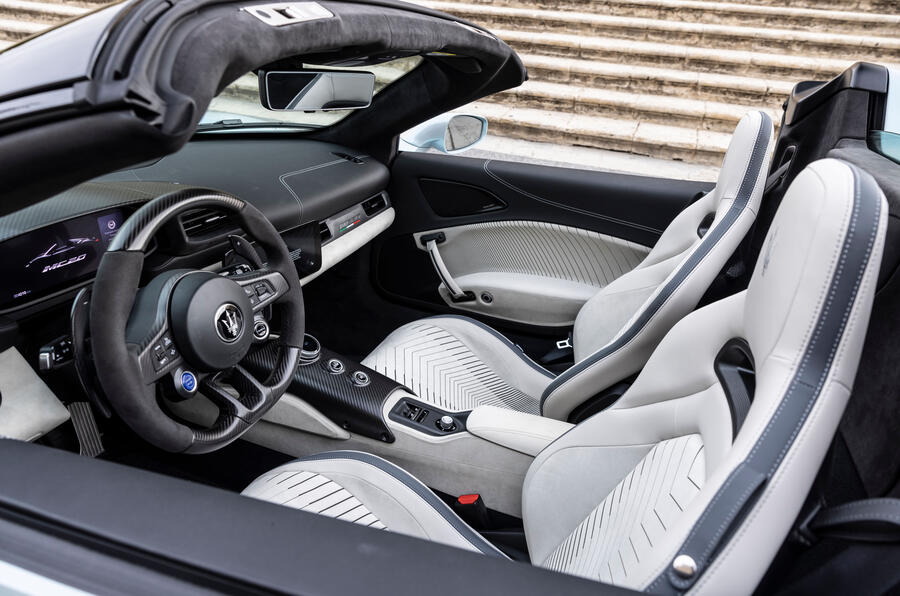 Yet this isn't the end of its ability, another dimension arriving in Corsa. Trigger this mid-bend and you feel the wheel rim weight up like a flexing sinew. The dampers stiffen in unison, the Maserati now poised for maximum attack. Traction control is loosened, too, and killed altogether if you like. No need for that though, because intervention comes late, if not disastrously so. As demonstrated on a salt-skeined coastal road, a wide angle, second-gear slide relying more on driver than electronics to achieve correction. It's a moment that reveals intuitive, predictable chassis behaviour, your confidence in the car pleasingly reinforced. This is a surprisingly biddable car, and never mind power abundant enough to strike 62mph in 2.9 thumping seconds.
[ad_2]

Source link