And while AMG's decision to offer carbon-ceramic brakes as an option might seem like overkill, given the car can harvest up to 260kW of regenerative energy, the speeds that the EQE 53 can register on even the smallest straight made me glad of their presence.
So the 53 is a hugely fast and impressively composed EQE, but it's hard to nominate any qualities that make it an AMG. The most obvious of these is the one the division seems proudest of: a sound symposer system that plays a generated noise both internally and externally through speakers, the sound altering in volume and pitch according to the vehicle's speed and the position of the accelerator. It even plays an idlelike throb when the car is stationary. The sound isn't trying to replicate an engine but has various futuristic elements instead. I reckon I heard both light sabres and jet engines at different stages.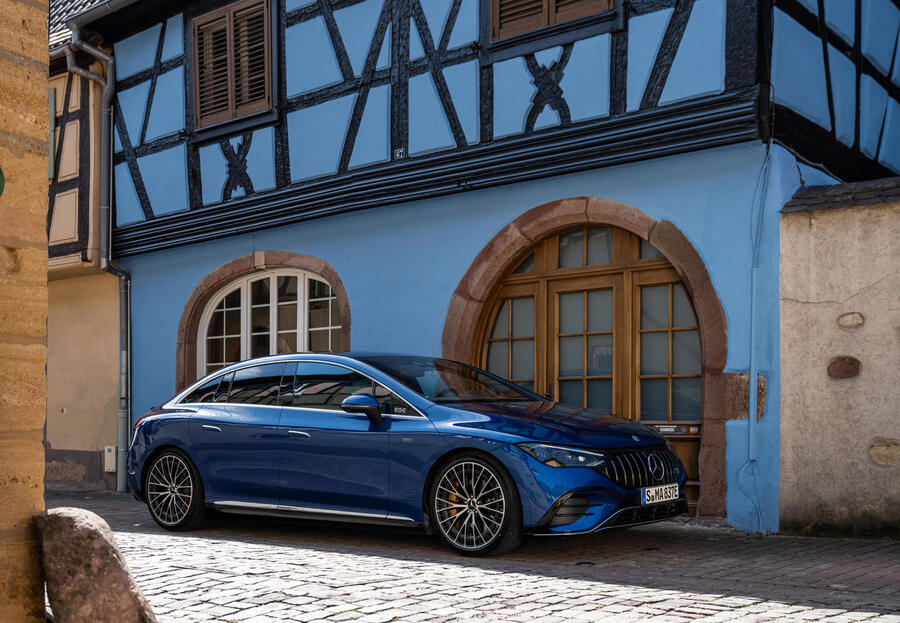 The problem for me is that it just didn't work. As with other artificial symposers, it felt like a gimmick, obviously fake. A brain will happily accept the noise of a combustion engine, even when it has been digitally augmented and filtered. But completely artificial sound creates more of a credibility chasm than a gap, and in this instance it was turned off within minutes every time I steeled myself to give it another go. Which left me in a much faster, slightly firmer EQE but not necessarily one that felt like an AMG-flavoured EQE.