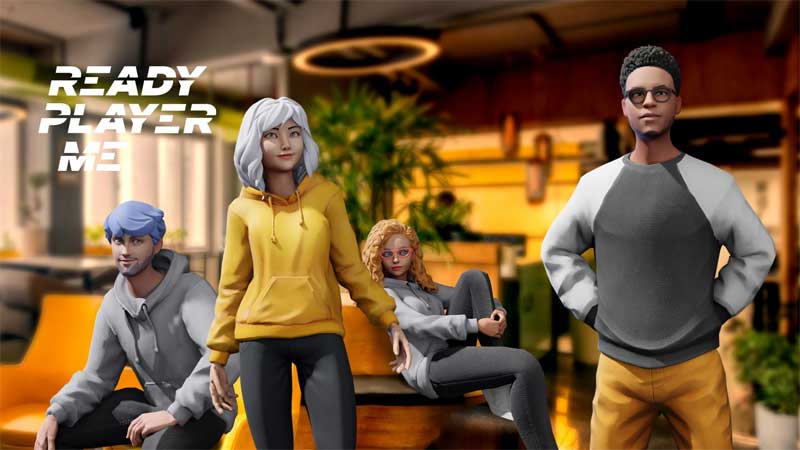 Ready Player Me, a company that produces animated avatars for virtual worlds, today announced that it raised $56 million in new funding.
Andreessen Horowitz led the Series B round with participation from investors focused on virtual reality and gaming including David Baszucki, co-founder of giant online gaming platform Roblox; Justin Kan, co-founder of game streaming platform Twitch; Sebastian Knutsson and Riccardo Zacconi, King Games co-founders; Hartbeat Ventures; and Robin Chan, co-founder of gaming nonfungible token marketplace Fractal.
Avatars are how people express themselves in virtual worlds by creating bodies so that they can move around and represent their physical selves. More than 3,000 apps have linked with Ready Player Me to handle over 5 million customized avatars including VRChat, Spatial, Somnium Space and RFTKT.
The company also engaged with brands to produce accessories and clothing that goes onto people's avatars in order to create virtual fashion, such as Adidas, New Balance, Dior and Pull&Bear. Warner Brothers also tapped the platform to re-create the Dune movie outfits as cross-game avatar assets in the metaverse.
Using Ready Player Me's platform, developers get access to a full suite of tools for building, animating and tooling avatars in virtual worlds as well as distributing the art assets needed to display and sell them. This opens up new revenue models for cross-game and app economies.
"What will unlock the true metaverse experience is interoperability between games, worlds and applications and a consistent identity for users across all experiences," said Timmu Tõke, co-founder and chief executive of Ready Player Me. "We think it's essential for virtual worlds users to create an avatar they love and buy avatar skins and accessories that work across the metaverse and are not stuck in one game."
The metaverse, broadly speaking, is an interconnected collective of persistent virtual reality spaces where users can socialize, interact, buy and sell virtual items and play together. If people are going to move between different virtual worlds in the metaverse, they're going to want to easily recognize one another and to do that they'll need to be able to look the same between them.
Users in immersive worlds do more than just embody themselves with avatars, they also dress themselves and accessorize with items as they do in the real world. As mentioned above, this is an opportunity for monetization for developers, businesses, apps and brands. Ready Player Me believes an open marketplace for avatars for developers and brands will increase their revenues and increase their market presence.
The vision behind Ready Player Me is to help the metaverse ecosystem break free from a potential future where it is dominated by a few walled gardens and allow millions of interlinked immersive virtual worlds to interoperate together. By providing users the ability to take a version of themselves wheresoever they went, it would enable an open and cohesive metaverse.
"Ready Player Me is loved by both developers and players as the largest platform for avatar-systems-as-a-service, and is well on their way to building the interoperable identity protocol for the open metaverse," said Jonathan Lai, general partner at Andreessen Horowitz. "We've been deeply impressed by the team's blend of developer empathy, technical chops, and entrepreneurial pragmatism…"
With the new infusion of funds in hand, Tõke said that it would allow Ready Player Me to continue to scale its avatar system and expand its 51-person team. The company intends to make the avatar creator more flexible for developers, build out content creation tools for brands and individual artists. This will also lead to improvements in avatar diversity with additional body types, granular clothing customization and more accurate face shapes, stylization and more.
Image: Ready Player Me
---
Show your support for our mission by joining our Cube Club and Cube Event Community of experts. Join the community that includes Amazon Web Services and Amazon.com CEO Andy Jassy, Dell Technologies founder and CEO Michael Dell, Intel CEO Pat Gelsinger and many more luminaries and experts.