Nvidia Corp. is making robotics more accessible with the launch of a new, slimline Jetson Orin Nano system-on-module platform that delivers up to 80 times faster performance than the previous generation.
Jetson Orin Nano was announced today at Nvidia GTC 2022, alongside the availability of its Nvidia Isaac Sim robotics training platform in the cloud.
Nvidia Jetson Orin is a family of powerful, compact and energy-efficient artificial intelligence supercomputers designed to power autonomous robots, machines and other systems at the network edge. They're based on the Nvidia Ampere graphics processing unit architecture and incorporate Arm-based central processing units, deep learning and vision AI accelerators, along with high-speed interfaces, fast memory bandwidth and multimodal sensor support.
The Jetson Orin Nano is the smallest and most lightweight member of the Jetson family yet, but capable of delivering up to 40 trillion operations per seconds of AI performance. That compares with the 275 TOPS performance of the largest Jetson AGX Orin chips.
Nvidia said the Jetson Orin Nano modules will be available in January starting at just $199, featuring full emulation support, enabling customers to begin developing applications using the AGX Orin developer kit. The platform is said to be capable of supporting multiple concurrent AI application pipelines with high-speed input/output, making it ideal for entry-level robotics devices and applications such as retail analytics and industrial quality control.
"Over 1,000 customers and 150 partners have embraced Jetson AGX Orin since Nvidia announced its availability just six months ago, and Orin Nano will significantly expand this adoption," said Deepu Talla, vice president of embedded and edge computing at Nvidia. "With an orders-of-magnitude increase in performance for millions of edge AI and ROS developers today, Jetson Orin is the ideal platform for virtually every kind of robotics deployment imaginable."
Nvidia said the Jetson Orin Nano modules will be available in two versions, including an 8-gigabyte module that delivers up to 40 TOPS with configurable power ranging from seven to 15 watts. Meanwhile, the 4-gigabyte version delivers up to 20 TOPS performance with power options ranging from five to 10 watts. Both modules are supported by the Nvidia JetPack software development kit and powered by the Nvidia CUDA X accelerated computing stack.
Developers will be able to develop robotics applications that can run on Jetson Orin Nano using the Nvidia Isaac Sim platform, which is now available in the cloud.
Today, Nvidia founder and Chief Executive Jensen Huang announced at GTC that the Isaac Sim robotics simulation platform is now available on the cloud. The latest version of Isaac Sim was also unveiled at GTC 2022, and will be available in the new Nvidia Omniverse Cloud platform soon.
Alternatively, users can get started with Isaac Sim via Amazon Web Services Inc.'s AWS RoboMaker service starting today. They can also download the platform from Nvidia NGC and deploy it on any public cloud immediately.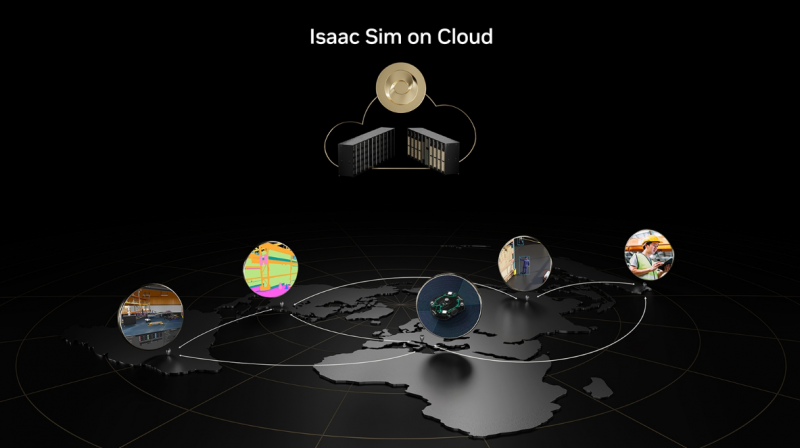 Isaac Sim is a virtual training environment designed for robots that was announced last year. Training robots in the real world is impractical, because it involves building a test robot and creating a physical environment, with stairs, roads, barriers, tables, people, various objects and so on. That's necessary to teach robots how to move around their environment while avoiding objects and accidents.
With Isaac Sim, all of this training can be done in a simulated environment. Then, once the robot knows where it's at, the AI models can be loaded onto physical robots that will instinctively be able to navigate in the real world.
Nvidia said teams now have multiple ways to access Isaac Sim and develop, test and train AI-powered robots through a workflow that best fits their needs. Using Isaac Sim in the cloud, the company said, roboticists will be able to generate large datasets from physically accurate sensor simulations to train the AI-based perception models on their robots. In turn, Nvidia added, the synthetic data generated in those simulations improves the model performance and provides training data that often can't be collected in the real world.
The latest version of Isaac Sim will also include Nvidia cuOpt, a real-time fleet task assignment and route-planning engine that helps to optimize robot path planning. In other words, it helps robots to assess their environment and work out the best route to get to their desired destination.
"Nvidia's move to provide its visual computing capabilities as an autonomous robot training platform in the cloud should further enable the growing number of companies and developers building next-generation intelligent machines for numerous applications," said analyst Rob Enderle of the Enderle Group.
Images: Nvidia
---
Show your support for our mission by joining our Cube Club and Cube Event Community of experts. Join the community that includes Amazon Web Services and Amazon.com CEO Andy Jassy, Dell Technologies founder and CEO Michael Dell, Intel CEO Pat Gelsinger and many more luminaries and experts.