[ad_1]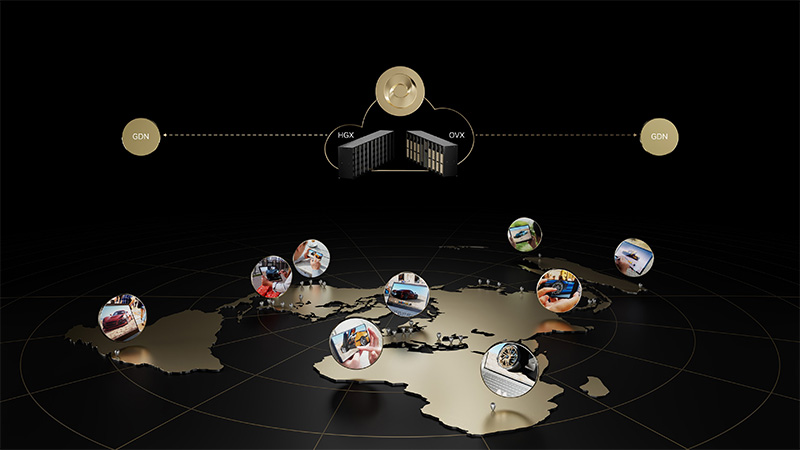 Nvidia Corp. is continuing to push the boundaries of the industrial metaverse, a virtual space parallel to the real one that simulates detailed physical assets in the virtual world, with its hyper-realistic physics simulation and collaboration product Omniverse.
Today during the company's virtual GTC 2022 conference for developers, Nvidia announced the launch of Omniverse Cloud, a comprehensive cloud-based software-as-a-service solution for artists, developers and enterprise teams to use Omniverse to design, publish and operate metaverse applications anywhere in the world.
Omniverse is a real-time collaboration and simulation platform that enables the realistic recreation of the world at large scale. Using the platform, teams of designers and engineers can recreate and simulate cars, airplanes, buildings, factories and more. All of the parts of an engine or a factory can be designed with fully simulated physics in real time just like the real world to react as if they would in real-life situations.
These are known as "digital twins," the fully virtual twins of real spaces and objects that are part of the industrial metaverse. As a result, they can be iterated on, changed and experimented on to understand what would happen before expensive changes need to be done in the real world.
Using Omniverse Cloud, individuals and teams will be able to design and collaborate on workflows together without the need for local computing power.
"The metaverse, the 3D internet, connects virtual 3D worlds described in Universal Scene Description and viewed through a simulation engine," said Jensen Huang, founder and chief executive of Nvidia. "With Omniverse in the cloud, we can connect teams worldwide to design, build, and operate virtual worlds and digital twins."
Omniverse Cloud runs on specially designed cloud-computing architecture within Nvidia's data centers and hardware running Nvidia OVX architecture for graphics and simulation and Nvidia HGX servers for advanced artificial intelligence workloads. It uses the Nvidia Graphics Delivery Network, a global-scale distributed data center network for delivering low-latency metaverse content that the company learned from its experience with GeForce Now, its low-latency cloud-based video game streaming service.
Putting digital twins to work in the real world
The power of digital twins is that they allow the simulation of the real world in the metaverse so exactly, it's like having the benefits of being in a virtual world for testing and visualization combined with the finality of the physical world.
The retail store Lowe's put Nvidia Omniverse Enterprise and augmented reality glasses to use for its employees by basically giving them X-ray vision. For example, traditionally, in order to read a small label on a box that's high up, associates might need to climb a ladder to see what's available. With a digital twin and AR glasses, they could just look up and the glasses could reveal the data of the item that should be in that position.
Associates can also see through the glasses that shelves are stocked correctly by comparing the AR holograms of the digital twins to what's currently on the shelves — such as if the wrong products are on the shelf or if there are too few. Then they can correct it.
"With the Nvidia Omniverse, we're pulling data together in ways that have never been possible, giving our associates superpowers," said Seemantini Godbole, chief digital and information officer at Lowe's.
For store management, it goes even further, using digital twins and AI store planners can optimize customer experience by examining what products are bought in combination with each other by shoppers. By then working to put these products in closer proximity to one another, examining 3D heat maps of foot traffic by customers, associates can move products closer to each other, to lower the number of steps customers must take to pick them up.
Nvidia also announced a collaboration with Digitale Schiene Deutschland, the digital division of Germany's railway operator, Deutsche Bahn, which began working to expand the network's capacity without building new tracks. The effort required a system of automating trains safely with less headway between each other and will involve building the first country-scale digital twin simulation of an entire track network.
Since it will involve building a photorealistic and physically accurate simulation of the entire track system, it will be a massive undertaking. It will also include tracks running through cities and countryside combined with data from many sources including station platform measurements and vehicle sensors.
Using a digital twin of the entire network built into Omniverse that runs alongside the actual railway network at the same time, being fed the same data in real time, it will be able to use AI to monitor sensors and other data and simulation to predict and prevent incidents.
"With Nvidia technologies, we're able to begin realizing the vision of a fully automated train network," said Ruben Schilling of the Lead Perception Group at DB Netz, part of Deutsche Bahn.
Image: Nvidia
---
Show your support for our mission by joining our Cube Club and Cube Event Community of experts. Join the community that includes Amazon Web Services and Amazon.com CEO Andy Jassy, Dell Technologies founder and CEO Michael Dell, Intel CEO Pat Gelsinger and many more luminaries and experts.
[ad_2]

Source link