It hasn't been a best-seller in the UK, but is an important car for the brand on the continent, so Paris seems like a natural fit for the stylish crossover to be shown.
2022 DS 3 drops Crossback tag, EV gains range and power >>
Great Wall Motors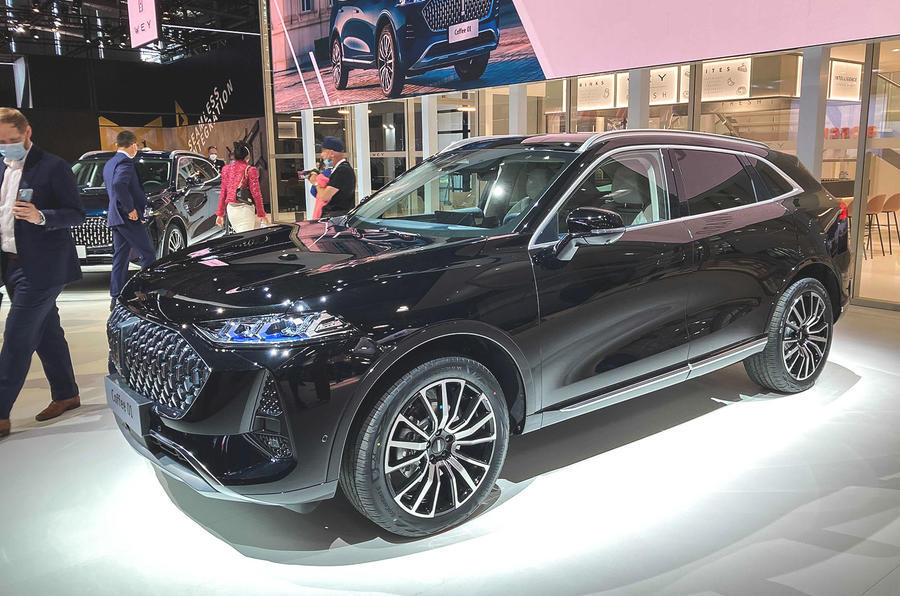 Great Wall Motors is about to launch the Ora brand in the UK with the Funky Cat EV. At Paris, the firm will also detail its plans to enter the European luxury market with the Wey marque, likely led by the Coffee 01.
The Wey Coffee 01 is a luxury SUV featuring a plug-in hybrid powertrain mating a 201bhp Miller Cycle engine and dual electric motors, giving a total system output of 469bhp. A 40kWh battery means that 93 miles of electric-only driving is possible.
Wey Coffee 01 spearheads Chinese brand's UK launch >>
Jeep Avenger
The Jeep Avenger could be the firm's biggest launch in years. Based on a new version of Stellantis's ECMP platform also used for the new Vauxhall Mokka and DS 3, the all-electric baby SUV is the smallest car it has ever produced.
It will be available with either two- or four-wheel drive, with a claimed range of 248 miles, forming the entry point of a five-car line-up. Paris will also play host to the Avenger's hybrid variant, and we'll learn about expected pricing at the event, too. It will launch in the first half of 2023. 
Jeep Avenger is electric baby SUV bound for UK next year >>
Jeep Grand Cherokee 4xe
Having already launched in the US earlier this year with petrol V6 and V8 engines, the plug-in hybrid Jeep Grand Cherokee 4xe will appear in Paris next week. It will be the first time the model features a plug-in powertrain, powered by a 2.0-litre turbocharged four-cylinder engine mated to two electric motors. 
The 4xe variant of Jeep's large SUV will have a total output of 375bhp and 470lb ft of torque. The motors, meanwhile, are powered by a 400V 17kWh battery, which offers a claimed 25 miles of electric-only range and economy of 68.5mpg.