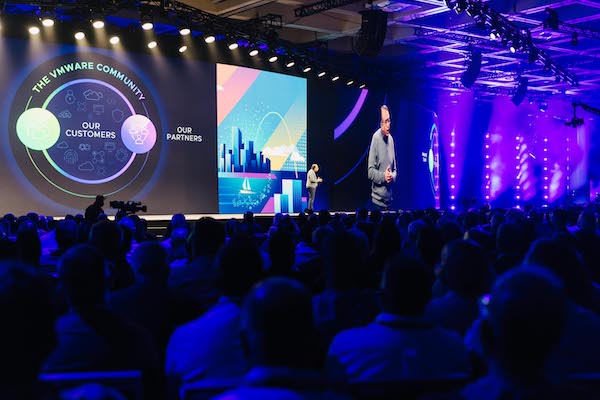 We have already seen the "Great Resignation" when 47 million Americans voluntarily quit their jobs in 2021. In VMware Inc.'s view of the technology universe, 2022 will be the year of the "Great Replatforming."
At the VMware Explore gathering in San Francisco this week, Chief Executive Raghu Raghuram (pictured) appeared on the keynote stage and outlined his vision for both his company and the enterprise computing industry as a whole. There is a pronounced need for tools capable of handling a growing mountain of enterprise applications, fragmented operations and security threats, according to Raghuram, and VMware is aiming to fill that need.
"All of these are slowing down the Great Replatforming," Raghuram said in his keynote address on Tuesday. "What I hear back when I talk with CIOs is we are not moving fast enough. We can fix this."
A 'one pass' approach
Many of the latest technology enhancements and product releases from VMware are designed to speed up the process for multicloud solutions in the enterprise. The company expanded its cross-cloud services, unveiled in 2021, to reduce operational complexity and bolster support for edge infrastructure, networking and security.
VMware defines replatforming as upgrading an app from an existing platform and running it in the cloud while preserving existing functionality. This approach has infused the company's go-to-market strategy with a basic customer proposition: No matter what the platform of choice may be, VMware has a solution to meet the need.
This "one-pass" philosophy was a clear theme at VMware Explore. Want to run workloads on any of the major clouds? VMware announced extended collaborations with Microsoft Azure and Amazon Web Services Inc. for workload deployment and jointly engineered services, on top of existing Cloud Universal support for Google Cloud Platform.
Want to run EXSi, VMware's bare metal hypervisor that can be partitioned into multiple virtual machines, on a CPU, GPU or data processing unit? VMware will make that happen.
"EXSi will run on every processor that you can think about," said Raghuram, in a press conference. A prime example of VMware's drive for multiplatform interoperability can be seen in its latest releases for Tanzu, the company's cloud-native application platform.
The newly released Tanzu Application Platform and Tanzu for Kubernetes Operations enable application development in data center, cloud and edge locations. A new Tanzu Mission Control feature expands multicluster and multicloud Kubernetes management capabilities.
"We're trying to decomplexify the chaos," Edward Hieatt, senior vice president of VMware Tanzu, said in an exclusive interview. "The abstraction that we have is to give one experience to the developer. What we're going to see is a bringing together of what has become a sprawl of different pipelines in organizations."
DPU for security
Pipeline sprawl is more than just a mere inconvenience. It can be a significant security risk as well.
As enterprises continue to combat a rising tide of malicious threats, VMware's announcement of vSphere 8 provided a security enhancement that could become significant over time. The company is leveraging data processing units or DPUs to run infrastructure services and isolate them from the workload domain.
VMware's NSX Distributed Firewall will offload to DPUs and scale security operations by protecting what is known as east-west traffic, the lateral movement of information between devices in a data center. Server virtualization has led to a major increase in traffic moving laterally across a data center, well beyond traditional client-server communication.
The SolarWinds breach discovered in 2020 offered one example of how malicious actors could move laterally through a network. VMware's solution secures east-west traffic at line rate without requiring software agents, according to this week's press announcement.
"In the security landscape the stakes are high and getting higher," Tom Gillis, senior vice president and general manager of VMware's Networking and Advanced Security Business Group, said in an exclusive interview with SiliconANGLE during the conference. "In the new security model, you have to assume that anything talking to a database is hostile. With NSX we have an ability to see every move east-west."
VMware's embrace of DPUs with the release of vSphere 8 represents a coming out party of sorts for Project Monterey. Previously announced in 2020, Project Monterey was touted as a "whole data center on a chip" by Gillis in an interview at the time with SiliconANGLE. Yet news about the SmartNIC initiative was sporadic, and there were questions leading up to VMware Explore over whether the initiative would play a major role in the company's strategic approach.
Those questions appear to have been answered this week with the roll-out of the DPU as a key element for vSphere and security. "It's real and the hardware is generally available," Gillis said. "SmartNICs let us put security everywhere."
VMware's DPU news during the conference provided an interesting note in light of processor giant Broadcom Ltd.'s plans to acquire the firm for $61 billion. Although VMware executives were understandably reticent to say anything specific about the acquisition's potential impact on the company, Raghuram did offer a broad timeline for closure and indicated that he did not expect any concerns among the customer base.
"We expect the acquisition to close in the 2023 fiscal year," which ends next October, Raghuram said. "Broadcom is spending this time understanding every aspect of the business. Customers are very mature and they have been through lots of big company transactions before."
Photo: VMware
---
Show your support for our mission by joining our Cube Club and Cube Event Community of experts. Join the community that includes Amazon Web Services and Amazon.com CEO Andy Jassy, Dell Technologies founder and CEO Michael Dell, Intel CEO Pat Gelsinger and many more luminaries and experts.