Over the past decade or so, as EVs have become mainstream, we've observed manufacturers figuring various things out. Brake pedal feel still isn't perfect, but some are getting there. They've settled on one design of charging port and most of them have realised that we want to control the level of regenerative braking with paddles. One thing that's still challenging, though, is adding value to the hot models. Cars like the Volkswagen ID 4 GTX may be faster than their basic brethren, but they don't offer a dramatically different experience.
Speaking of that car, the new Skoda Enyaq iV vRS uses the same 77kWh (82kWh total) battery and dual motors (107bhp at the front and 188bhp at the rear) for 295bhp. There's the same caveat, though: that total is available only for 30sec in a kind of overboost function, and if the battery charge is too low, you won't get full power either.
The vRS rides 15mm lower at the front and 10mm lower at the back than the standard Enyaq and features progressive steering, 20in wheels and the light-up grille as standard. It comes with more safety and convenience kit too, but if you want adaptive dampers, 21in wheels, keyless entry or a head-up display, you still need to pay extra.
Inside is a three-spoke steering wheel, some carbonfibre trim and a choice of two Design Selections: Lounge brings Alcantara seats with nuclear-green accents, while Suite tones it down with black leather.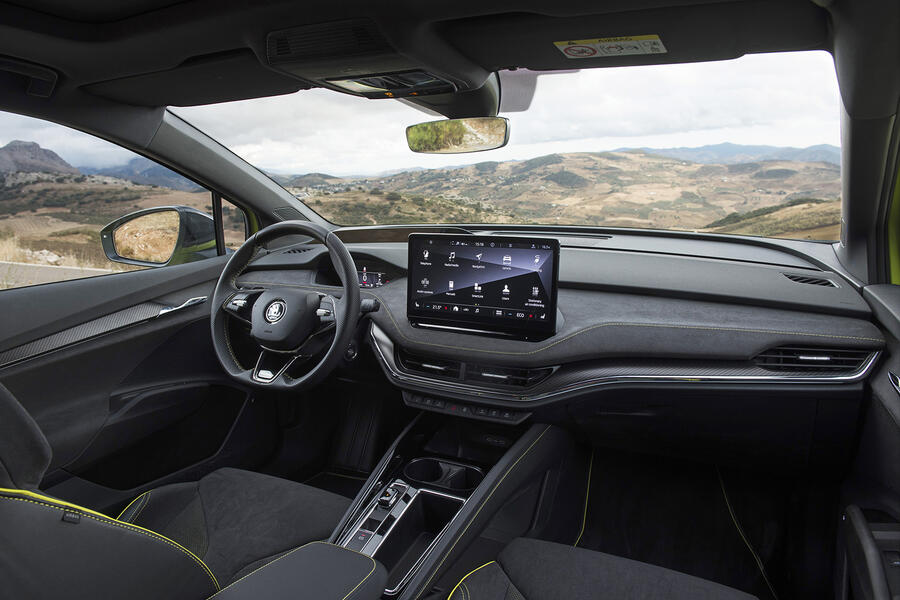 To drive, sadly the Enyaq vRS can't escape the law of diminishing returns that most performance EVs suffer from. It's fine. Even on relatively unsporting tyres, it has plenty of grip. Its steering is accurate, well-weighted and, despite the progressive rack, perfectly predictable, if mostly mute. Particularly when you put the stability control in Sport mode (bespoke to the vRS), it's even tangibly rear-driven. Then again, most of that applies to every Enyaq.
The stiffer suspension introduces a bit more head-toss to the ride,but it's far from unbearable, and the adaptive dampers give you the option to soften it again. They would be a worthwhile option, particularly in the UK.
As long as the car's brain lets you access the full 295bhp, it's pretty quick as well; but when you find yourself on a mountain road, the powertrain runs out of stamina after a while and dials back the effort. As a driver's car, the Enyaq vRS is decent fun, if rather formulaic.
None of this is surprising. I recently spent a week with the Coupé version (which has been on sale for almost a year already), and in most ways, the regular SUV is the same, just £1700 cheaper and a little bit more practical.