[ad_1]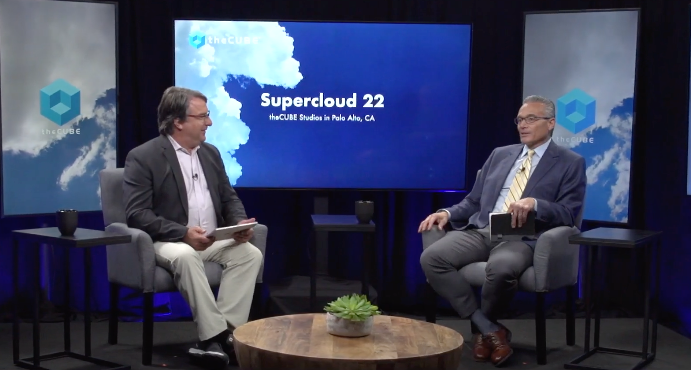 The Supercloud 22 event brought together some of the biggest names in cloud computing, up-and-coming startups, venture capitalists, and industry analysts to weigh in on the emerging trend.
From establishing if the concept of supercloud is real or hype to in-depth discussions on the technical changes that are enabling organizations to abstract above and across hyperscale infrastructure and take full advantage of the potential of digital transformation, Supercloud 22 demonstrated that the idea is not likely to disappear.
"We confirmed today that supercloud is a thing," stated theCUBE industry analyst and Supercloud 22 co-host Dave Vellante (pictured, right). "This ecosystem is exploding. They're building infrastructure or capabilities on top of the CapEx infrastructure. So, I think it is happening."
Vellante and fellow analyst and co-host John Furrier (pictured, left) discussed their takeaways from Supercloud 22, an exclusive broadcast on theCUBE, SiliconANGLE Media's livestreaming studio.
Developers are definitely in charge (and it's an issue for Ops)
One of the main topics during the event was an energetic discussion around what defines a supercloud. From VMware Inc.'s description of cross-cloud services to arguments that it's just multicloud 2.0, industry experts weighed in on what supercloud is and how it will affect the future of cloud computing.
"Hybrid really is where supercloud is going right now," said Furrier, giving his takeaway from many  in-depth conversations. "It's not about multicloud. It's about seamless operations across environments, public cloud to on-premise."
The definition that supercloud, at the end of the day, is about "making sure that the developer experience is so good that the operations just happen" is the simplest one, according to Furrier.
This resonates with another theme that came up in many of the sessions: Developers are still in charge. In DevOps, it is the developers calling the shots, not operations or security, Furrier pointed out.
"What I learned was it's not ops teams leveling up; it's devs redefining what ops is," he said.
And, if this is true, then it's going to lead to a domino effect where "everyone who gets on the wrong side of history, on the ops and security side, is going to be fighting a trend that may not be fightable."
VMware sizes up the supercloud cape
Another hotly debated topic was if there will be one supercloud to rule them all or many different superclouds created to meet the unique needs of an organization or industry. Open-source and proprietary models are facing off, as Snowflake Inc. and Databricks Inc. demonstrate two very different approaches to creating a supercloud. And VMware quietly entered its bid to become the supercloud operating system with a recently published white paper.
"VMware is very humble … because I think they know that they can't do it all and that they do not have a great track record relative to cloud. But they have a great track record of loyal installed base ops people using VMware vSphere all the time," said Furrier, emphasizing that "VMware's got way too much engineering culture to be ignored."
One of the most memorable statements of the event came from Vittorio Viarengo, vice president of Cross-Cloud services at VMware: "We want our cake, we want to eat it too, and we want to lose weight," Vellante recalled.
Striking a more poignant note was a statement from technology and strategy advisor Adrian Cockcroft.
"The devs, they … were marrying everybody, and then the ops team, they have to deal with the divorce," Vellante quoted Cockcroft, summing up the struggle operations teams are having creating consistency, standards, and being able to scale in a hybrid environment with multiple cloud providers.
Describing the event as "a phenomenal, enlightening experience," Vellante said the discussions confirmed the concepts and the premises that theCUBE and Wikibon analysts have been exploring since the first use of the term supercloud in theCUBE's coverage in late 2021.
"We're going to keep the conversation going," said Furrier, giving a shout-out to the founding supporters that made the event possible.
"We'll certainly continue the Supercloud series here on theCUBE, and we'll add more people in," he promised.
Here's the complete video interview, part of SiliconANGLE's and theCUBE's coverage of the Supercloud 22 event:
Photo: SiliconANGLE
---
Show your support for our mission by joining our Cube Club and Cube Event Community of experts. Join the community that includes Amazon Web Services and Amazon.com CEO Andy Jassy, Dell Technologies founder and CEO Michael Dell, Intel CEO Pat Gelsinger and many more luminaries and experts.
[ad_2]

Source link