[ad_1]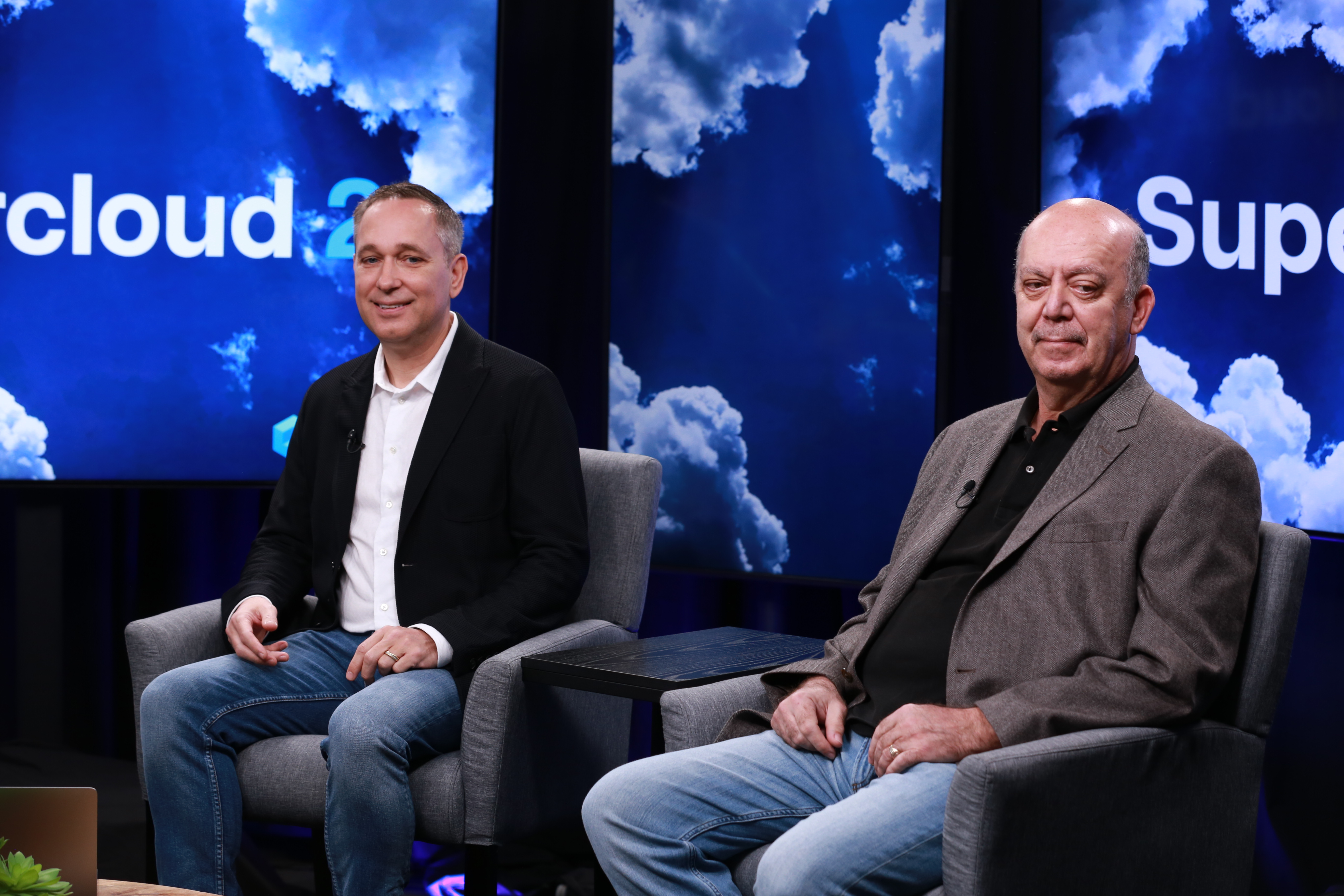 With the supercloud concept gaining steam, some people believe it's an architecture that holds various complexities, whereas others think that it's a platform offering programmatically consistent services.
Nevertheless, supercloud should be regarded as an operating system that houses both architectural and platform traits, according to David Flynn (pictured, left), chief executive officer of data solutions company Hammerspace Inc.
"I think there are aspects of both for sure … it needs to be an architecture in the sense that it's broad based and open and so forth," Flynn said. "I really think what we're talking about is the original concept of cloud computing … what we're talking about is an operating system."
Flynn and Nelu Mihai (pictured, right), founder and CEO of Cloud of Clouds, spoke with theCUBE industry analysts Dave Vellante and John Furrier at the Supercloud2 event, during an exclusive broadcast on theCUBE, SiliconANGLE Media's livestreaming studio. They discussed why supercloud fits in both platform and architectural shoes and how it seeks to turn the tables. (* Disclosure below.)
Kubernetes borrows a leaf from supercloud
Since a workload is broken down into the most granular units of compute in Kubernetes, the supercloud concept is illustrated, according to Flynn. Furthermore, a declarative model is showcased.
"We have operating systems that can run systems quite efficiently," he said. "Linux has sort of one in the data center, but we're talking about a layer on top of that. And I think we're seeing the emergence of that. For example, on the job-scheduling side of things, Kubernetes makes a really good example."
Since hybrid clouds have their own architecture, supercloud will help address the contradiction between cost and performance, according to Mihai. Therefore, supercloud as an operating system will help tame cloud complexities.
"Clearly, we need something that kind of plays from the principle point of view the role of an operating system, that seats on top of this heterogeneous hybrid cloud," he stated. "There's nothing wrong by having these proprietary hybrid clouds. Think about processors; think about operating system and so on."
The lack of a consistent interface has been a major pain point in the cloud space, according to Flynn, who said that supercloud seeks to turn the tables.
"What the public cloud vendors are doing is absolutely necessary," he explained. "But what's been missing is how to provide a consistent interface, especially to persistent data. We have to delocalize data and provide a consistent interface to it across all sites."
Supercloud highlights the vitality of optimization and automation
Since hybrid clouds have neglected optimization and automation, supercloud seeks to fill the void, according to Mihai, who said that this becomes a reality through machine-learning.
"In order to be able to do both of these things, you need to have a mathematical model, a theoretical model, because what does automation mean?" he asked. "It means that we have to put machines to do the work instead of us, and machines work with what? Formulas, with algorithms. So I think supercloud is an opportunity to underscore the importance of optimization and automation."
For a seamless supercloud concept, the three aspects of data, logic and networking have to be incorporated. This should be based on the underlying application, according to Mihai.
"In my opinion is this triplet, which is data, logic and connectivity, that has equal importance," he pointed out. "And actually depending on the application, it can have the center of gravity moving towards data, moving towards what I call execution units or workloads. And connectivity is actually the most important part of it."
Supercloud is what the cloud was supposed to be, because part of the original promise was to get rid of the heavy lifting. Therefore, supercloud seeks to get things right, such as eliminating the need to rewrite applications, according to Mihai.
"When the first hybrid clouds were designed, they were designed to really focus on customers," he stated. "I think supercloud is an opportunity to design in the right way. And we should take advantage of that, because … if cloud would've been designed properly from the beginning, we probably wouldn't have needed supercloud."
Visit theCUBE's Supercloud2 event page to watch full episodes on demand.
(* Disclosure: This is an editorial segment. TheCUBE is a paid media partner for Supercloud2. Sponsors for theCUBE's event coverage do not have editorial control over content on theCUBE or SiliconANGLE.)
Photo: SiliconANGLE
---
Show your support for our mission by joining our Cube Club and Cube Event Community of experts. Join the community that includes Amazon Web Services and Amazon.com CEO Andy Jassy, Dell Technologies founder and CEO Michael Dell, Intel CEO Pat Gelsinger and many more luminaries and experts.
[ad_2]

Source link