[ad_1]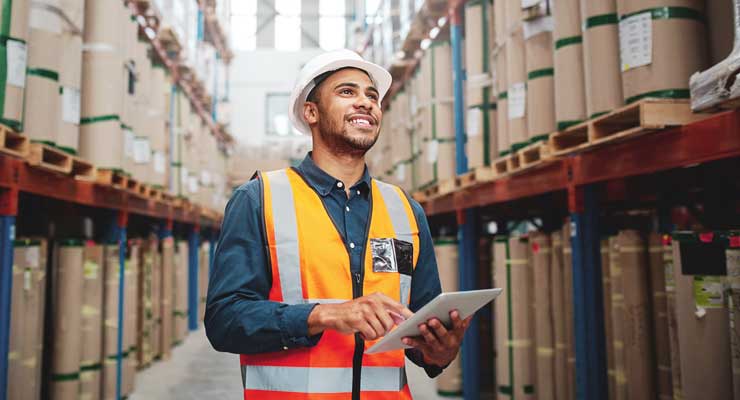 On average, workplace injuries cost companies about $45,000 per year.
"You are bringing new employees into a totally new environment, so you should put together a clear list of risks inside your facility, and look back on your own history of injuries to see what has happened and take the appropriate steps to correct it."
"Leave objects at waist height to make them easier to lift, or use devices such as a conveyor to move it without the employee having to use their own physical force to make it work."
As wholesalers navigate the ongoing labor shortages, desperately trying to ensure their warehouses are fully stocked with knowledgeable employees, companies also need to train their staff to prevent workplace injuries. According to Travelers' 2022 Injury Impact Report, 35 percent of all wholesale and distribution injuries came from first-year employees. 
To provide businesses with a better understanding of what is happening in their workplaces, Travelers recently analyzed more than 1.5 million workers compensation claims submitted from 2015 through 2019. Hiring sprees, such as the ones we may see among retailers and manufacturers, make it imperative for business owners to be aware of these risks and keep workplace safety top of mind as new employees get up to speed on procedures and protocols. 
The Most Common Causes of First-Year Injuries
The six most common causes of first-year injuries are overexertion (27%), slips and falls (22%), struck by an object (14%), cuts and punctures (6%), caught in or between hazards (6%), and motor vehicle accidents (6%). According to Chris Hayes, Assistant Vice President of Risk Control at Travelers, the most reliable way to reduce the risk of injury is to remove the risk entirely, or to engineer controls that reduce those risks.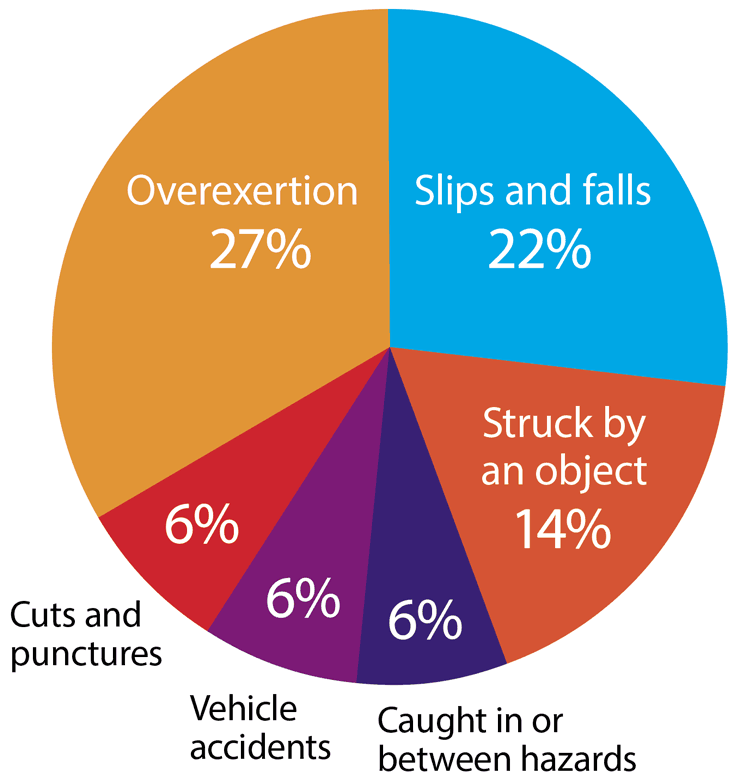 "We have seen in many facilities that employers have the things that they need stored on the floor, and you can tell workers all day long to lift things with their legs and not their back, but our human nature is to lift however we want to lift," Hayes said. "Leave objects at waist height to make them easier to lift, or use devices such as a conveyor to move it without the employee having to use their own physical force to make it work."
Workplace Injuries are Expensive for Businesses
According to Travelers' report, first-year injuries resulted in more than six million missed work days, representing 37 percent of all missed workdays. Hayes says that on average, workplace injuries cost companies about $45,000 per year. What wholesalers need to think about with warehouse injuries is that not only are those hurt employees missing valuable work days, especially during a labor shortage, but there is also the cost of the claim. 
The Travelers report states that the most expensive workers compensation claims involving first-year employees, accounting for 26 percent of total claim costs but just eight percent of total claims, were amputations, multiple traumas, electric shocks, and dislocations. The most expensive injuries for companies to pay for include dislocations, head trauma, and fractures. Business owners can save thousands just by ensuring everyone is properly trained for the job. 
Tips to Ensure Warehouse Safety
According to Hayes, another major cause of injury for first-year employees are slips, trips, and falls. Instead of having workers carry heavy loads, consider using a forklift or industrial powered truck to reduce the likelihood for accidents. Live coaching is one of the best ways to train new workers, and not with just one senior employee, but everyone needs to be good communicators who already follow your safety practices so they can relay that information to the new guys. 
"You are bringing new employees into a totally new environment, so you should put together a clear list of risks inside your facility, and look back on your own history of injuries to see what has happened and take the appropriate steps to correct it," Hayes said. "You can also take feedback from employees to see what they think can be improved upon in the workplace. Take all of the feedback that already exists in order to create a better facility as new employees come in. Having safe work practices defined and having a clear way to communicate that to employees is critical for their first few days."
"Safety within the warehouse is extremely important and has a big impact on employee retention," Dr. Thomas Evans, CTO of Honeywell Robotics, said. "Regardless of whether there are health and safety issues at a particular warehouse, the overall industry suffers from a health and safety image problem. 
Automation Can Help
Repetitive movement-related injuries and those due to heavy and/or awkward lifting, as well as worker fatigue, can be greatly mitigated by robotics and automation. Increased use of these technologies can lead to far fewer work-related injuries, keep workers on the job and earning for their families, and mitigate insurance premiums and workers' compensation claims for the employer. By prioritizing happier, healthier workforces, we should see an uptick in retention and warehouse job appeal."
[ad_2]

Source link