Hyundai Ioniq 5 – Ioniq 5 73kWh Premium RWD
Few cars have managed to shake up the established order quite as much as the eye-catching Ioniq 5. With angular exterior treatment and a spacious interior that clearly takes its cues from minimalist loft living, the Korean machine has put the frighteners on premium rivals. What's more, the all-electric Ioniq 5 backs it up with a compelling driving experience that melds engaging handling and effortless electric performance with a cosseting ride and superb refinement. Oh, and in top 73kWh battery guise, it'll crack a claimed 315 miles on charge. For business users, it'll be the 2% BIK that catches their eye, with tax bills as low as £157 for the 58kWh model. However, we'd sacrifice another twenty-odd quid for that larger battery in 222bhp rear-wheel-drive Premium trim.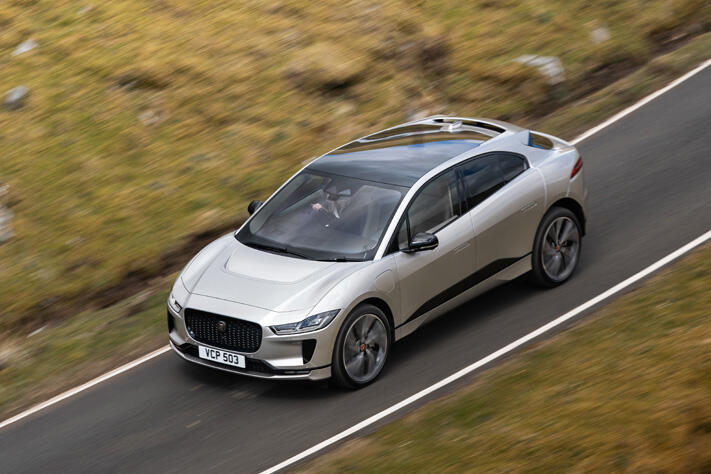 Jaguar I-Pace – I-Pace EV400 SE
One of our favourite EVs, the Jaguar I-Pace stole a march on established rivals when it beat them all to the EV punch. Not only was it the first upmarket all-electric SUV, but it was and is also one of the best, particularly from behind the wheel. Despite its high-riding stance, the I-Pace handles with the agility and involvement of something half its size, while its muscular twin-motor set-up channels 395bhp through all four wheels for rapid acceleration. It's also beautifully finished and spacious inside, with the latest Pivi Pro infotainment keeping you connected on the move. Better still, it'll crack 292 miles on a charge, while as a company car, it'll cost higher-rate earners as little as £530 in tax. That said, we'd probably 'splash out' on £568 for the more lavishly equipped SE.