[ad_1]

Both have the same size battery, of 71.4kWh (usable capacity tbc), which will fast charge at up to 150kW. The on-board slow charger is 6.6kW now, though bZ4Xs will get a standard 11kW one instead around the end of the year.
The 4WD version's range on the WLTP cycle is 257-286 miles, depending on the variant (2WD cars muster 277-317 miles), but as is usually the way, you won't see that much. Toyota's reckoning, and what the estimated range gauge aboard says, is more like 210 miles in the 4×4.
The performance figures and size and battery put this on a close par with the Volkswagen ID 4, and whatever range you get will come down to which is more efficient. Toyota says it'll be the bZ4X. VW's engineers probably say something different.
Inside, the bZ4X has a spacious and airy cabin, with a 452-litre boot beneath the luggage cover, and split/fold rear seats. There's loads of knee room in the rear for a car of this length and a low-set fascia at the front. There are some scratchy plastics and a thin fabric on the dash, around which is lots of storage but no glovebox, weirdly.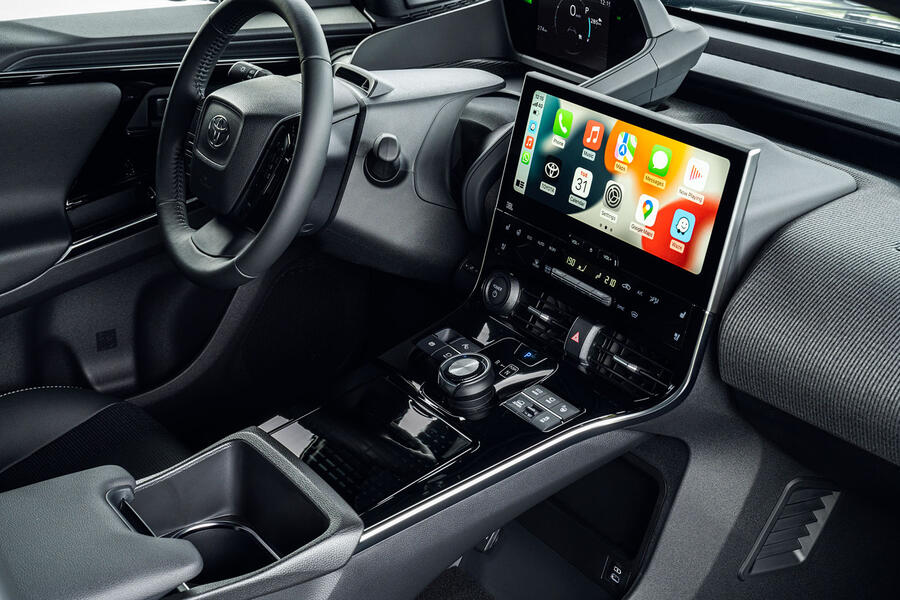 There are lots of buttons in addition to the touchscreen, though, including on a small steering wheel that has shades of Peugeot's i-Cockpit, meaning you have to look over it at the instruments it has partially obscured. As of next year, a by-wire steering set-up will be optional, with an aircraft-style yolk instead of a wheel, variable ratio and a maximum 150deg rotation, making instruments easier to see. I wonder if this answers questions nobody has asked but we'll see. It might be amazing, it might not be.
[ad_2]

Source link