[ad_1]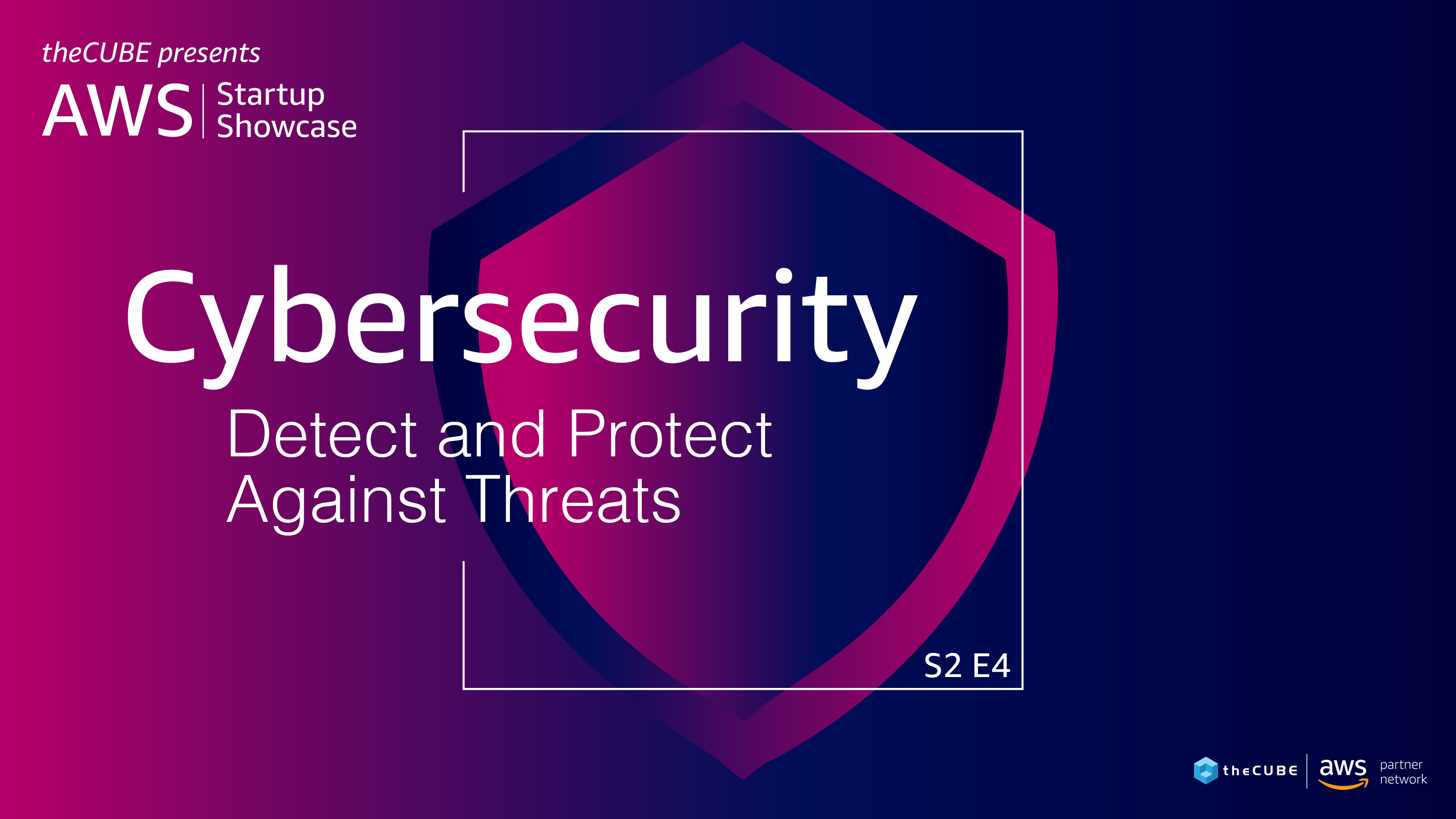 Events of the past year have focused the security community on a shifting environment in which tech vulnerabilities are playing a role in warfare, DevOps and global finance.
Examples of this new reality can be seen in the use of cyber weapons during the conflict between Ukraine and Russia, persistent vulnerabilities found in the use of the open-source Log4j tool, and growing concern over high-profile breaches as more users embrace financial innovation in Web3.
Against this backdrop, companies are seeking to develop a thorough awareness of existing infrastructure and rethink traditional approaches to cybersecurity. On Sept. 7, SiliconANGLE Media's livestreaming studio theCUBE will explore this area in-depth with interviews featuring top AWS security partners during the AWS Startup Showcase: "Cybersecurity — Detect and Protect Against Threats" event. (* Disclosure below.)
Identity and zero trust
Tools for implementing zero-trust and identity verification policies have become more widely used as enterprises increasingly rely on frameworks to authenticate network users. Three of the companies that operate in this space will participate in the AWS Startup Showcase event on Sept. 7.
Sonrai Security Inc. provides a platform for enterprises to monitor and govern risk across the public cloud. Its focus has been on overprivileged cloud environments where companies are struggling to gain an understanding of who has access and why.
"If you think about the whole value proposition of security, it's to protect sensitive data," said Denise Hayman, chief revenue officer of Sonrai, in a recent interview with theCUBE. "So, if it's permissive out there and then sensitive data isn't being protected, I mean that's where we really reign it in."
Illumio Inc. and JumpCloud Inc. will also participate in the Startup Showcase. Illumio's focus is on "zero- trust microsegmentation," with a compartmentalized approach to reduce the attack surface in the event of a breach.
JumpCloud leverages directory management technology to provide core identity and access control services. In April, the company announced the launch of a community of IT professionals to exchange ideas and share resources within the InfoSec ecosystem.
Protection for APIs
As application workloads continue to drive enterprise operations, the need for securing application programming interfaces has become more important. Several of the Startup Showcase companies specialize in providing security tools for API protection.
Cequence Security Inc. discovers APIs in-use and determines which have been authenticated. Weak authentication can expose sensitive data and create problems for businesses down the line. Anitian Inc. and Noname Security Inc. also specialize in API protection through a focus on lifecycle deployment. Anitian's technology speeds app development in the cloud while meeting security and compliance requirements throughout the process. Noname Security focuses on API security by identifying risks in production for developers.
"This is becoming much more of a developer-centric discussion about where we're moving our applications, where they're hosted, and how they're designed," said Karl Mattson, chief information security officer at Noname Security, during a conversation with theCUBE. "There's a lot of energy around that right now."
The focus on API security may also lead to an overall evaluation of a company's security strength. One of the AWS Startup Showcase participants is SecurityScorecard Inc., a nine-year-old firm that provides cybersecurity ratings for over 12 million companies using data points collected from public and private sources.
Security automation
Advances in AI and machine learning have propelled the introduction of innovative tools for enterprise security. Two of the featured Startup Showcase firms, Hunters.ai Inc. and Horizon3.ai Inc., offer new approaches in this field.
Hunters provides an autonomous threat hunting solution that processes security telemetry and intelligence from throughout an organization. The startup raised $68 million in a Series C funding round earlier this year.
Horizon3 is an automated security penetration-testing-as-a-service company. Pen testing is a technique in the security world to simulate attacks on a computer system and determine strength of protection. Horizon3 addresses a pain point within the industry. Pen tests can result in a massive number of findings that leave security teams at a loss for next steps. The company's automated NodeZero solution identifies vulnerabilities and summarizes how pen test results can be fashioned together in an action plan to avoid a potential breach.
Horizon3 was co-founded by Snehal Antani, former chief technology officer at Splunk Inc. Prior to starting his new venture, Antani sat down for an interview with theCUBE in 2016 and described a view of the security world that led to his founding the company.
"You realize that the data needed by IT to keep the systems up and running — web, app, network, endpoint, identity, infrastructure, logs — it's the same data needed by security to hunt a breach," Antani noted at the time. "It all comes down to becoming a data-driven organization using data to make better decisions faster."
TheCUBE event livestream
Don't miss theCUBE's coverage of the AWS Startup Showcase: "Cybersecurity — Detect and Protect Against Threats" event on Sept. 7. Plus, you can watch theCUBE's event coverage on-demand after the live event.
How to watch theCUBE interviews
We offer you various ways to watch theCUBE's coverage of the AWS Startup Showcase: "Cybersecurity — Detect and Protect Against Threats" event, including theCUBE's dedicated website and YouTube channel. You can also get all the coverage from this year's events on SiliconANGLE.
TheCUBE Insights podcast
SiliconANGLE also has podcasts available of archived interview sessions, available on iTunes, Stitcher and Spotify, which you can enjoy while on the go.
SiliconANGLE also has analyst deep dives in our Breaking Analysis podcast, available on iTunes, Stitcher and Spotify.
Guests
During the AWS Startup Showcase: "Cybersecurity — Detect and Protect Against Threats" event, theCUBE analysts will talk with experts from Sonrai Security, Cequence Security, Horizon3.ai, Noname Security, Cloud Storage Security, Illumio, SecurityScorecard, Anitian, Hunters and JumpCloud. And don't miss a special keynote address from Jon Ramsey, vice president of AWS Security.
Stay tuned for a complete list of expert guests!
(* Disclosure: TheCUBE is a paid media partner for the AWS Startup Showcase: "Cybersecurity — Detect and Protect Against Threats" event. Neither Amazon Web Services Inc., the sponsor for theCUBE's event coverage, nor other sponsors have editorial control over content on theCUBE or SiliconANGLE.)
Image: SiliconANGLE
---
Show your support for our mission by joining our Cube Club and Cube Event Community of experts. Join the community that includes Amazon Web Services and Amazon.com CEO Andy Jassy, Dell Technologies founder and CEO Michael Dell, Intel CEO Pat Gelsinger and many more luminaries and experts.
[ad_2]

Source link