[ad_1]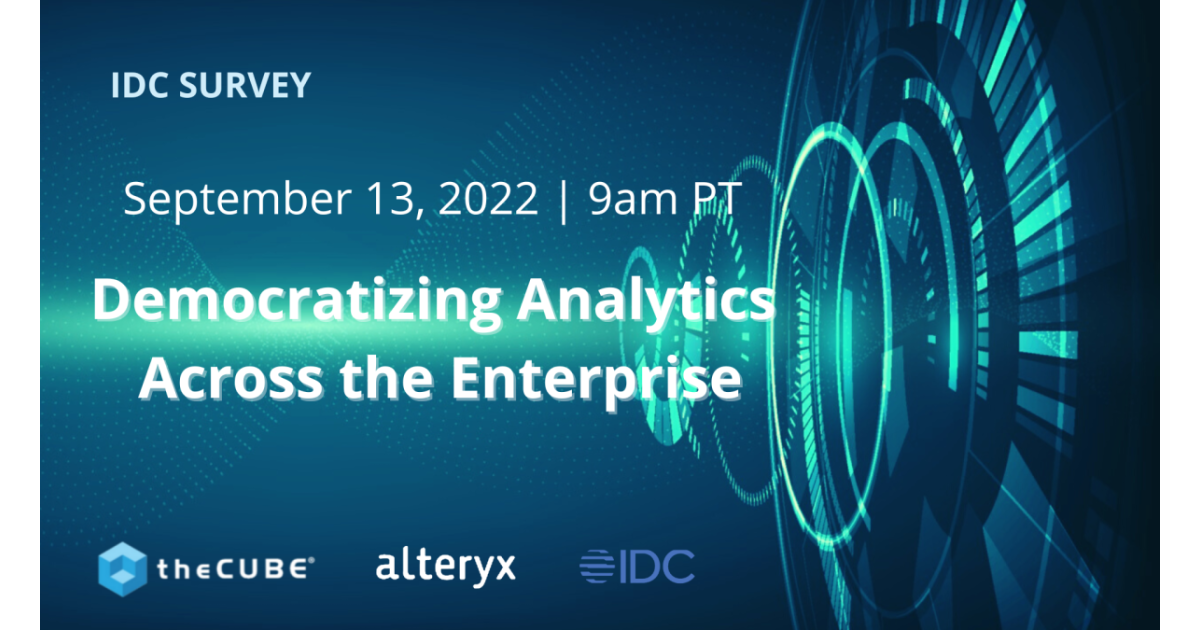 Data and analytics were cited as the top investment priority for 53% of senior executives in a recent Ernst & Young LLP survey, and according to International Data Corp. Inc. research, 73% of companies will spend more on analytics software over the next 12-18 months than all other software investment.
The reason is simple: Data now drives business. It has become both a source of insights that can target customers with pinpoint precision and a way to streamline operations and eliminate productivity pain points. It's also creating new revenue streams, as companies directly monetize their data assets by offering data products.
The rise of the data-driven business has moved data analytics out of the domain of specialist scientists to become a companywide pursuit. But data has traditionally been siloed, with each department having access only to its internal data resources. This creates barriers to maximizing data potential in a digital business.
"Companies realize that the business processes that they run their business with are very cross-functional in nature and require data across every department in the enterprise," said Paula Hansen, president and chief revenue officer of Alteryx Inc., speaking during theCUBE's Supercloud 22 event.
Today, Hansen will be returning to theCUBE, SiliconANGLE Media's livestreaming studio, for the "Democratizing Analytics Across the Enterprise" event, which will focus on how companies can effectively leverage analytics to gain a data advantage in today's dynamic, data-driven world. Hansen will be joined by Alteryx customer Jacqui Van der Leij – Greyling, global head of tax technology at eBay Inc., for a customer use-case session demonstrating how eBay is using the Alteryx Analytics Cloud to reduce risk, ensure compliance and improve operational efficiency. Other sessions will discuss topics such as  "Accelerating Analytics Maturity" and "Maximizing Analytics ROI." (* Disclosure below.)
Alteryx posts strong performance in 2022
The "Democratizing Analytics Across the Enterprise" event marks a return to theCUBE for Alteryx. In March this year, the company shared the launch of the Alteryx Analytics Cloud during an exclusive event. That unification of the Alteryx Designer Cloud, Alteryx Machine Learning, Alteryx Auto Insights and Trifacta Data Engineering Cloud into the Alteryx Analytics Cloud marked a major step toward democratizing data access within organizations.
The response has been positive. Alteryx saw a doubling of subscription-based license revenue to $80.7 million in its fiscal second quarter 2022. Results also showed a year-over-year increase in annual recurring revenue to $726.8 million, marking a 33% growth over the same quarter in 2021. In addition, the company's total revenue saw a 50% increase, beating Wall Street expectations and causing its stock to jump.
This upward trend is expected to continue, with an overall forecast of year-over-year revenue growth of 44% to 45%, marking Alteryx as an exception to the overall slowing trend of the information technology market.
"These results are a validation of both the market opportunity for the democratization of data and analytics and the role that plays in customers' investment agenda," Hansen told CRN.
Increase ROI through investment in people and technology
Entrenched operations and unenlightened employees create barriers that stop businesses from gaining the return on investment they should be achieving from their digital transformation. But investing heavily in analytics spend is not the way to increase that ROI. Instead, companies need to invest in upskilling their people, according to Laura Finlayson, director of global communications at Alteryx,  speaking with SiliconANGLE.
An Alteryx survey of U.S. data workers found that fewer than 33% had the tools they needed to make data-driven decisions, only 29% were aware of the importance of data, and less than 25% said their entire organization had access to data. In addition, 48% of executives said they fear falling behind the competition due to stagnant data strategy.
"Most companies, still today, have only a few [employees] that can do pretty advanced analytic work," Greg Theriault, director of strategic sales and co-chair of Alter-ECO, Alteryx, told SiliconANGLE. "The vast majority of their workforce would struggle to do something beyond a simple spreadsheet manipulation — and, in fact, a spreadsheet is the most advanced analytic tool most of their knowledge workers use."
Since the pandemic catalyzed digital transformation, successfully leveraging data has become increasingly intertwined with business profitability. Figures from Statistica show close to 80% of companies reported better decision-making, while 60% reduced expenses, 57% elevated their customer service levels, 32% increased speed to market, and 19% were able to monetize their data assets.
Companies with a mature analytics strategy outperform their competitors. However, building a company that has data at its core requires the correct technology, people and processes in place. More specifically, according to the IDC Survey, "4 Ways to Unlock Transformative Business Outcomes From Analytic Investments": "Organizations that achieve more ROI from analytics (1) make them easy to access, (2) ensure that they're available to everyone, (3) unify the analytics life cycle, and (4) solve for use cases with every type and source of data."
"Firms are rethinking how to put data to work and are rearchitecting their approaches to data," theCUBE industry analyst Dave Vellante stated. "Putting actionable insights in the hands of all relevant users means simplifying data access, making data more accessible, and at the same time ensuring proper governance and compliance."
TheCUBE event livestream
Don't miss theCUBE's coverage of the "Democratizing Analytics Across the Enterprise?" event on Sept. 13 to gain practical insights into the ways your company can gain better ROI on its analytics investments by introducing data skills across the workforce. Plus, you can watch theCUBE's event coverage on-demand after the live event.
How to watch theCUBE interviews
We offer you various ways to watch theCUBE's coverage of the "Democratizing Analytics Across the Enterprise" event, including theCUBE's dedicated website and YouTube channel. You can also get all the coverage from this year's events on SiliconANGLE.
TheCUBE Insights podcast
SiliconANGLE also has podcasts available of archived interview sessions, available on iTunes, Stitcher and Spotify, which you can enjoy while on the go.
SiliconANGLE also has analyst deep dives in our Breaking Analysis podcast, available on iTunes, Stitcher and Spotify.
Guests
During the "Democratizing Analytics Across the Enterprise" event, theCUBE analysts will talk with Alteryx's Alan Jacobson, chief data and analytics officer;  Paula Hansen, president and chief revenue officer; and Jason Klein, product marketing director at Alteryx Inc. Plus, we'll talk with Jacqui Van der Leij-Greyling, global head of tax technology at eBay Inc.
(* Disclosure: TheCUBE is a paid media partner for [the "Democratizing Analytics Across the Enterprise" event. Neither Alteryx Inc., the sponsor for theCUBE's event coverage, nor other sponsors have editorial control over content on theCUBE or SiliconANGLE.)
Image: SiliconANGLE
---
Show your support for our mission by joining our Cube Club and Cube Event Community of experts. Join the community that includes Amazon Web Services and Amazon.com CEO Andy Jassy, Dell Technologies founder and CEO Michael Dell, Intel CEO Pat Gelsinger and many more luminaries and experts.
[ad_2]

Source link